👋 Hey there and welcome to our collection of 350+ recruiting articles, videos, guides, bookmarks, templates and more – all in one place!
We've handpicked this set of recruiting materials (yep, including the templates we swear by!) – the kind we so wished we had on Day 1 of our recruiting adventure. We're optimistic that they'll supercharge your journey in mastering recruitment.
So, who will benefit from this?
---
Table of Contents
---
Curated by ContactOut. Follow us for more recruiting tips on LinkedIn and Youtube
We plan to update this resource regularly. Share your feedback or suggestion here!
---
🏁 Starting Out
---
Designing Job In-Take Forms
Talent Mapping
Setting Up The Hiring Process
Defining Job Roles, Levels, And Titles
Salary Benchmarking
Writing Job Descriptions
For small agile teams:
Drawing Inspiration: Eye-catching Job Descriptions
Crafting Positive Candidate Experiences
Improving Diversity, Equity & Inclusion (DE&I)
Communicating Your Employer Brand
🔎 Sourcing
---
Creating Your Sourcing Strategy
Building Your Employee Referral Program
📧 Engaging
---
Establishing Tone Of Voice
Sending The First Email
Creating Email Campaigns
Automating Recruitment Workflows
💬 Interviewing
---
Designing an Interview Process
For small agile teams:
Interview Processes: Learn How Other Companies Hire
Crafting Interview Questions
Interview Questions Toolkit
For small agile teams:
Evaluating Interviews With Rubrics And Feedback
📞 Following Up
---
Checking References
Delivering Feedback
Managing Withdrawals And Objection Handling
🤝 Managing Stakeholders
---
Hiring Selection Criteria
Managing Expectations With Hiring Managers
😁 Closing
---
Negotiating compensation
Extending the job offer
🙋 Onboarding
---
Onboarding Resources And Toolkits
🤖 AI in Recruitment
---
AI in Recruitment & ChatGPT Prompts
AI-powered Candidate Sourcing
AI-driven Candidate Screening and Assessment
Bias and Ethics in AI Recruitment
Optimizing Job Descriptions with AI
AI-enhanced Recruitment Marketing
Streamlining Interview Scheduling & Follow-ups with AI
Recruiting Chatbots
AI Recruitment Tools
AI Recruitment Reporting & Predictive Analytics
🗣️ Social Selling/ Recruiting
---
🌟 Personal Branding
---
📊 Reporting & Tools
---
Recruitment Metrics
Recruitment tools
ATS
Candidate sourcing
Email outreach
Personal Email Finders
Scheduling
Productivity
Project/task management
👯‍♂️ Communities
---
🧠 Thought Leaders
---
DE&I Experts
Sourcing Experts
Candidate Outreach Experts
HR Tech Experts
Employer Branding Experts
Future of Work Experts
Career Coaching Experts
🧑‍💻 Blogs
---
🎥 Video Channels
---
🎙️ Podcasts
---
📚 Books
---
🎓 Courses
---
Free
Paid
🎯 Job Boards
---
Remote Jobs
Startups
🔑 Keynotes
---
Keynotes
TED Talks
---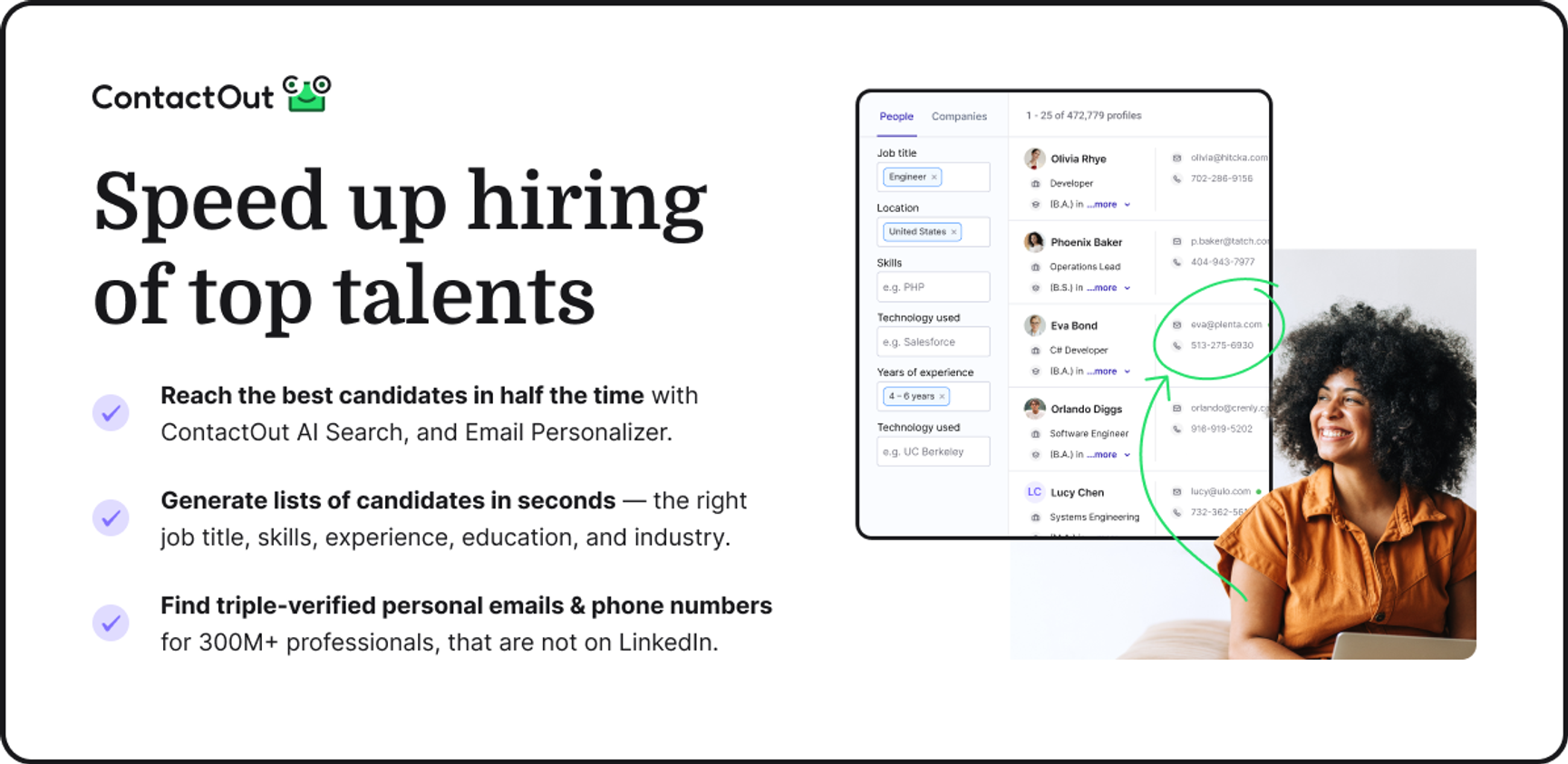 🐸 See how ContactOut has helped over 1.4M recruiters from Fortune 500 companies →