In the digital age, recruitment is undergoing a significant transformation. This guide delves into the intersection of Artificial Intelligence (AI) and job descriptions. We'll explore how AI, especially tools like ChatGPT, can revolutionize the way we craft and perceive job descriptions, making them more effective and resonant.
---
What will you learn by the end of this guide? 🎯
The foundational understanding of AI's role in recruitment.
Detailed steps to harness AI for creating job descriptions that captivate.
Insights into the potential pitfalls and strengths of AI-driven job descriptions.
Techniques for candidates to optimize their CVs using AI to align with job descriptions.
---
Why is it important? 🌟
AI is not just a buzzword; it's reshaping industries, including HR.
In recruitment, AI offers precision, efficiency, and a competitive edge. A well-crafted job description attracts the right talent, reduces hiring time, and ensures a good fit, leading to reduced turnover. In a world where time is money, AI-driven efficiency is invaluable.
---
Here's the step by step to do it: 🚀
Draft an Initial Outline:
Title Precision: Ensure the job title accurately reflects the role. For instance, differentiate between "Junior Sales Executive" and "Senior Sales Executive."
Responsibilities: Break down daily tasks, project involvement, and team collaborations. Be specific about expectations.
Skills & Qualifications: Differentiate between "must-have" and "nice-to-have." For instance, "Must have 3+ years of experience in B2B sales. Knowledge of CRM tools is a plus."
👋 Check out our Definitive Guide to Writing Job Descriptions for more information on how to craft JDs 💡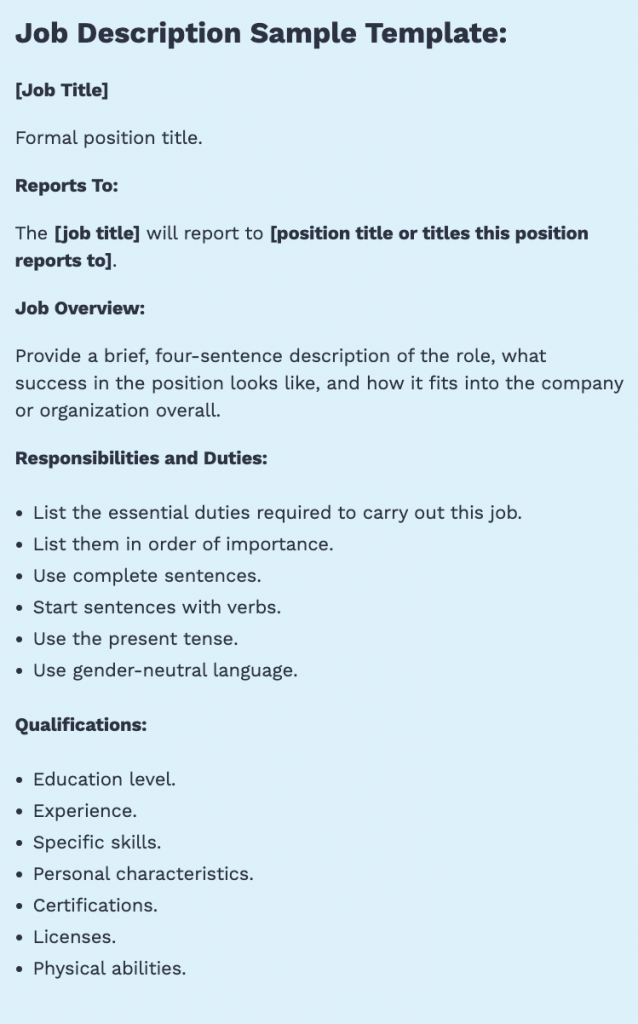 Enhance Clarity with AI:
Language Refinement: Use AI tools to simplify complex sentences. For instance, input: "How can I make this sentence more straightforward?"
Avoid Jargon: Ensure industry-specific terms are either avoided or explained. This widens the appeal of the job description.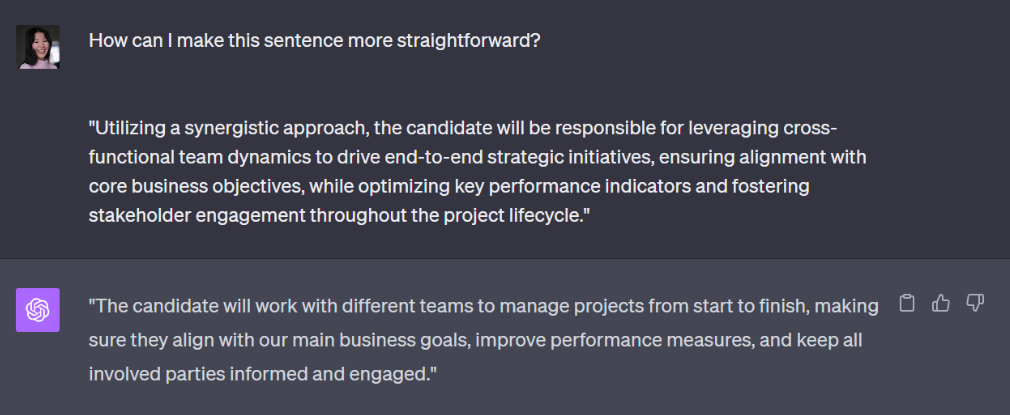 Promote Inclusivity:
Bias Detection: Use AI to detect and replace terms that might be gendered, age-specific, or otherwise potentially exclusive.
Welcoming Tone: Ensure the description feels welcoming to all, regardless of background. For instance, "We value diverse experiences and backgrounds and believe they make our team stronger."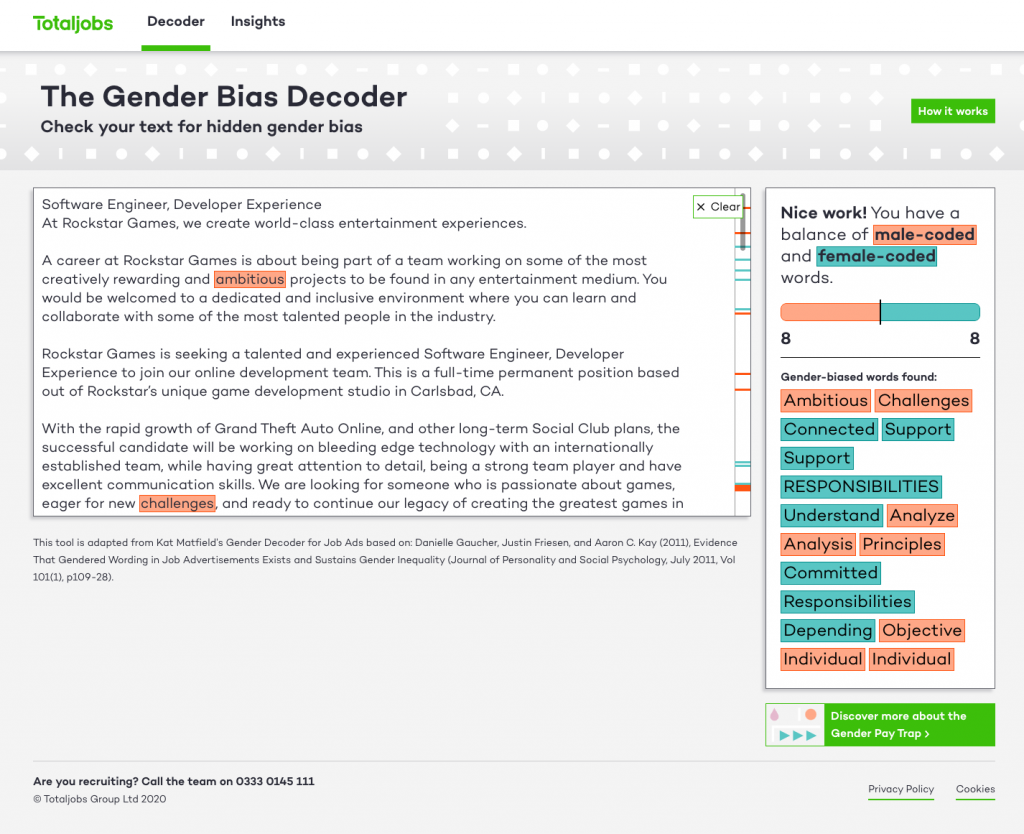 Boost Engagement:
Company Perks: Highlight benefits like health insurance, flexible hours, or professional development opportunities.
Growth Opportunities: Emphasize potential career paths or learning opportunities within the company.
Company Culture: Give a glimpse of the work environment, team activities, or company values.
Iterate and Refine:
Team Collaboration: Involve team members, especially those in similar roles, to provide insights and feedback on the description.
AI Feedback: After incorporating team feedback, run the description through AI again for final refinements.
Pilot & Adjust: Post the job description and gather feedback from initial applicants about clarity and appeal. Adjust based on this real-world feedback.
---
Here's an expanded example of it: 📝
Original Description for a "Digital Marketing Specialist":
Job Description:
"Looking for someone with experience in digital marketing. Must know SEO and social media."
👋 Rationale: This original description is quite generic. It doesn't provide a clear picture of the role, the company culture, or the specific expectations. It's essential to give potential candidates a more comprehensive view of what they're stepping into.
---
After AI & Team Enhancement:
Title:
"Digital Marketing Specialist"
👋 Rationale: Keep the title clear and straightforward. It immediately informs potential candidates about the role.
Introduction:
Join our vibrant marketing team as a Digital Marketing Specialist! 🚀 If you're passionate about crafting online campaigns that resonate and have hands-on experience with SEO strategies and social media engagement, this is the role for you."
👋 Rationale: A warm introduction sets the tone. It gives a hint of the company's energy and directly addresses the potential candidate, making it personal.
Key Responsibilities:
Develop and implement SEO strategies to increase website traffic.
Craft and manage social media campaigns across platforms like Facebook, Instagram, and LinkedIn.
Collaborate with the content team to ensure SEO optimization of all content.
Analyze and report on the performance of online campaigns, making recommendations for improvements.
👋 Rationale: Listing key responsibilities provides clarity. It helps candidates gauge if they're a good fit for the role and sets clear expectations.
Team & Culture:
We offer:
Collaborative Environment: Work closely with our content and design teams to create impactful campaigns.
Growth Opportunities: Regular workshops and courses to enhance your digital marketing prowess.
Benefits: Health insurance, flexible work hours, and a pet-friendly office. 🐶🐱
👋 Rationale: Highlighting the work environment and company culture gives candidates a glimpse into the day-to-day life and the perks of joining the team. It also showcases the company's values and priorities.
Inclusivity Statement:
We believe in the power of diverse ideas and welcome applicants from all walks of life.
👋 Rationale: An inclusivity statement emphasizes the company's commitment to diversity and inclusion, ensuring all potential candidates feel welcomed and valued.
Conclusion:
Ready to make a digital splash with us? Apply now and let's create marketing magic together!
👋 Rationale: A strong conclusion with a call to action encourages potential candidates to take the next step. It wraps up the description on a high note, leaving a lasting impression.
---
Next steps: 🛤️
Monitor & Measure: Once the job description is live, monitor the number and quality of applications received. Use metrics to determine the effectiveness of the description.
Feedback Loop: After conducting interviews, ask candidates for feedback on the job description. Did it give them a clear understanding of the role? Were there any surprises during the interview that weren't clear from the description?
Continuous Learning: Stay updated with the latest trends in recruitment and AI. Attend webinars, workshops, or courses that delve into advanced AI recruitment techniques.
Expand AI Integration: Consider integrating AI into other parts of the recruitment process, such as initial CV screenings, interview scheduling, or even automated initial interview rounds.
Review & Update: Periodically review job descriptions to ensure they remain relevant. As roles evolve or company needs change, descriptions should be updated to reflect these shifts.
---
Further resources: 📚
---