Osayi Igharo's Email & Phone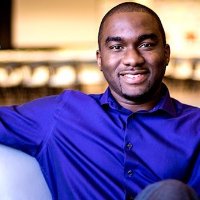 Osayi Igharo
Founding and Managing Partner @ Ripple VC
Osayi Igharo Contact Details
San Francisco, California
Founding and Managing Partner @ Ripple VC
Startup Advisor @ Early Stage Startups
Startup Director @ GSVlabs (formerly nestGSV)
Bachelor of Science in Business Administration (BSBA), Management @ American University of Nigeria
I have extensive business development experience in technology and innovation from the US, Canada, and Africa. My operating focus is on strategy development and execution, technology commercialization, and client acquisition and retention. I work with early-stage founders on fine-tuning business models, identifying revenue generating activities and new business development, accelerating company growth, and building meaningful relationships with
ContactOut is used by recruiters at 30% of the Fortune 500 companies
Similar Profiles to Osayi Igharo
Huiqiong (Sevannie) Lu
Meredith Shive

Sr. Financial Analyst at Warner Bros. Entertainment Group of Companies

Brad Foltz

SVP, Director of Operations and Marketing Services

Wayne Bell

Vice President, Alarm operations at Guardian Security Systems, Inc.

Brent Deason

Staff Hardware Engineer at Synapse Wireless, Inc.

Megan Stewart

Digital Reporter at KSTP-TV

Mario Villagomez

MEDIA ADVERTISING SALES & CAMPAIGN MANAGEMENT: Market Positioning | Automotive Advertising | Sports & Entertainment

Woody Haskins

Consumer Direct Mortgage, Sr. Mortgage Banker

Bruce Zeedik MBA, CPA

Principal with Bruce Zeedik Consulting

David Helmrich

Business Development Executive

Derrick Wheeler

Warehouse Manager at CLARION TECHNOLOGIES

Ryan Horne, AIA
Janaki Jagannath

Community Legal Worker at California Rural Legal Assistance, Inc.

Richard Heeb

Control Systems Specialist at CalPortland

Joseph Campanale

Senior Accountant @ Goulston & Storrs

Merle Gurney

Licensed Sales Representative at Sartorius-Stedim Inc

Monty Hitschler

Director of IS & Technologies Town of Rockport and Rockport Public Schools

Lorre Acosta

speech-language pathologist

Carl Casey
Halina Moyer

Marketing Director at Master Weinstein Schatz Moyer , Esq.

Nick Totaro

Sr. Experience Designer at Substantial

Dawn Oberman

Financial Services Professional

Debra Alpert

Independent Health, Wellness and Fitness Professional

Diana Britting

Contracts Administrator at The Dutra Group

Bob Hatke

Product Manager at Carrier Commercial Service - UTC

Shawn Welch
Heriselda Begaj

Impact and Public Affairs Coordinator at Participant Media

Jessica Bade

Post-Bach with interests in computational biology & chemistry, programming, and biodefense.

Martha Walent

Software Release Engineer

Tracey Holevas
Todd Etchieson

Vice President of Product at Janrain, Inc.

Stephen Boyer
Dan Berger

Creating communities that connect people so that they have a stronger sense of belonging.

Kalon Stephen

Regional Vice President, Commerce Cloud at Salesforce

Amar Arsikere

Founder, Chief Product Officer/CTO at Infoworks.io

Rushabh Shroff
Ruth Cotter

SVP, World-wide Marketing, Human Resources (HR) and Investor Relations (IR) at AMD

Brian Caracciolo

Recruiting Manager at The Cypress Group

Marc Randolph

Netflix Co-Founder, Entrepreneur, Mentor & Investor

Daniel Kuperman

Director of Product Marketing at Snowflake Computing

Johnny Khoury

Vice President of Sales at Salesforce

Kelly Robinson
Matt Aberham

Single Threaded Leader of Technical Recruiting for Amazon's Consumer Business Unit in EMEA.

Chris Chrisafides

CEO at Elite Comfort Solutions LLC Experienced Business Leader in Private Equity and Fortune 50 Companies

Stijn Asnong

Lead Software Engineer at Oak Street Health

Laura Bruch

Global HR Business Partner, Sales and Channel teams

Qays Poonawala
Terry DTM

★ ★ ★ ★ ★ Experienced Keynote Speaker | Self Esteem Architect ✔Helping Professionals be exceptional Speakers ✔

Satya Nadella
Yasmin W.