Charag Krishnan's Email & Phone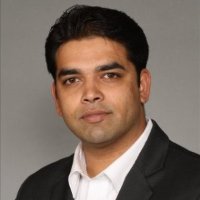 Charag Krishnan
Associate Partner @ McKinsey & Company
Charag Krishnan Contact Details
Washington, District of Columbia, United States
Associate Partner @ McKinsey & Company
Engagement Manager @ McKinsey & Company
Generation India Manager @ McKinsey Social Initiative
Non-degree Certificate, Corporate Social Responsibility @ Indian Institute of Technology, Bombay
Associate @ - Analyzed customer segmentation and overlap to design the Go-to-market model for EMEA and Americas regions of a USD 40B semiconductor company merger - Developed the financial valuation for 7 molecules for a USD 0.6B PE Acquisition Due Diligence of an Indian generic drugs manufacturer - Managed governance and tracking across 32 functions for Post
ContactOut is used by recruiters at 76% of the Fortune 500 companies
Similar Profiles to Charag Krishnan
Tonya Eversley

Buildings at Sedesco Inc.

Raul Ernesto Ayala , MD.

Medical Director/CEO at Ayala Medical Center.

Anette Libman

Brazilian Portuguese Language Specialist

Sarah Hulin

Quality Control Inspector at Solmate Socks

Patricia Bacuros

Director, Philanthropic Investment at Direct Relief

Energy Focus

Owner, Energy Focus, Inc.

Caitlin Mahony

Associate Editor at Bridgewater Associates

Frank Kautzmann, IV

Account Executive at Tejas Office Products, Inc.

Amy Hankins

Senior Recruiter at Salem Health ~ We're Hiring! Contact me today!

Erin Filbert

Scientist, Cancer Immunology at Apexigen

Rick Govan

Co-Owner and Chief Marketing Officer at Golden State Kickball

Heath Geers

Sales at Berendsen Fluid Power

Jeramy Sanford
Mikael Gandy

Principal Network Engineer - Lead at DTE

Ninoshka Cantres

Sr. Production Engineer at The Dow Chemical Company

Shannon Zima

Brand Purchasing Manager at Superior Communications

Maarten van der Heide

Technical Audio Project Engineer at Sonos, Inc.

Steven Winkler

Sr. Manager, IT Enterprise Compute Architecture / Engineering

Mary McLean

Human Resources Supervisor/Business Partner at PEMCO

Vandana Merani

Manager, Data Science & Analytics at Collins Aerospace

HieDi Nelson

Oracle Database Administrator at SGS

Jessica Levene, Ed.D.

Senior Instructional Designer/Project Manager at Publix Super Markets

Matt Wyckoff

Information Systems Analyst

Breen Schiller

State and Local Tax Partner at Horwood Marcus & Berk

Jim Ciesla

President & CEO at Brinkman Construction

Brian Wisner
James Mcknight

Senior Staff Attorney at Mediacom

Adel Bouzekri RMILI

Economic Counselor at Embassy of Tunisia

Liza Mlcoch

Clinical Value-Based Initiatives at Edwards Lifesciences; Founding Sponsor at Sepsis Coordinator Network

Terry DTM

★ ★ ★ ★ ★ Experienced Keynote Speaker | Self Esteem Architect ✔Helping Professionals be exceptional Speakers ✔

Hassan Eslami

Research Assistant at University of Illinois at Urbana-Champaign

Clay F.

Global Talent Acquisition Lead

Thomas Borchert

Principal Software Engineer at Amazon

Aaron Young

Team Lead at Bloomberg LP

Derek Edwards
Nicolas GUERIN

Ingénieur Projet Java/J2EE chez Cardiweb

Kyle Xun
Gregory Natenzon

Vice President, Electronic Market Making Technology at J.P. Morgan

Vipul Chhabra

Global Head of Customer Analytics at Funding Circle UK

Louis Li

Greater China Lead at Shopify, Oberlo (We're Hiring)

Justin Renga

OOP/C++/Java Software Engineer/Software Developer/Programmer

Alexia Tsotsis

investor, writer, startup hound

Anthony Conte
Luke Jervis

Account Director, EAST at PlaceIQ

Charles Crouchman
Aditya Tayade

Machine Learning Engineer @ Apple AI/ML

Richard Rowe

President & CEO, Arkema Inc

Patrick Moseley

Senior Software Development Engineer at Amazon

Yasmin W.
Looking for colleagues of Chris Shelby at Company Inc?