Anand Mundada's Email & Phone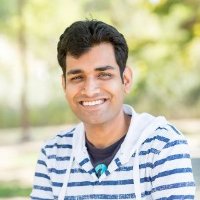 Anand Mundada
Sr Software Engineer @ Uber
Anand Mundada Contact Details
Sr Software Engineer @ Uber
Senior Software Engineer @ LinkedIn
SDE intern @ Apple
Machine Learning Course by Stanford University on Coursera @ Coursera
Highly motivated software engineer interested in distributed systems, highly scalable systems and mobile development. Currently working at LinkedIn in Ads team and focusing on growing LinkedIn ads reach to more channels, supporting different types of ads and improving LinkedIn ads engagement everywhere.
Senior Software Engineer @ Working on Real Time Bidding and growing LinkedIn ads on other channels.
ContactOut is used by recruiters at 76% of the Fortune 500 companies
Similar Profiles to Anand Mundada
Paul Cannon

Founder and Digital Transformation Consultant at Cloudland Technologies

Jeff Wilkerson

Director, Operations & Project Management at Paramount Property Company

Bridget Reeves, CSP

Sr. Sales Associate, New Development at The Agency RE

Alan Brylawski

Project Manager at Navy Financial Management Office (FMO)

Cindy Longfellow

National Director of Sales and Marketing at Juniper Communities

Kelsie Kleven

Infrastructure Account Manager at Oracle

Kim Land
Marcus Randall

Investor / Startup Advisor at Marcus.Ventures

Mey-Ling Perez

Managing Director Private Banking, SVP at IBERIABANK

Bruce Lawrence

CEO, Prosperity Partner Media Group of Companies America's Courage Coach [LION 3000+] ProsperitySites.com

Varun Agrawal, CFA

Assistant Vice President at Harvard Management Company

Clea Levinson

Account Executive Beacon Hill Technologies

Christina Stanley

Account Manager at South Jersey Industries

Jen Hugo

Head of Finance & Operations

Amit CSM

VP - Cyber Security Portfolio Management at PNC Bank

Bob Jacobs

Broker/Owner at RE/MAX Associates

Stefan Doering

Founding and Managing Partner at Shift Group

Ese MSc,MBA

Senior Human Resources Business Partner at Lockheed Martin

Melissa Roberts-Littlefield, MHA, CPHQ

Strategy, Quality, HEDIS, STAR, Accreditation, Medicare, Medicaid, & Commercial.

Daniel Schkrohowsky

Investment Banking Analyst at Piper Jaffray

John Padilla

Director at High Country Search Group

Bruce Johnson

President SIM USA - the global mission

Tim Comstock

Director of Builder Accounts at Icynene Corp

Brett Bereny

Owner, Film Location Los Angeles

Brian Adams

Owner at Godby Hearth & Home

Zad Khaliqi

Client Lead Recruiter at Amazon Web Services

Nishant Saksena
Heather Byrd

User Experience Designer at Morrison

Jennifer Siegrist

Senior CQ5 & Front End Web Developer (AVAILABLE FOR CONTRACT FROM EARLY JANUARY)

Alex Sonnenberg
Ruth Salter

Cloud Solution Architect Recruiter at Microsoft

Jess West
Gary Crotaz

Leader, strategist, change agent and executive coach

Basil M.
Peter Studd

Experienced Senior Recruiter looking for excellent talent globally at Bombardier Transportation

Christos Sarros

Manager, New Business Sales (UKI) Google [Yes, I am hiring]

Nick Ulycz

Chief Operating Officer, Domestic & General

Sean Capes
David York

Commercial Director UK/IRE at Unit4. Helping people centric organisations make space and time to grow their business.

Derek Ewing
Stephen Ashbee

Head of Practice - Software Delivery at Maxwell Bond

Sergio Tomas
Michelle Kuo

Head of Talent Acquisition for Utah startups

Eran Mizrahi

Chief Operating Officer at Nuts.com

Nigel Thomas

Vice President of Global Sales at SignalWire

Gian-Paul Caccia

Business Development at KANERAI

Terry DTM

★ ★ ★ ★ ★ Experienced Keynote Speaker | Self Esteem Architect ✔Helping Professionals be exceptional Speakers ✔

Yasmin W.
Looking for colleagues of Chris Shelby at Company Inc?