👋 Welcome to the Social Selling Mastery Hub! Explore 243 hand-picked articles, videos, guides, and templates, all centered around mastering social selling.
From essential tools to invaluable insights, we've curated everything you'd wish you had from the start of your social selling journey.
Who is this for?
---
Table of Contents
---
Dive in and transform your social selling game. Proudly curated by ContactOut. And for real-time updates and insights, don't forget to follow us on LinkedIn and Youtube
We plan to update this resource regularly. Share your feedback or suggestion here!
---
🏁 Starting Out
What is Social Selling?
The Evolution of Sales: Traditional to Social
The Power of Multichannel Outreach
Why Social Selling is Crucial Today
---
🪞Building a Powerful Personal Brand
Crafting a Buyer-Centric LinkedIn Profile
The Importance of a Professional Online Presence
Twitter, Facebook, and Instagram for Salespeople
Personal Branding: Becoming a Thought Leader
For small agile teams:
Consistency Across Platforms
---
🎯 Targeting and Research
Defining and Mapping Your Ideal Prospect
Advanced Searching Techniques on LinkedIn and Other Platforms
---
👂 Social Listening & Engagement
The Art of Social Listening
Engaging with Prospects and Customers
Joining & Contributing to Relevant Groups/Communities
---
🪄Content Creation & Engagement
The Art of Creating and Curating Content
Content Creation:
Content Curation:
Using Content to Drive Engagement and Visibility
Pattern Interrupts: Making Your Content Stand Out
---
🤝 Building and Nurturing Relationships
Effective Connection Strategies
Engaging with Decision Makers and Growing Your Network
Utilizing Commonalities and Value-Add Topics for Outreach
---
📣 Advanced Outreach Techniques
Multichannel Strategy: Email, LinkedIn, Cold Calling, and More
Crafting Cold Emails That Get Responses
Pivoting Conversations and Closing Sales
Moving Beyond Cold Outreach
The Power of Personalized Engagement
Nurturing Leads through Social Platforms
Collaborating with Influencers and Brand Ambassadors
---
🤖 AI & Technology in Social Selling
The Role of AI in Enhancing Social Selling Strategies
Tools and Platforms for Social Selling Success
Measuring and Analyzing Social Selling Efforts
ChatGPT for Social Selling
---
🩹 Overcoming Challenges and Mistakes
Addressing Common Pitfalls in Growing Your Network
Handling Rejections and Negative Feedback
---
🟢 Ethics and Best Practices
Ethical Considerations in Social Selling
Building Trust and Credibility
Avoiding Spammy Tactics
---
⛰️ Scaling and Community Management
Building and Managing Your Sales Community
Collaborative Selling and Leveraging Testimonials
---
🔮 Conclusion and Future Outlook
The Evolving Landscape of Social Media
Staying Updated with Emerging Trends and Platforms
Building a Sustainable Social Selling Routine
---
🧠 Thought Leaders
---
🧑‍💻 Blogs
---
🎥 Video Channels
---
🎙️ Podcasts
---
📚 Books
---
🎓 Courses
---
🔑 Keynotes & TED Talks
---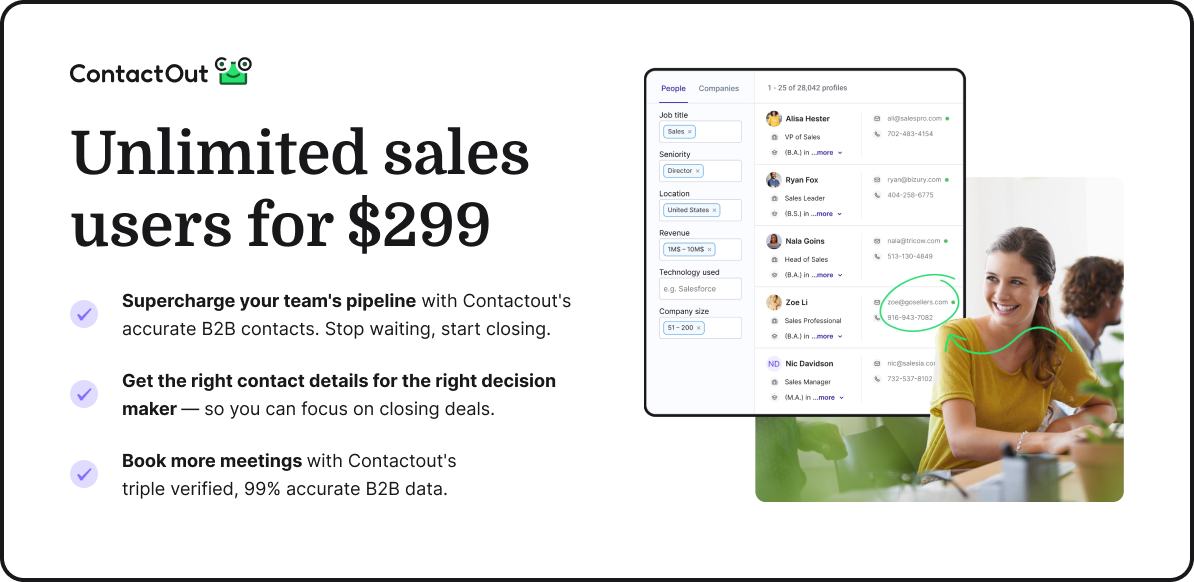 🐸 See how ContactOut has helped over 1.4M recruiters & sales reps from Fortune 500 companies →