When it comes to eCommerce sales, there's no stone left unturned to get the customers' business. Strategies like digital marketing, offline marketing, social marketing, influencer marketing, etc., are all too popular.
But, the goal isn't to market the product.
It's to market it so that it reaches the maximum number of prospects for the minimum costs, thereby giving you the highest return on investment (ROI).
Email marketing can do that for you, because:
If you're ready to explore how email marketing can help you boost eCommerce sales, then read ahead as we have a few strategies to run a successful email marketing campaign in store for you.
Email marketing and its benefits
In short, email marketing is the kind of marketing that happens over email.
So, any kind of content (such as company news, offers, case studies, etc.) sent directly to users over mail gets categorized as email marketing.
However, one thing that separates emails from email marketing is that the former doesn't need a purpose. But the latter requires a targeted approach and is usually sent by businesses and organizations.
Here are a few benefits email marketing provides (that probably no other marketing medium can achieve):
It's easily measurable (you can track open rates, bounce rates, cart abandonment rates, conversion rates, and more).

They provide great ROI (for example, with Google Ads, you can get a return of

$2 on every dollar spent

, but with email marketing, you get $36 on every dollar spent).

You see instant results (think SEO vs. email).

And you can customize content based on your audience's interests.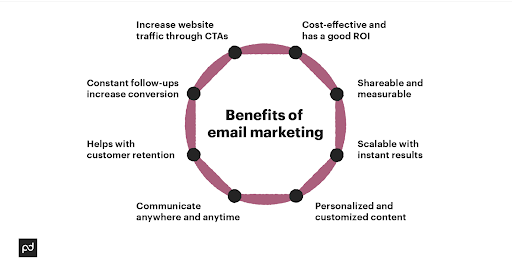 How to use an email marketing program to boost eCommerce sales?
1. Segment and personalize your lists
Suppose you're a company that tracks weight loss for users who are on different diet plans.
Do you think you'd see better results by sending emails about the keto diet to people who are on keto, or to people who are on a high-carb diet? Our bet is on the former.
And, that's where the power of segmentation lies — you target customers based on their interests so that they enjoy your content, ergo, you have better open rates.
Email segmentation is mainly dependent on three factors: demographics, behaviors, and psychography.
How to begin segmenting your audience, you ask? There are two strategies you can apply:
You can do it manually (if your email list is

super

small and you've got the time for it).

Or, you can use

customer data platforms

, which will do the task for you (customer data platforms use data and identity resolution to segment your audience for you, and can be used by teams of any size).
2. Treat abandoned cart emails like a gold mine
While different email types (such as welcome emails, promotional emails, product catalog emails, and upselling emails) have their own set of benefits and should be sent in different use cases, abandoned cart emails are where the real eCommerce sales happen.
To give some context, the average email open rate is 16.97%, with a 10.29% CTR, while the average email open rate for abandoned carts is 45%, with a CTR of 21%. This suggests that users want to buy your product, but are hesitating for some reason(s).
So, here's what you can offer them to sweeten the deal:
Free shipping

Reduced shipping time

The option not to create an account

Uncomplicated checkout process

Alternatively, you may want to consider an eCommerce consulting firm to make the most of your abandoned cart emails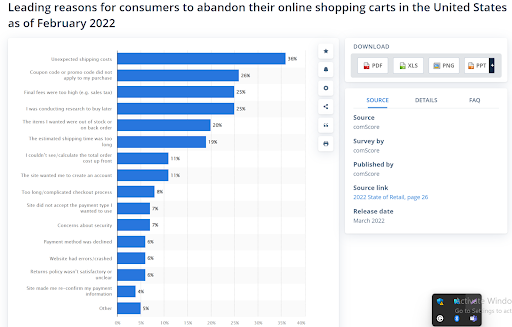 3. Optimize content for all devices
Gone are the good ole days when readers only used the desktop to access emails.
According to Statista, 36.6% of email users use mobile apps to read emails, and 40% prefer to read emails on the web, with the remaining readers using other mediums.
The point is, you can't just create emails for one type of device and call it a day, you need to optimize emails for multiple devices.
So, here are a few strategies you can consider to make your emails versatile enough for all devices:
Create short subject lines (the character length of subject lines on a desktop is 60, but is 25–30 on mobiles). The same goes for pre-header text.
Ensure your visuals and content are visible in the same format on all devices (you can do this by creating responsive designs).

Use buttons (it's mobile-friendly to add buttons as opposed to hyperlinks).
4. Test and retest strategies
It's always good practice to A/B test email strategies to see what works best for your audience.
Consider factors like: do they like shorter or longer emails, do you see better open rates with emojis/puns in the subject line or not, etc.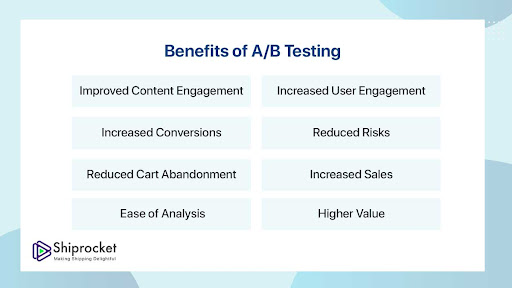 Here are a few areas that you can test (and retest) to optimize your email campaigns:
Subject lines

Preview text

Design/Structure

Sent times

Fonts

Location of text and visuals

CTAs

Visuals (size, format, with text, without text, etc.)

Email length

Email frequency
Even when you think you've hit gold, keep retesting different strategies because you never know if you might find something better.
Bonus: Other things to consider 
These strategies are just the tip of the iceberg on how you can use email marketing to boost eCommerce sales.
You can also consider:
Cut down your email list to only include engaged prospects.

Always

greeting the reader

with a welcome email upon subscription and a thank-you email upon purchase.

Including social proof to build trust.

Only sending valuable content (such as info on when an out-of-stock product returns).

Using ecommerce marketing automation to improve results and reduce effort.

Allowing users to share your content (by adding forwarding options and share buttons).

Use a subscription app for Shopify, BigCommerce or another ecommerce platform to create recurring revenue from your customers
Wrapping up
Email marketing isn't an underdog strategy — it's been well-established to show impressive results time and again.
While we do suggest that you jump on email marketing to boost eCommerce sales, we'd also ask you to play your cards right to get the most out of it.
This article may provide a few ways in which you can nail your email marketing strategy. But if you wish to learn more, you can always visit our blog to see ContactOut's recommended tips, tricks, and insights to improve your email marketing strategy.