Thomas Dillmann's Email & Phone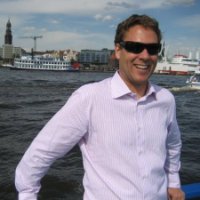 Thomas Dillmann
Director Of User Experience @ National Football League (NFL)
Thomas Dillmann Contact Details
Director Of User Experience @ National Football League (NFL)
User Experience Design Instructor @ UCLA Extension
Company Name Fandango @
Bachelor of Arts @ University of California, Santa Barbara
I am an digital product manager and user experience architect that leads large scale enterprise projects. Most projects involve bringing a whole business or division online, developing new online products or significantly updating and rebuilding a company's online presence. As a entrepreneurial and business minded user experience architect, I focus on creating products and interfaces that align
ContactOut is used by
76% of Fortune 500 companies
Similar Profiles to Thomas Dillmann
Aaron Cohen
Daryl Bladt

Health and Safety Professional

Don Harper

Manager - Network Engineering and Security at The Kroger Co.

Emily Latvis

Jr. Marketing Communications Specialist at Eppendorf, Inc. (formerly New Brunswick Scientific Co, Inc.)

Farhan Abbasi

System Engineer at Huntington Ingalls Industries

Patrick Napolitano

Payroll Coordinator at Abel HR Services

Nathaniel Stanley

Trying to predict the future and adjust accordingly.

Timothy Logan

Lawyer at Benson, Pantello, Morris, James & Logan

Katarina Wos

Communications Director - Chandon and Estates & Wines at Moët Hennessy

Jonathan Yochum

Vice President, FX Sales, Bank of America Merrill Lynch

Dana Small

Director Smart Grid and Technology at Pepco Holdings

Anthony Ciampa
Rachel Stratton

Biomedical Engineer at Tata Consultancy Services

Joan Erwin

Senior Vice President, Operations at CleanSlate Centers

Howard Lin

Operations Program Manager at Google

Kelly PMP
Rudy Subramanian

SAP Account Executive | Helping federal customers turn data into better insights and decisions

Caleb Cooper
Mike P.E.
Chunmiao Zheng

Professor at University of Alabama & Peking University

Linda Rauch, P.E.

Sr. Process Development Engineer at Cambrian Innovation

Gonzalo Stabile, PE, CEM

Chief Engineer, EDF Renewable Energy

John Speer

Application Architect at CSRA

Joseph Latronica

Project Sales Engineer at Leistritz Advanced Technologies Corporation

David CISSP

IT Security Engineer at Ameritas

Bruce Hammett

President at WECSRenewables.com

Hsing Pao

Family Medicine Resident at Loyola University Health System

Matthew Cross

Service Manager at Cool Breeze Cyclery

Christopher Good

Chief Operating Officer, Theralogix

Kyle Deets

Solutions Specialist at COTG – A Xerox Company

Terry DTM

★ ★ ★ ★ ★ Experienced Keynote Speaker | Self Esteem Architect ✔Helping Professionals be exceptional Speakers ✔

sneha vala

Sr. Hadoop engineer at Visa

Eran Gil
Laura Kiffer

Senior Manager Online Merchandising

Vinayaka Pawate

Looking for new role at Looking for new role

Elizabeth Capriotti

Helping companies build scalable digital businesses

John Pangilinan

Partner at Signum Capital

Armando Barba

Software Engineer at Facebook

Matt Oberle
Jon Kossow

Managing Partner at Norwest Venture Partners

Anat Sneh-Matalon

CMO; Marketing Leader; Growth Hacker; Brand Builder

Nisha Shah

Senior Software Development Engineer at Oath

Philip McDonough

System Development Engineer at Amazon Web Services (AWS)

Sanjiv Razdan
Michael O'Reilly

Member Board Of Directors at MacPherson's

Esther Espinosa

Data Software Engineer at E.S. MARTI2003 S.L.

Kai Hsu

Associate at JPMorgan Chase & Co.

Rafał Augustyniak
Charlotte Chan

Talent Acquisition / Human Resources Specialist - Connecting talents with passion in Art • People • Nature

Yasmin W.
Looking for colleagues of Chris Shelby at Company Inc?