Parvez Fakhruddin's Email & Phone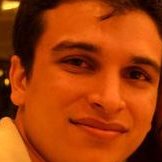 Parvez Fakhruddin
Software Engineer @ CompStak®
Parvez Fakhruddin Contact Details
Mountain View, California, United States
Technical Intern @ Prima Clinics
Software Engineer @ Facebook
I am currently employed at Compstak as a software engineer.
Software Engineer @ Backend Engineer – Scala (current) • Porting all backend services and APIs to Scala. This is being done alongside many new projects being launched and we've been handling the complexity that arises from having the system split in multiple places (Scala and Grails), both live,
ContactOut is used by
76% of Fortune 500 companies
Similar Profiles to Parvez Fakhruddin
Vamsidhar Dokiparthi

ETL Lead/Architect at NAPA

Julie Colpin

Chargée des opérations marketing - CRM fidélisation junior chez BrandAlley

Paul Young

Entrepreneur, Investor, CEO in MedTech IVD, Dx Imaging, Cold Chain, IoT, AI, mini-invasive surgical devices, orthopedics

Jon Eklöf

Director of Innovation & Digital Transformation, PhDc, Speaker, Negotiation Specialist

Lindsay Pollak

Director, Global Programs and Analytics, Diversity and Inclusion at McKinsey & Company

Pierre Boissonnade

Group Chief Information Officer & transformation VP chez Imerys

naveen manne
Ciarán Latooij

Junior BI Consultant | Artificial Intelligence & Analytics at Cognizant

Akshay Vajpayee

Doing real things at Shopee SE Asia; We are Hiring, Contact me if interested

Morné Steenkamp

Chief Operating Officer at Skin, Body & Health Renewal

Eric Tan

VP Technical at BOC Aviation

Josh Howard

Architecture and Engineering Leader

Daniel Or

Technical Problem Solver(C#, SQL)

Michel Tistchenko

Europe Quality Director at Plastic Omnium Auto Inergy

Bert Lederer

Retired Exec VP at Teknor Apex

Raphael Chermont

Executive Chairman at Shanghai Tang

Ieske RA
sargiz sakoomoshabad

Head of IT | IT Project Management | Strategic Business Partner

Radomír Žemlička

Freelance software developer mainly focused on JavaScript/TypeScript

Ranjana Mohapatra

Director Procurement at Mondelēz International

Todd Lehmann

IT Management Professional – VMware, VDI, Imprivata, Cloud, and Data Center Management. Virtual Infrastructures.

Alejandro Gramont

President & Co-Founder of NYNJA Group

John-marin Kos

Document Controller bij MME Group

Susan Posner

Partner at Health Advances

Tom Holmes

Regional Vice President of Sales

Kalaikaran kalaidhasan

Developer at Tata Consultancy Services

Patrice Pansier

IT manager – Head of IS cross functional dept. at Boiron France / Boiron France

Alexandra Bergh

Corporate Sales Support Contractor at YETI

Christine O'Connor

Champion of the User Experience Journey

Matt Ciampaglia
Khoa Le

Lead Mobile Developer at Azul Mobile

Vikram Bedekar
Michael Chen

Software Engineer at Qualtrics

Haley Ferrell

Customer Success Manager at Zenefits

Matthew Garvey
Daniel Ellis

Senior Software Engineer at Acadian Asset Management

John Cui

Senior Software Engineer, LinkedIn

Carly Holland

Account Executive at EAT Club

Alex Chesebro
Parker Saussy

Resident Property Manager, The Pointe at CDI Management, Inc.

Jingyu Liu

Research Analyst at AQR Capital Management

Reginal Barrett

http://RWBarrett.LegalShieldAssociate.com

Warren Longmire

Senior Developer at Missionstaff

Laura Doherty

Tech Partner Program Manager at Celigo

Gina Redding
Jean Uchôa
Nicolas Simone

Global Executive Director - Transformação Digital e Inovação at Petrobras (CIO/CDO/CSO/P&D)

Leonardo Souza

Software Engineer @ C6 Bank and Instructor @ Caelum

Marcelo Carrizo

Professional de Supply Chain / Qualidade / Logistica
Looking for colleagues of Chris Shelby at Company Inc?