Adam Schwartz's Email & Phone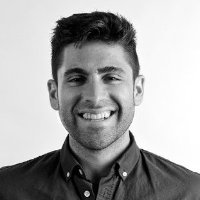 Adam Schwartz
Advisory Board Member @ Attentive
Adam Schwartz Contact Details
Co-Founder & COO @ A subsidiary of of BustedTees.com, TeePublic is a user generated platform that enables artists and designers to create and sell t-shirts. In less than 12 months TeePublic has grown from an idea to monthly revenues beyond the decade old BustedTees with 50-100% month over month revenue increases for the last 9 months. From
ContactOut is used by
76% of Fortune 500 companies
Similar Profiles to Adam Schwartz
Tristan Trenkle

Producer at TEGNA - Sister Circle Live

Chris Van Dorn

Regional Director at NextGear Capital

Onyay Pheori

Producer, Song Writer, Composer, Musician at Onyay Pheori Music

Andy Jacobs

Owner, Elite Sales Recruiting, LLC

Steve Torbenson
Roger Pielke Jr.

Professor, University of Colorado

Stephen Lochmiller

SiteSolutions.Com - USA - SEO Search Engine Optimization, Reputation Marketing, Web Design. 2 Million+ Users Since 1995

Kendra Branch-Brett

Marketing Strategist at Anne Holland Ventures Inc

Saira Brizzi

Digital Advisor for General Motors

John M Wyatt

Solutions Sales Professional

Greg Gorman

Senior Managing Photo Art Director at L.L. Bean

Marshall Sele

Business Development - Digital Products at Amazon

Darryn Harris

Politics = Acting Locally + Thinking Globally

Anna Reis

Associate Product Development Manager, Owned Brands OTC at Walgreens Boots Alliance

Al Herrera

Account Supervisor at The Woo

Jaime Haro

Senior Director Asset Management & Trading at Ameren

Sherri Thompson

Marketing/Advertising Director at Paul N. Gardner Company, Inc.

Gabriela Amandi
Elsie Graves

MHSA, BSN, NEA-BC, Chief Nursing Officer at CHRISTUS Santa Rosa Hospital-Westover Hills

Cheryl Dewar
Anne Smith, APR

Public Relations | Strategic Communications Manager

Jonathan Hill, CPA, CGMA

Director at Experis Finance

Rose Pylidis

Business Development Manager at Christopherson Business Travel

Bret Bero

CEO at Halt Medical Inc. - Acessa Procedure

Brian Schumel

Executive Director - Power at Fluor

Ruth Walters

Sales at Structured Communications

Samantha Jett

Account Manager at The Judge Group

Pedro Conrade
Zachary Brandt

Software Engineer at Lifion, by ADP

Archana Ramakrishnan

Software Engineer 2 at Microsoft

Daniel Escamilla

Director of Purchasing at Automotive Lighting

Bridget DePasquale

Vice President, Marketing Services

Steve Gardiner

Senior Vice President US Sales - Beauty

Anna Yuan
Matt DiLorenzo
Luke Jennings

Senior Full-stack Software Engineer

Tony Ren
Liangan Lai

Software Engineer at Innit

Michael Holly

Vice President - Supply Chain at The Clorox Company

Kiyana Salkeld

Senior Product Designer at Spotify

James Skorupski

An engineer with a passion for Design/UX/DataVis

Chan Kim
Mychilo Cline

iOS Developer at CapitalOne

Tamara Reyda

Director of Engineering at Interana

Terry DTM

★ ★ ★ ★ ★ Experienced Keynote Speaker | Self Esteem Architect ✔Helping Professionals be exceptional Speakers ✔

Satya Nadella
Yasmin W.