William Snow's Email & Phone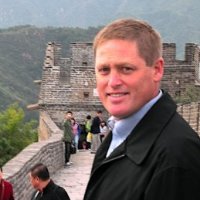 William Snow
Chief Technology Officer @ TRX Training
William Snow Contact Details
Masters @ National University
Expert at delivering high volume, data intensive web sites; recruiting and getting the best out of a focused group of engineers. Reputation for delivering results. Built extensive relationships with product groups as an early adopter of hardware and software. Dedicated web platform development, operations and network and security specialities. Skilled vendor negotiator, particularly in the colocation space.
ContactOut is used by recruiters at 76% of the Fortune 500 companies
Similar Profiles to William Snow
yosuke sugihara
Linardi Kurniawan

楽天株式会社 - Web Application Engineer

Elpe Sosiawan Tholkhah

Marketing Executive at Kyodai Remittance

Naoki Iijima

President at Logist Firm Inc.

Alexander Schindler

ACCA - Sales and Marketing Process Champion at Mettler-Toledo International, Inc

Seiko Indo

Director at APCO Worldwide

Yuki-hiro Osawa

Japan President, Dolby Japan K.K.

kyoko tabuchi

SORACOM,Inc ー Marketing Communications

Masahiro Kumakura

Canon Medical Systems Corporation - Chief Specialist

Hidekata Hontani

Professor at Nagoya Institute of Technology

Yu Konno
Makoto Hatano

RFID J PRODUCTS MGR at TI

Michael (マイケル ラシュコー) Luczkow

Senior Linux Systems Administrator at Okinawa Institute of Science and Technology シニア リナックス システム アドミニストレイター 沖縄科学技術大学院大学

Seth Radke

Business Analyst - Randstad Professionals

koichi ara

Senior Manager Software Development at NEC Display Solutions, Ltd.

Tatsuya Murakami

Head, Medical Quality Assurance Japan

Sei Lain Mou

COO and Marketing Director at Beeans Inc.

Ryota Ichie
Akira Kitanaka

3E Holdings - 3E Holdings CEO, Myanmar Unity Supreme adviser

Hiroaki Wemura
Arafat Ali
Kumiko Shikimachi

Proposal Professional Member / APMP

Sumio Iwanami, PhD

President, Pharma Licensing Research, Inc.

Hirofumi Hosho

Account Director at McCann Erickson

Chihiro Eto

Associate, Corporate and Investment Bank Technology, J.P.Morgan

Terry DTM

★ ★ ★ ★ ★ Experienced Keynote Speaker | Self Esteem Architect ✔Helping Professionals be exceptional Speakers ✔

Satya Nadella
Vaijayanti Korde
Serhii Biliaiev

Front End JavaScript Developer / React.js Developer / React Native Developer

Lafe Ayoade

Channels Specialist, Google Cloud ☁ Google EMEA

John Lin

Executive | Biotechnology | R&D

Alvin Khaled
Ekaterina Eliseeva

Data Scientist at Integral Ad Science

Ying Wang
Richard Harris
Henry Olschofka

Software Engineering Manager at Bridgewater Associates

Peter Jr.

Executive Vice President and Chief Financial Officer

Rajesh Podipati

AWS DevOps Cloud Engineer

Kaushik Das

Software Engineer at Collinear Networks

Divya Narendra

CEO & Founder at SumZero, Inc.

Karen Renner
Anna Morris

Senior Policy Advisor at U.S. Department of the Treasury

Marie-Christin Hansen

Senior Marketing Manager, Central Europe at Hitachi Vantara

Réguy Epolo

Developer Engineer at Adobe

Yasmin W.
Looking for colleagues of Chris Shelby at Company Inc?