Steve Coffey's Email & Phone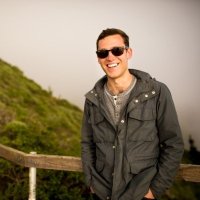 Steve Coffey
Full Stack Engineer @ Braintree
Steve Coffey Contact Details
San Francisco, California, United States
I'm a designer and software engineer from Ann Arbor. I have a passion for creating beautifully designed user interfaces and a knack for diving headfirst into problems and working to find creative solutions. I believe in whitespace, bold ideas, unit tests, and the power of coffee.
Developer Experience Engineer @ From July 2015 to Present (6 months) Mobile
ContactOut is used by
76% of Fortune 500 companies
Similar Profiles to Steve Coffey
Deke Marquardt

Research Analyst Intern at Ashfield Capital Partners, LLC

Susan Clark DeGoosh

Senior District Manager at Johnson & Johnson

Mark Scripter
Elizabeth (Liz) Krier

Accountant at Rockwell Automation

Rob Cheung

Art Outsourcing Coordinator at Avalanche Studios Sweden

Alexander Gorman

Lead Process Engineer at GE Power & Water

Roxanne Brown

Marketing Director at CDC-BME STIHL

Joseph Schilz

Software Developer at University of Washington

Beth Hoffman

Managing Director at Berkshire Partners

Kerrin Kenney

Staffing Consultant at Randstad

Kashish Wadhwa

Manager at Deloitte | CISSP | AWS Solutions Architect Associate

Manish Shanbhag

Executive Vice President, Chief Legal Officer and Secretary at BrandSafway

David Laks

Director and General Manager - Tunable RF Components at ON Semiconductor

Jason Klemme

Sr. Director, GetGo Operations at Giant Eagle, Inc.

Spencer Barney

Construction Manager at Boston Properties

Cherise Aoki

Assurance Associate at PwC

Jennifer Varney

Purification Process Engineer at Lonza

Ivan Feitl

Automotive Sales Manager - Sumitomo Chemical - Sumika Polymers North America (SPNA)

Erica Clark
Andrei Morera Solís

Project Delivery Programmer at Open Systems, Inc.

Charles Randall

Technical Strategist at SolidFire, Inc.

Dorothy Chau

Email Marketing Intern at Applied Information Group

Adam Gonzales

COO at Emerald Cascade Restaurant Systems, Inc.

Stephanie JD

Global Strategic Alliance Mgr - Americas at ServiceNow

Don Johnston

Sr. VP Sales at Merrill Corporation

Jeremy Boyd
Kyle Lametti

Real Estate/Start-up Investor

Curren Krasnoff

Chairman & CEO at Cortex Composites, Inc.

Andrew Moynihan

Mechanical Design Engineer

Sönke Behnsen

Psychoanalyst (IPA), Owner of Consider Media Consultancy Services

Axel Grimm

Managing Director at German Association of Surface Heating and Cooling (BVF e.V.)

Bruno Sá

Senior Data Warehouse Architect

Daniel Münch

Technical Lead at Checkout.com

Christian Alberti

Global Head of Sales at OSRAM INNOVATION

Sascha Hahn

Enterprise Account Executive at Tableau Software - Helping People to See & Understand Their Data

Johannes Keil

Supporting my Customers Multi-Cloud Strategies

Guven Toprakkiran

Master Student, Business Intelligence & Large Scale Data Analytics

Tom Henkel
Esteban Cuscueta

Java Developer at ]init[ - Services for the eSociety

Jamie Conners

Senior Director, Product Marketing ROW at Zynga/NaturalMotion

Martin Buerkle

Transmission/Gear Engineering Consultant at Buerkle Consulting

Frank Bömers

Head of Business Unit Orthotics @ Otto Bock Healthcare GmbH

Anne-Charlotte Poirier

Program Buyer chez Faurecia

Usman Virk

Account Director at Splunk

Björn Radde

Head of Digital Marketing | International Author | Speaker

Sebastian Eggers

Director Strategic Accounts bei Tanium

Chris Kendell

Co-Founder at Vaping360 | Creating a smoke-free planet

Philippe Mudra

Director of Sales DACH | Qlik Data Integration (formerly Attunity) | WE ARE HIRING!

Malte Bucksch

Android Developer at xStudy SE
Looking for colleagues of Chris Shelby at Company Inc?