Nico Montoya's Email & Phone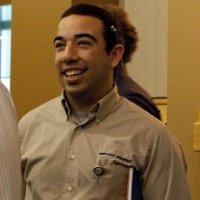 Nico Montoya
Propulsion Engineering Intern @ SpaceX
Nico Montoya Contact Details
Propulsion Engineering Intern @
SpaceX
Chief Engineer @ Triton Rocket Club
Gordon Engineering Leadership Scholar @ Gordon Engineering Leadership Center - UCSD
High School Diploma, 4.23 @ Bishop Amat Memorial High School
My online portfolio can be viewed at: https://portfolium.com/nmontoya My lifelong passion for engineering is one of the main reasons I am currently attending UC San Diego studying Mechanical Engineering. I also entertain ideas of entrepreneurship with an emphasis in aerospace engineering and any other business ideas or inventions I can come up with. It has been my
ContactOut is used by
76% of Fortune 500 companies
Similar Profiles to Nico Montoya
Ryan Bradley
John Cox

Meraki Account Manager at Cisco

Drew Taylor

Partner @ Digitalis Ventures

Christine M. Mann, RPA, LEED GA

General Asset Manager at Paramount Group

John Schmitz
Christian McDaniel

Marketing Manager at American Credit Acceptance

Brian Murphy

Partner at Murphy & Rudolf LLP

Chris Clement

UDI lead Medical Devices at Medtronic

Guran Yet

VP, CCNA Business Transformation at The Coca-Cola Company

Matthew Driggs

Founder at The Advocates Montana, Driggs Bill & Day

Cater Lee

Vice President of Programming, The E.W. Scripps Company

Christopher Kesten

Regional Manager - Healthcare at Oracle

Amir Ansari

Sr. Account Manager, Army Veteran, Technologist

Joshua Terry

RSA Archer Existing Account Manager- New England Enterprise Accounts

Jason Stout

Industrial Cyber Security I Digital Transformation I IIoT I Predictive Maintenance

Rich McGinnis

Sr. Consultant at Plan B Consultancy (UK) Ltd.

Brian Butcher

Program Manager at Intel Corporation

Brent Hayman

Plant Manager at NSK Steering Systems

Deborah Martino, MS HRM

Senior Corporate Recruiter at FIBA Technologies,Inc.

Juliana DeVries

Assistant Federal Public Defender

Ken Sailor

Treasury Management Sales Consultant at Wells Fargo

Howard Golden

Always looking for Talented People

Madhumita Biswal

Recruitment Specialist at UpStream Global Services

Carol Barbero
Phillip Timpson

Applications Engineer at DMG Mori USA

Alex Kelly III, MBA

Market Manager at 7-Eleven

Terry DTM

★ ★ ★ ★ ★ Experienced Keynote Speaker | Self Esteem Architect ✔Helping Professionals be exceptional Speakers ✔

Julia Lin
Chang Li

Software Engineer at Google

Travis Dunn

Chief Technology Officer at DraftKings Inc.

Ryan Choy-Arioli
Dmitry Karpeyev

Sr Researcher/Engineer at DV Trading LLC

Syed Husain

Chief Commercial Officer at Alcami Corporation

Peter Yun

Lead Software Engineer / DevOps at Capital One

Andy Cooper

Senior Vice President, Technology

Jessica Coen

Editor in Chief and SVP at Mashable

Samuel Owen

Sr Software Engineer at AWS

Sheng Zhang

Senior Staff Software Engineer at Google

Eva Ho

Software Engineer at Platterz

Nilesh Agrawal

Software Engineer at WhatsApp Inc.

James Cook

Software Engineer at Google

Puneet Dewan
Samantha Kennedy

Manager, Customer Success at Gong.io - We're Hiring!

George Gonzalez

Software Engineer at Athletes' Performance

Chris Cain
Yasmin W.