Denis Merlo's Email & Phone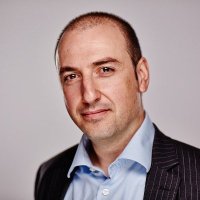 Denis Merlo
Global Information Risk Management & Governance (CISO) @ D.E MASTER BLENDERS 1753
Denis Merlo Contact Details
Sunbury, Surrey, United Kingdom
Internship Electronic Knowledge Management Systems Specialist @
KPMG
Engineer's Degree @ Universitat Oberta de Catalunya
ContactOut is used by
76% of Fortune 500 companies
Similar Profiles to Denis Merlo
Milica Travica

Managing Director at Inec Engineering Ltd

Steve Wardell

Managing Director at Cross & Wells Ltd

Paula Richardson

Dentist at Dentistry by Paula Richardson

Jonathan Oxley
caroline clark

Director at Aluline Environmental Ltd.

Mark Widdowson

Vice President, JP Morgan Chase IB

Douglas McNeill

Strategy, forecasting & communications

Lee McNichol

Senior Designer and Account Director at Kelly Hoppen Interiors

Maria Piano

Associate Director at UBS

Peter Tomlin

Chief Executive Officer at Merchant Navy Welfare Board

Filippo Mansani

Innovation and Startup Desk Manager. Investor Relations at Italian Trade Agency-Section of the Italian Embassy in London

Richard Whitelock

Engineering Manager - Forward Planning and Launch. at Ford Motor Company

gordon hadley

Account Manager at Securus Group

Anita Blanchard

PA to Steven McGrory Group HRD to ERM at ERM: Environmental Resources Management

Simon Morris

Chief Executive Pictet Global Markets (UK) Ltd

Tareq J Kour
Soile Makkonen

Owner & Company Director at Ada & Ina Ltd.

Bec Penn

Freelance Animator, Video Editor and Creative Artist

Virginia Edgecombe
Angie Siwiec

Human Resource Management

ASHLEY COLLINS

HEAD OF RETAIL at Hever castle

Leah Willcock

Buyer at The co-operative

Ricky Mckinson

GP Liaison at The London Clinic

Emma Townley
hamza hamouchene

Freelance Writer, Researcher and Scholar-Activist

Philip Wrigglesworth

UK Bid & Commercial Manager at PayPoint Mobile and Online

Aoife Macleod

Deputy Manager at Done Bros Ltd.

Stuart Callan

Architectural Technologist at Ashby Design Ltd

Aimee Fritz
Steve Grimshaw

CEO at Caliber Collision Centers

Lisa Stanton

FinTech CEO, Industry Board Director

Gordon McCance

Vice President, Retail Sales - The Master Lock Company - Fortune Brands Home and Security (FBHS - NYSE)

Narbeh Dereghishian

Senior Staff Product Designer at Rival

Maren Costa

Principal User Experience Designer at Amazon

Samantha Senni

Assistant Vice President | Branch Manager at The Creative Group, a division of Robert Half

Denise Bellotti

Senior Director, Customer Success at Salesforce

Neil Gehani

Director of Product Management - Technology Futurist

Yoav Amiel

Product & Technology Leadership

Dmitriy S.

Senior Software Engineer at Unyte Health Inc.

Qingqiang CFA

Vice President, Desk Quant at Bank of America Merrill Lynch

Lauren Kleinman
Ryan Murphy

Enterprise Account Executive at Mendix

David Smock

Lead Solutions Engineer at Slack

Sarah Rossi

Enterprise Account Manager at WeWork

Greg Osuri

Founder, CEO at Akash Network

David Lasus
Terry DTM

★ ★ ★ ★ ★ Experienced Keynote Speaker | Self Esteem Architect ✔Helping Professionals be exceptional Speakers ✔

Yasmin W.
Looking for colleagues of Chris Shelby at Company Inc?