Tushar Suresh's Email & Phone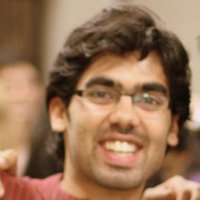 Tushar Suresh
Software Engineer @ NewsCred
Tushar Suresh Contact Details
Bachelor of Technology (B.Tech.) @ National Institute of Technology Karnataka
I have been a Research Intern and Developer at several top class institutes like eBay Research Labs, Carnegie Mellon University Pittsburgh, IIIT Hyderabad. Last year, I graduated from Columbia University New York with a Computer Science MS degree specializing in Natural Language Processing and Machine Learning. I am particularly interested in developing applications in the field of
ContactOut is used by
76% of Fortune 500 companies
Similar Profiles to Tushar Suresh
Balakumaran Manoharan

Value Proposition and Insights, Affordable Care

Mary Bauer

Help Desk Technician at Belcan

Mariusz Szczodruch

Kierownik ds. administracji w J. S. Hamilton

Andaç Gürel

TNT International Express Customer Service Executive

Alain Gabriel

Directeur Achats Prestations de Services, Emballages et Consommables Carrefour

Doni Farkovits

Director of Technology at The Abraham Joshua Heschel School

Walter Moden

Senior Packaging Engineer at Micron Technology

Linzi Barrie

Attended Edge Hill College of Higher Education

Favian Mondragon
Brett Smoak

Sr. Sales Engineer at GPM Ind

Joe Petyt

Head of In Play Football at Sky Betting & Gaming

Emily (Schaefer)

Firm Administrator at Churchwell White LLP

Jaffar Hleihel

CTO | R&D | Medical Devices | Project Management | Startup | Innovation |

Mina Weydahl

Project manager climate change and energy at Norwegian Refugee Council

C. Sparks

Area Manager - Safety, Environmental & Occupational Health at DuPont

Tracey Ballard

Senior eCommerce and Digital Business Manager

Victoria Nade

Human Resources Manager at Diageo

Darnell Newman

Account Executive at Zones, Inc.

Tegan Ginns

Human Resources Manager at Accor

Scot Merves

Sales at Access Biologicals

John Berar

Chief Information Officer at Ipas

Anders Tillebeck
Moataz Elshimey

Service Desk Support at Hayah International Academy

Susan Colross

Director, Treasury Operations

Ryan Lepke
Rudolph Duquesnay

pastry sous chef at Marriott Hotels

Feliciano Rahardjo

Architectural Designer at Hardlines Design Company

Sara Amrozowicz
Lisa Drugge

Business Analyst at Datacard

Freddy Cordova

President at FJ Turbine Power Inc

Terry DTM

★ ★ ★ ★ ★ Experienced Keynote Speaker | Self Esteem Architect ✔Helping Professionals be exceptional Speakers ✔

Satya Nadella
Bill C.

Front End Developer at Dailymotion

James Andrews

Vet | Co-founder Felcana | Bain & Company Strategy Consultant

Andrew Lewis

Contract Software Engineer at Comcast

Conor Nicholson

Recruiter of Recruiters, Founder/CEO of NSS RPO | Talent Acquisition, Staffing, Recruitment Process Outsourcing Expert

Sridhar Gunapu

Founder & CEO, Decision Engines

Elad Gerson

Software Engineering Manager at Facebook

Michael Teixeira

Software Engineer at VoltDB

Sean Cavanaugh

Chief Administrative Officer at Aledade, Inc.

Shaoxiang Su

Software Engineer at Microsoft

Milana Lewis
Jeremiah Jacquet

Mobile | IoT | Blockchain

Bob Burkhardt

VP, Global Systems Engineering at Sumo Logic

Raj Banerjee
Chris Winthrop

Senior Data Engineer at Amazon Web Services

Silja Tirronen

Sr. Software Engineer at Zenefits

Minghao Yan

Software Engineer at Google

David S.

Actively Hiring Senior Engineers

Yasmin W.
Looking for colleagues of Chris Shelby at Company Inc?