So you need to get in contact with someone, and all you've got is their name and a domain name to go by.
Firstly, can I just say…
But don't worry bestie. We can make it work!
1- Use an email finder tool
If you've got a name, that's already a pretty substantial lead.
There are email finder tools available online like ContactOut that can help you track down email addresses. All you need to do is enter the name and the domain name, and it will scour the internet for any email addresses associated with it.
Here's what I got by looking up "Santosh Sharan" on ContactOut.
I put the name in the search bar under the right category.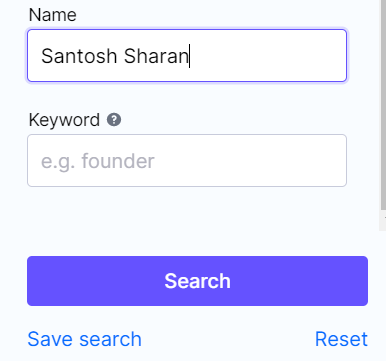 I hit search, and ctrl+f searched the domain I was after. In this case, it was "Contactout.com".
And there it is! An email!

Make sure to check the details included so that you know you've found the person you're looking for. Give the tool a try for free here (my shout).
2- Check Google
Just plugging in the name of your prospect into Google can get you some valuable contact information, like their LinkedIn or Twitter profiles.
But you can also use advanced google search operators to narrow your scope a bit.
Square brackets (these ones [ ]) are for exact matches
Quotation marks (these ones " ") are for phrase matches
If you've got a domain name, you can try putting something like "@[domain name.com]" + contact name into the search bar.
Here's what I got for a Santosh Sharan. I'm looking for a Gmail account associated with this name, so I type in "@gmail.com".
Bingo.
3- Guess and verify emails
Guessing can seem like shooting off darts into the void, but if you do it well, you can definitely have a high chance of hitting a bullseye.
The key is in the verification step.
First, find a common email convention.
Most companies use the same format for all of their employees, so you can use a tool like Hunter.io's Domain Search to see how your target's company usually does it.
Here's what shows up for google.com.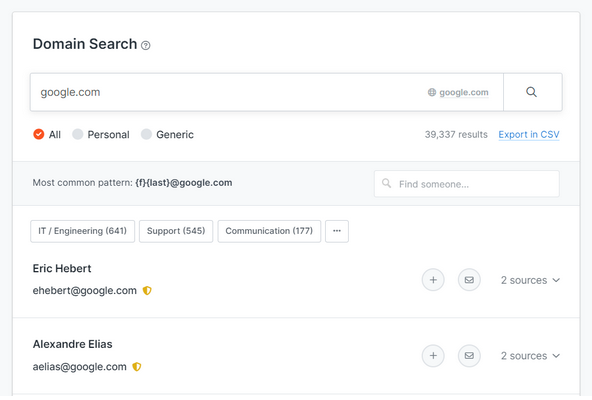 Then, you need to generate some likely email addresses. You can do this using your own brain or borrow The Power of Technology.
There are tools called email permutators that do this step for you. All you need to do is input the domain name and your target's name.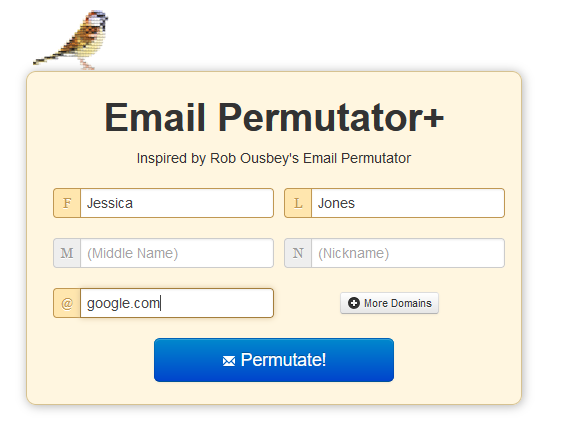 Now, since we already know that google.com usually does "First [email protected]" for their employees, we can reasonably guess that Jessica Jones' email, if she works at Google, would probably be [email protected]
But an email permutator is great if the pattern isn't so clear. It generates likely formats based on the name and the domain name.
So now, instead of groping around in the dark, you've got some pretty solid guesses to work with, all from just a few clicks!
But like I said, the real work is in the verification.
You need to make sure that your list of likely email addresses is valid and that you're not just sending off an email to nowhere. That could negatively affect your sender reputation score, and the lower that score gets, the more likely it is for your email to be filtered out as spam.
Verifying email addresses can take a long time. Most free-to-use verification tools only allow you to check one email address at a time, and you have to input it in yourself.
That's all folks 
And there you have it! Look at you, making a whole house out of clay!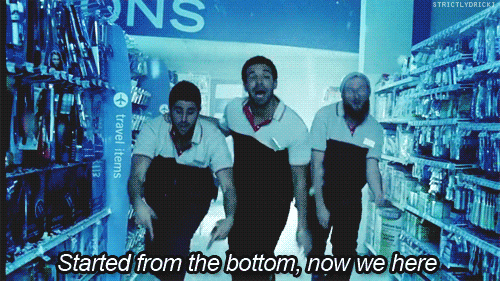 It just takes a little bit of work to find email addresses from a domain name. In no time, you'll be sending out invitations and inquiries like the best of them.
By the way – check out our ultimate guide here on proven ways to find anyone's email address. Or specifically how to find someone's: 
Happy contacting!
And of course, try ContactOut for free if you want to find accurate emails from 75% of the world's professionals!