When prospecting for new leads, the first step is usually finding contact information like email addresses. However, this can be difficult if you don't have much to go on – all you might have is a name.
If this is the case, don't worry – there are a few ways you can find someone's email address using just their name.
Let's dive into it.
1 – Google and Search Operators
Google truly has all the answers. You can start by simply typing your prospect's full name and the word "email" into the search bar to see what comes up. If that doesn't yield helpful results, you can start utilizing some Advanced Research Skillz™.
Pay attention, Padawan. These are the master's tricks.
When your regular broad search terms don't turn up anything good, it's time to whip out some advanced google search operators.
Square brackets (these ones [ ]) are for exact matches
Quotation marks (these ones " ") are for phrase matches
Try out these operators in combinations like these:
[Full name] + email
[Full name] + "email address"
[Full name] + company + email
[Full name] + "contact"
And if you know a company that they're working at or that they've worked for previously, you can narrow down the advanced search results even further by typing in something like:
2 – Email address lookup tools
Playing around with google and other search engines can take some time, and in business, time is money.
Locating contact details is only the first step of the communication process, and spending hours finding email addresses really cuts into valuable working time.
That's where email lookup tools come in handy.
Tools and extensions that source email addresses for you from databases and social media can save you a lot of time and effort.
Depending on the software, it can find an email address by name in seconds, as well as other contact info like phone numbers. The downside is that not all of these tools are free to use, and some have premium features locked behind a paywall.
Now, of course, I'm biased (and for great reason). So here's how you can use ContactOut to help find emails.
Then head to your search dashboard and simply enter the name of the person you're trying to find. Of course, the more details you can filter, the better.

3. Click Search.
4. Once the results come up, click on "Show" next to the result that looks most like your prospect! Our tool also pulls their work and education history from LinkedIn so you can make sure it's the right person.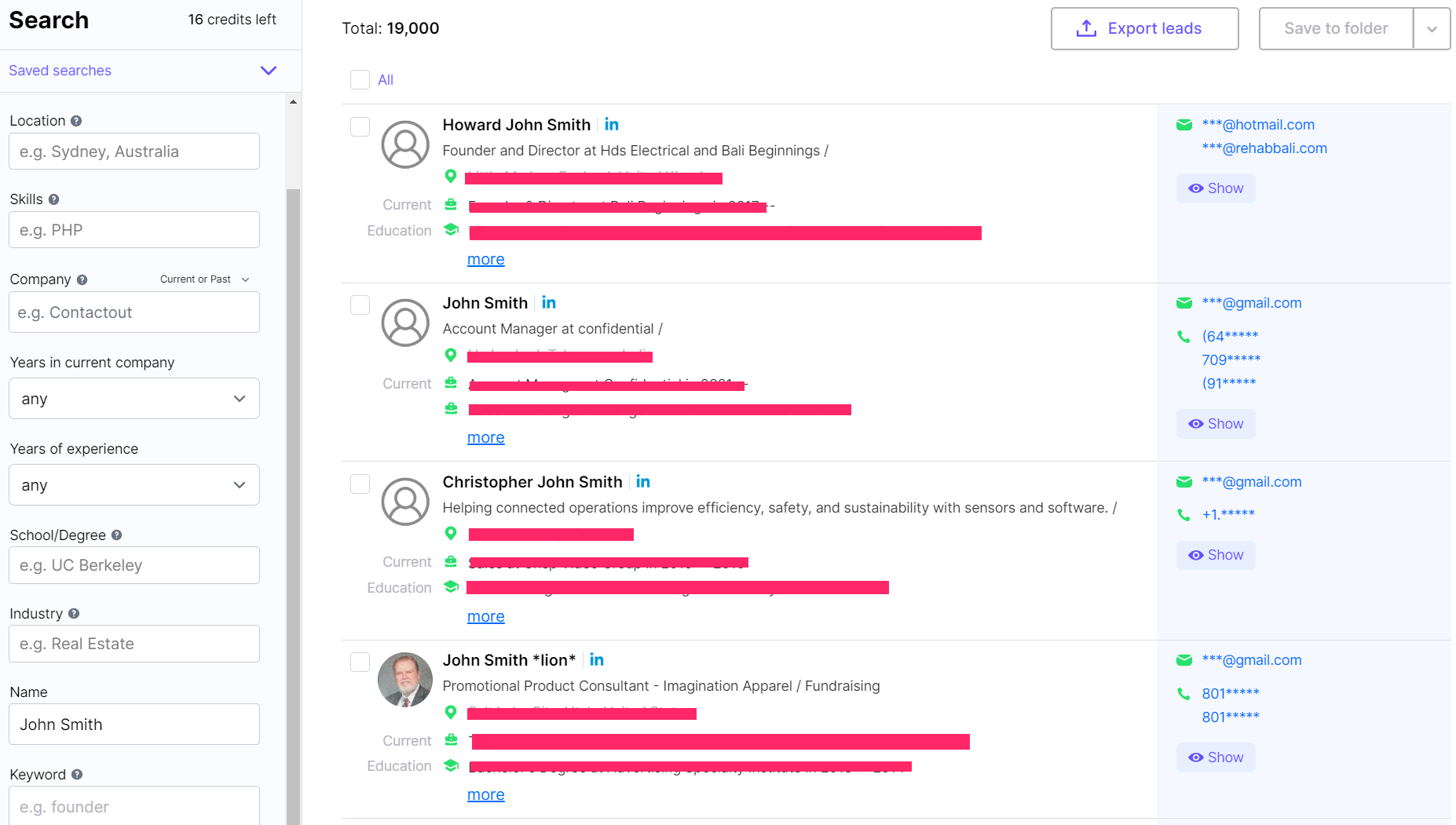 19,000 John Smiths in a matter of seconds (unfortunate name if you ask me). Finding emails are that easy with ContactOut. Plus, you get 30 searches on the free plan.
Give it a shot here!
3 – Social media
Everyone has some sort of social media nowadays.
If you've got your prospect's name, putting it into google will likely lead you to their Twitter, Facebook, or LinkedIn profiles. These profiles might not get you email addresses directly, but they can get you some valuable contact info that you can use to prospect further.
(Actually, I lied. LinkedIn is one of the easiest ways to get someone's email with the right tools. I'll show you how here)
For example, while not many people will have their personal email address displayed on their Twitter account, they might link to their personal website or personal blog.
From there, you might be able to locate a "contact us" or "about us" page that can get you your target's email address.
(Psst – check out this article to find out more about using Twitter advanced search to find email addresses)
4 – Asking personal connections
Another valuable thing that social media can provide is knowledge of your mutual connections.
If you share some personal acquaintances with the person you're looking for, see if you can reach out to them to ask for their email address.
It's best to ask close professional associates rather than just people who work in the same company, but even that might give you a place to start.
5 – Asking them directly
I mean, what's the worst that they could say?
Maybe they'll say "no," but they could just as easily say, "yeah, sure. Here's my email address, come at me".
And if you let them know that you'll be emailing them, you can have some assurance that your carefully crafted and meticulously worded email won't just go directly into the trash folder.
The important thing here is tone. You want to be polite and not creepy. Mentioning things that you know about the prospect may show that you're serious about wanting to hire them, but no one in the history of email has ever responded positively to a stalker message.
So yeah; tone. It's important.
At the end of the day…
Keep in mind that not every method will work for every person, so it's important to try a few different tactics. But with a little perseverance, you should be able to find at least one way to contact them.
You can read our ultimate guide here on proven ways to find anyone's email address. Or specifically how to find someone's:
And of course, try ContactOut for free if you want to find accurate emails from 75% of the world's professionals!
Good luck, and may the force be with you!