Entering into B2B communication can feel a bit like navigating a minefield.
You want to be professional, but you don't want to seem like a robot. First impressions count for a lot, so how do you find that company email address without seeming like a creeper?
Here are some tricks to finding company email addresses that will help you get the ball rolling (without resorting to guessing games or putting your foot in your mouth).
1- Check out the company website
This may seem like an obvious place to start, but it's often overlooked. Often, company email addresses will be listed on the "About Us" or "Contact Us" page.
Larger companies won't have every employee listed, of course. But if you're trying to reach a specific department or individual, this can be a helpful starting point.
Sometimes the website might only have a contact form to fill in for inquiries. It doesn't hurt to send one in with your email address attached. Worst case scenario, you don't get a response. But you might just get lucky and get someone reaching out to you directly.
2- Do a Google Search
If the company website isn't helpful, try doing a Google search for the company name + "email address."
If you're looking for someone specific, you can also put their name into the search tab.
Here's a search I did for a Jessica Jones working at Microsoft (who I did not know actually existed before this search, sorry if this is you).

3- Make use of social networks
If nothing comes up attached to a particular name or department, then you might have to take an indirect approach.
See if you can get the contact details of someone in your prospect's circle. Maybe a co-worker or another department that works in the same building.
Then, reach out to them and see if they're able to forward you to give you info on how to best reach the person or department you're looking for.
4- Use an email lookup service
Now, this option isn't always free, but it's convenient and quick.
And you know what they say in business; time is money.
An email lookup tool like ContactOut can shave off hours of work for you (and lucky you – we give 30 free searches every month).
All you need to find a company email address on ContactOut is a name and a company domain.
ContactOut has a database of over 1 billion email addresses and a 99% rate of accuracy, so you'll be sure to get the right email.
You can get the contact info you need in three easy steps!
Step 1: You'll need to log in or create an account. If you're new, register here.
Step 2: Head to your search dashboard and enter the name and company name of the person you're looking for.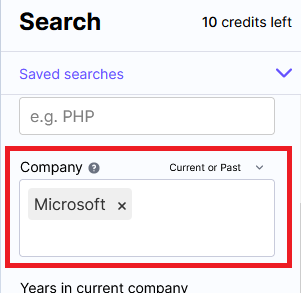 (Let's see if Microsoft's Jessica Jones turns up in ContactOut's database)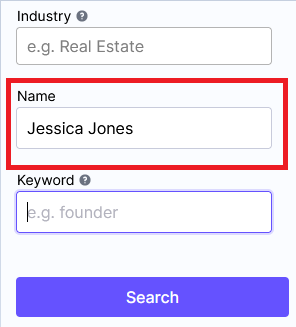 Step 3. Click search, and voila!

That's it. That's all it takes.
Using an email lookup service like ContactOut speeds up any email search. That entire process took me less than 2 minutes on my dinosaur laptop.
You can sign in with one click using a google account.
So there you have it!
Finding company email addresses doesn't have to be a daunting task. With these tricks in your toolbox, you'll be well on your way to B2B communication success!
You can also read our ultimate guide here on proven ways to find anyone's email address. Or specifically how to find someone's: 
Onwards and upwards, soldier!
And of course, try ContactOut for free if you want to find accurate emails from 75% of the world's professionals!