9+ Best Recruitment Practice For Businesses In 2022
Let's face it. Recruitment is more challenging than it used to be, and it takes a village to employ the right candidate and avoid a bad hire.
While technology and social media have made it easier to publish job postings to a large audience, connecting to the right candidate today requires even more work. So having the best recruitment practices is essential for all businesses, regardless of size or industry. 
What's more, if you are a talent acquisition professional, you'll know that effective recruitment involves more than just hiring the right person for the job. It has many attributes and pieces that need to go right to hire a qualified candidate.  
We'll cover the best recruitment practices to get you to hire the perfect candidate. By the end of this article, you'll be equipped with the knowledge and understanding of how to implement these strategies to achieve the ideal candidates for your job.
What To Expect In Today's Recruitment Landscape And Workforce: Here's What Changed
For starters, it's crucial to understand the dynamics at play in today's talent market.
Over the last few years, the recruitment landscape has changed drastically. Companies had to deal less intensively with this process. More and more employees now focus on the value of a company and how it contributes to a better society. Here are some factors that changed: 
A. The Meaning Of Work
Historically, recruitment has been considered a selling function where recruiters must sell the job and the company to prospective candidates.
However, with the advent of technology and the internet, recruitment has become a much more complex process requiring a cohesive mix to hire and retain the best talent in the job market.
This is because potential job candidates are re-evaluating the meaning of work, particularly regarding work-life balance.
The meaning of work has been defined in three levels if looked at from the conceptual level: 
First

, it can refer to the importance of work attached to an individual's representation of work

Second

, it can refer to a personal preference for work 

Third

, consistency between oneself and one's work, similar to work-life balance, is understood. 
All three levels have changed considerably since the pandemic. However, candidates still value three priorities in job roles that surfaced and accelerated during the pandemic: work-life balance, flexible work arrangements, and upskilling.
B. The Vigorous Expansion In the Economy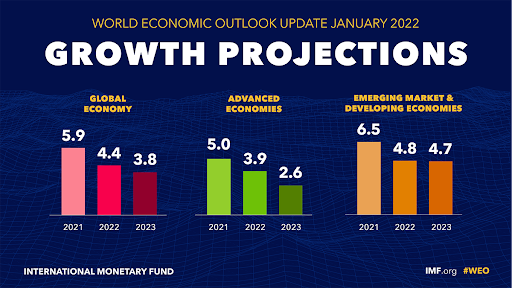 While it's difficult to tell what exactly the economic damage from the last two years is, there is a significant positive impact on developing and emerging economies.
Many recruiters have seen more positive developments, in terms of how well a company is performing this year, rather than negative ones. 
The stock market is an excellent example of this. Financial media companies like MarketBeat give an accurate market analysis, which helps indicate different companies' important metrics, thus improving the stock market.
When the stock market improves, so does economic performance. The employee rate then becomes a signal for not only investors but a call to recruiters as well. 
However, the economic expansion rate also affects job hiring as many recruiters face competition.
The total number of job postings was 26.6% higher compared to before the pandemic, according to findings from Indeed, which shows that recruiters are struggling to hire top talent. 
C. Flexibility & Enjoyment Working At Home
Now that people have had a taste of working from home, most don't want to return to the office full-time.
But flexibility doesn't stop there. If the pandemic has taught us anything, it's to be flexible in all areas of work and adapt to new situations. In 2022, there are more options for employees to choose from when they work– early morning, late evening, and weekends.
Surveys show that 95% of people want more flexibility at work, and many are even ready to leave their jobs if there is no flexibility. Hence, the demand for work software that can allow work-from-home setups like this phone business system tool for cold calling agencies are on the rise. 
In addition, work in the office becomes boring, which accounts for many unhappy employees. 
Thus, many companies have shifted to including work parties and happy hours to increase productivity. A classic word scrambled game is one of the many activities employers can help to make work hours more fun and flexible.
D. Concern For Safety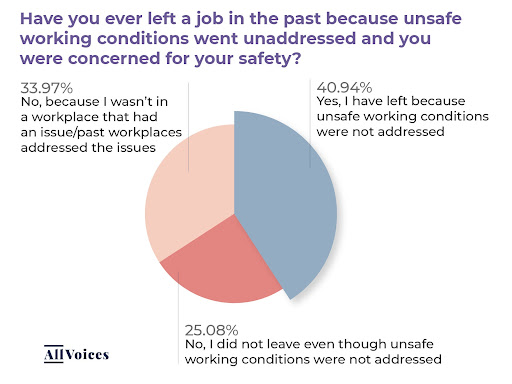 It's no surprise that Covid–19 has drastically changed workplace safety standards. Many are reluctant to interact with co-workers who may or may not be vaccinated or who are unwilling to wear face masks.
People are now beginning to realize the effect work has on mental health and other facets of well-being.
Employees now want the workplace to offer more value, flexibility in terms of wellness, and safety. If companies don't address these safety measures, chances are that employees are likely to leave their positions.
As a result, recruiting and hiring strategies that were effective once before need adjusting to fit this year's trends. The key to doing this has the best employee recruitment strategies.
9+ Employee Recruitment Practices In 2022
Good recruitment will help you find talented candidates for your company. While there are several ways to find prospects, such as job boards and employee referral programs, a recruitment strategy is necessary to identify the top candidates.
That said, whether you're looking to hire during a recession or just because you're starting up and want to bring new ideas to your company, you can implement these tried-and-true recruitment strategies for onboarding the best employees for the job. 
Let's look at the strategies.
1. Tailor Your Recruitment Methods To Fit The Company's Needs 
Your company's needs, priorities, and strategy can vary depending on size, age, location, or industry.
For instance, the role of a merchandiser for a brick-and-mortar lingerie store like Soma would differ from the one working for an online store like Julbie which calls for a different action. Not all businesses are the same, so what works for one might not work for another.
Recruitment strategy plans take many forms and varying levels of detail. Keep in mind of items such as goals and budget. Recruiting costs can include technology, travel, and marketing expenses. Budget wisely for expenses like basic recruitment costs and employee pay.
Also, be upfront about compensation. Tech candidates' expectations are increasing, so filter out the ones you can't afford to save time during the screening phase.
The processes you will build and the methods you'll use to attract potential candidates depend heavily on these two elements. You don't have to remake the wheel, though. Start with tried methods and customize based on what makes sense to your company's needs.
2. Revamp The Interview Process
Interviews are easily the most common components of employee hiring and yet the most poorly executed method.
With the majority of all companies using only interviews in the hiring process, it only makes sense that recruiters should be excellent at interviewing. Unfortunately, that's not the case. If you find yourself with consistently bad hires, your interview process is likely to be blamed. 
You can reevaluate your interview process by creating a structure for your interview and judging applicants on performance, rather than just promises or prior experience. 
With careful preparation, recruiters can make the most of employment interviews and get the information they need. If done correctly, you can not only determine if an applicant's skills, experience and personality meet the job's requirements but also help the employer assess whether an applicant would likely fit in with the corporate culture.
In this case, ask yourself the following questions: 
Am I asking open-ended questions?

Do I spend time getting to know my future employee?

Am I asking the right questions to help make my decision?
If the answer at any point is "no," it might be time to reform your interview process. 
3. Enhance Candidate Experience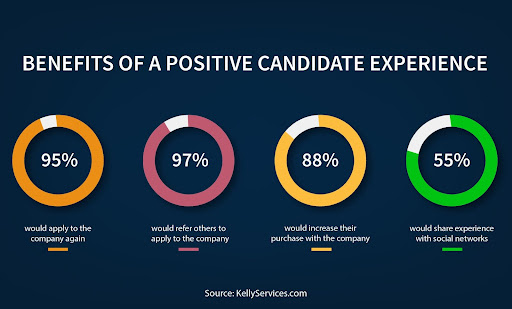 Candidate experience is exceptionally vital throughout the hiring process.
Employers can longer put a decent salary on the table and expect it to be enough to attract top-quality employers. Every interaction with an organization, from job postings to speaking with a recruiter, can positively or negatively impact the candidate's perception of your organization.
Today, job seekers have higher expectations and base their decisions on many factors, including the impression you give throughout the recruitment process. 
With that in mind, employers must pay close attention to their candidate experience strategy. Not only to source the best talent but to retain your company's reputation.
As candidates decide whether to accept a job based on how welcomed they feel during the recruiting process, creating a positive experience is crucial.
You can ask the following questions to improve your application process:
How will they know if they are selected?

What happens after an individual candidate completes an application?

What does the application process look like? Is it long and tedious? 
4. Leverage Automation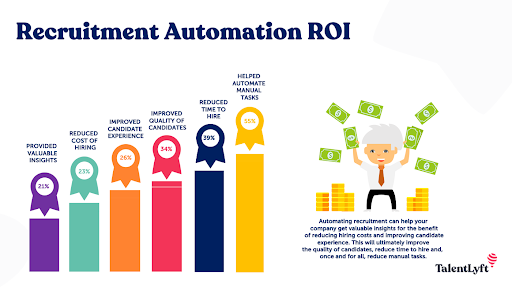 While automated recruitment doesn't replace a human's insight, experience, and knowledge, it does work by automating the tedious and necessary actions essential to the recruitment process. In fact, 70% of recruiters say technology will play a significant role in increasing overall productivity and lowering the turnover rate.
It's no surprise then that most companies rely entirely on Artificial Intelligence for their everyday activities. In the case of recruitment, companies can use the Al in chatbots to automate busy work and makeup time for more critical tasks.
Some examples of these tasks include filtering through hundreds of candidates, vetting and interview scheduling.
With automated candidate screening, you can get an overall understanding of your candidates' capabilities before even viewing their applications or resume. This way, you can more efficiently and quickly guide talent through the application process to find suitable candidates.
4.1 Accelerated Hiring Procedures
The best candidates will no doubt be approached by your competition as well. If your hiring procedure is drawn out, you'll inevitably lose qualified applicants to your competitors. 
Additionally, it's hard to keep a high level of engagement throughout a long hiring process. The candidate might have made a different decision when you make the offer. It's crucial to respect the candidates' time and keep them informed.
Utilize an applicant tracking system (ATS) to automate a number of processes and save time and resources. You can improve the company brand by recruiting efficiently.
5. Create A Strong Employee Referral Program
Employee referrals are one of the best and most effective ways to find quality candidates for your company. The best talent often comes from within through internal hires or employee referrals.
According to a study, employees hired through referrals are likely to stay longer in your company than employees found through other channels.
Implementing an employee referral program allows current employees to refer friends, family, or relatives for open positions within the company and can boost your recruitment efforts. This way, your employees do half of the recruitment for you. 
For instance, If an employee enjoys working in your company, they'll have no problem promoting open positions for your company. This might bring in prospective employees because they will be more informed after hearing about their friend's personal experiences.  
The best thing about hiring referred candidates is that you can shave off days of your time to hire and cut back on advertisement costs. Google has recently switched to this approach, which is paying dividends.
6. Data-driven Recruitment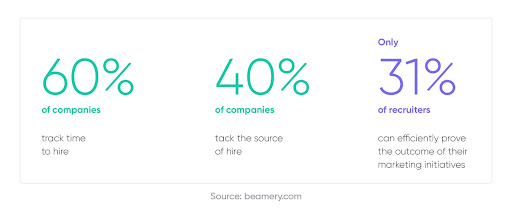 From how we shop or pay bills online to how we order our food, data-driven technology has changed how we do everyday things.
Data analysts use data pipeline tools to improve analysis. An excellent analysis can help your company better understand its candidates.
Simply put, data-driven techniques involve collecting and interpreting relevant data to maximize the value of candidate data. In recruitment, this process allows us to predict better ways to source, access, and select candidates. As a result, you can hire qualified candidates more effectively and efficiently. 
By using data-driven recruitment, you can analyze a large pool of talent and identify candidates with skills, experience, and ideas to help your company.
Not only does it improve hiring quality, but data-driven recruiting can help allocate your budget wisely.
For example, with this technology, you can track the emails your hiring team members exchange with candidates to see if there are specific steps you can take to speed up the screening process.
For companies looking to adapt and thrive in the future, this is a top recruitment method to embrace if you want to succeed in hiring the best talent. 
7. Develop A Company Culture That Attracts The Best
Your company's culture matters more than you think.
46% of job seekers consider your company's culture before applying. It determines whether you can retain your existing employees and influences potential candidates' decisions on whether to join your company. 
Potential employees, especially the younger generation, value the significance of an effective company culture more. Many candidates agree on four key components that are vital for any workplace:
Soft skill development

Work flexibility

Anti-harassment

Pay Transparency
You can improve your company culture by communicating your company's values to attract fresh talent.
Undoubtedly, every candidate wants to have a work-life balance and maintain their social life. If your company is about having fun and no extended hours by offering stability, you should mention it first-hand to secure potential applicants.
8. Hire A Recruitment Agency
When your company has an position open for awhile despite all recruiting efforts, you might find yourself hitting the hiring ceiling.
When this happens, it's a good idea to tap into a hiring agency. They can help accelerate the process and find better-suited candidates for your company's needs. 
You can incorporate them in your workflow to achieve optimal results, whether that means giving the recruitment team their position to source, evaluate, and present candidates directly to you for an interview or having them own the sourcing role.
Either way, they will save your business time as they will take care of the initial steps in the hiring process.
9. Strong Employer Branding
When it comes to any company, employer branding is a must.
It not only makes your employees proud to be a part of the organization but helps you hire the best talent. Most employees pay special attention to employers' social media channels before applying for a job to understand the company's expectations. 
Try investing in good logo design and adding high-quality motion graphics for your recruitment videos on social media handles. This way, you can attract potential candidates to engage with your company more.
In other cases, it's often helpful to consider using podcasts in your company as well. Podcasts can be a great tool to get your recruitment company out worldwide and engage potential candidates simultaneously. 
For one, the podcast format is very accessible and allows you to easily share a message. An audio format with a high emotional impact is more sincere than a written article and thus improves engagement.
Good employer branding will help you attract better candidates, cut down on hiring costs, and build your company's reputation.
Through these social media channels and podcasts, candidates can better see if they fit into the company's culture.
10. Engage With Passive Candidates
Passive candidates make up 70% of the talent pool.
This group often isn't actively searching for a job and is, by all means, content and happy with their employment situation. While it only makes sense to find active job seekers, passive candidates can offer unseen benefits. 
Passive candidates wouldn't leave their jobs if your offer is better than their current situation. Thus, your candidate will only take the job if it fits their ambitions.
This way you can be sure you hired a motivated employee with ambition for the job. Not only do they choose your company but they are passionate to grow in every way. This helps them bring a growth mindset to your company.
Although passive job seekers aren't ardently seeking a job, if any opportunity comes their way, they might be happy to accept. You might even find exceptional talent if you can converse with them.
Conclusion
Standing out from the crowd will go a long way to securing top talent. 
While the recruitment process can be challenging, it can easily be implemented by following these strategies. The better you understand and adapt to changing dynamics in the market, the more likely you will be able to attract, hire and engage candidates! 
Note that what may work for one company may not work for another. Remember that the ultimate key to success is creating an efficient, hiring process that ultimately lands you the best candidate. Don't be afraid to think outside the box when changing your recruitment methods.
By following this guide, you'll be on your way to attracting top talent and making your recruitment journey a whole lot easier.
Did you find any advice particularly helpful? Let us know in the comments. If you need more help with recruitment concerns, feel free to contact us and we'll get you ready for your next hire.