Xu Ning's Email & Phone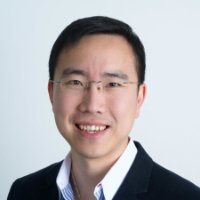 Xu Ning
Engineering Manager II, Deep Learning @ Uber
Xu Ning Contact Details
Engineering Manager II, Deep Learning @ Uber
Research Scientist, Traffic Infrastructure @ Facebook
Co-founder @ Etiometry Inc.
Bachelor @ Tsinghua University
I have years of top tech company experience in software engineering, computer networks, large scale distributed systems, high performance systems and CDN. I've played instrumental role in several occasions to scale up V1 systems, making it 50x faster, handling 10x more load, etc.
Señor Software Engineer, Scalability Engineering @ Building scalable infrastructure and distributed systems to fuel hyper
ContactOut is used by recruiters at 76% of the Fortune 500 companies
Similar Profiles to Xu Ning
Ken Carlson
Rene Gardner
Thomas Marshall, PHR, SHRM-CP

Experienced Human Resources Manager

Monica Justine Hernandez

Logistics Customs Compliance at Expeditors International (onsite Google MTV)

Enrico Sagullo

Automation Application Engineer at Myriad Women's Health

Daniel Woodward

Director of Supply Chain at Schoolhouse Electric & Supply Co.

Roger Ladouceur

Independent Contractor Systems Integrator

Ansley Johnson

Account Executive at See.Spark.Go

Megan Patterson

HR Specialist at Sivantos, Inc (formally Siemens Hearing Instruments)

Kathleen CPA

Director of Operations at Atlantic Neurosurgical Specialists

Matt Mitchell

Manager of Engineering R&D at Weber Metals, Inc.

Fernando Curras
Gina PMP

Salesforce Consultant | Certified Salesforce Admin | Business Analyst at Visual Data Consulting

Len CISA

Senior Financial Analyst - Hyperion - United Airlines

Anthony Spencer

President/Market Capital Lending

John Grossi

Consultant - Sr. Financial Analyst; Equities Trader, PMP, SSGB

Doug Warmke
Sarah Bassett

Chief Marketing Officer, Certica Solutions

Liz Lozada, CPA

VP of Accounting & External Financial Reporting at GENCOM GROUP

Christine Dudek

Associate Sales Engineer, Manheim

Tanushree Ghosh

Supply Chain Management, Intel Corporation; Writer - thoughtsandrights.com, Founder and Director: Her Rights Inc.

Dustyn Borghi

Vice President, LMS Program Management at Vector Solutions

Sarah DuBose

RN, BSN, Clinical Nurse Educator at Bay Medical Center

Tom Smith

Executive Managing Director at Mason Wells

V. L. Holland

Biological Consulting at Holland Consulting Services

Adam Blackburn

Lead Application Developer at Global Cash Card

Kristen Humphries
Greg Barbour

Executive Vice President - Beta Steel, LLC

Patty Forrest

Vice President of Supply Managment Austin/San Antonio

Terry DTM

★ ★ ★ ★ ★ Experienced Keynote Speaker | Self Esteem Architect ✔Helping Professionals be exceptional Speakers ✔

Victor Brouk

Senior Member of Technical Staff at Salesforce

Eduardo Saclolo
Kevin Cox

SDE and Architect at GoDaddy

George B.

Software Engineer at Google, Performing Pianist

Junjie KE

Software Engineer Internship at Google

James CPA

Chief Financial Officer at Yamaha Motor Ventures & Laboratory Silicon Valley, Inc.

Sandeep Chandesh

Vice President - Insurance at DXC Technology

Yuju Lin
Wanlin Wang

Co-founder at Bibox Exchange

Daniel Jones

Data Scientist at AstraZeneca

Billy Montgomery

Software Engineer at Yelp

Joon-Sub Chung

Frontend Developer at Media Temple

Scott Hemenway

Staffing Management Consultant at Tintri

Liz Hough

SDR Manager II at Greenhouse Software

Pratikkumar Patel

Full stack java developer

Jiangsheng Yu

Director of Poisson Lab; Chief Scientist of Machine Learning and Applied Mathematics at FutureWei Technologies

Michael Cornell
Jek Long

Senior Counsel at YouTrip

Yasmin W.
Looking for colleagues of Chris Shelby at Company Inc?