Tony Bozzuti's Email & Phone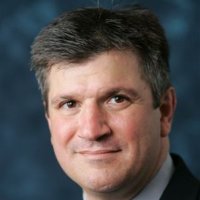 Tony Bozzuti
Sr VP IT & Chief Information Officer @ F5 Networks
Tony Bozzuti Contact Details
Sr VP IT & Chief Information Officer @ F5 Networks
VP and Chief Information Officer @ Fred Hutchinson Cancer Research Center
Washington Mutual - JPMorgan Chase @
BA @ University of Connecticut
Exceptional leader with proven ability to create competitive advantage through strategic use of technology. Recognized for assessing technologies used by multiple successful divisions and forming opportunities for improvement. Consistent record of delivering systems integrations by creating IT roadmaps with "Buy In" throughout the organization and then executing that vision through the use of organizational change management. Adept
ContactOut is used by
76% of Fortune 500 companies
Similar Profiles to Tony Bozzuti
Chuck Bassi

Sales,Estimator at Adams Roofing Inc.

Kappie Bogart

Vice President, Transamerica Stable Value Solutions

Adam LaLumia

Director of Operations. MaxHome LLC & Renewal by Andersen of Southern Louisiana

Chaya M. Chayo-Goldstein

Freelance Hairstylist at CMC Hair Studio

John Ryan Young

Marketing Analytics Manager at JPMorgan Chase & Co.

Marcus B.S

Human Resources Manager at Easter Seals Tn

Kristi Gibbs

Owner, Gibbs & Associates, LLC

Arielle Zucker

Director Marketing and Communications, Odacité

Alexander Ehrlich

Underwriter at FGI Finance

Will Grozier

Director of Human Resourses/Recruiting/Retention at Metropolitan Trucking

Trey Herron

Senior Project Manager, Ledcor Construction Inc.

Mimi Strickland

FLI Group - Support Services Manager/Project Manager at Diebold

Franz Louie Chua

Mechanical Engineering Intern at Hantel Technologies, Inc.

Nathan Mackenzie Brown

I'm not your typical online marketer.

Emilie McDonald

Vice President at JPMorgan Chase

Zhenzhong Jia

Postdoctoral Fellow at Carnegie Mellon University

Luke McGlothin

Commercial Sales Representative

Ashlie Kaess, CRPC, CFS
Jacklin Thuemmler
Deva K Tirupati

Sr SAP BI Data Analyst at The AES Corporation

Stephen Cerqueira

Student at Virginia Polytechnic Institute and State University

William Lingham

IT Helpdesk Supervisor at Schulte Roth & Zabel LLP

Greg Pickett

IT Infrastructure Lead improving the Customer Computing Experience

Jeremy Boka

Business Development Manager at Perficut Companies, Inc.

Becca Hickman
Harry Cuffle

Operational Excellence Expert, Reliability at Nouryon

Keyla Rodriguez

Technical Services Manager Dry Corn Ingredients at Cargill

Josh Few

Test Architect at Applause

Julio C Chacon

Vice President of Home Health at The Palace Group

Terry DTM

★ ★ ★ ★ ★ Experienced Keynote Speaker | Self Esteem Architect ✔Helping Professionals be exceptional Speakers ✔

Nirit Privman

HR & Talent Acquisition Manager @ Sweet Inn - I'm hiring!

Erez Asulin

Lead Full Stack Developer at Simpo

Shai Nun

Senior Product Manager at Alexa Mobile

Ortal Katsva

Talent Acquisition Manager at XM Cyber

Ariel Mashraki

Software Engineer at Facebook

Yosef Levitt
Elad Benedict

Data Scientist at Taboola

Yaron Nachshon

Front End Developer at Wix

Daniel Slivkin
Omer Dunay

Software Developer Engineer

Ariel Blitsman

Site Reliability Engineer at Chegg Inc.

Erez Raphael

CEO at DarioHealth (NASDAQ:DRIO)

David Auslander

Head of Data & Analytics at TabTale

Oran Moshai
Felix F.

Recruitment & Outsourcing Manager at Diskal Group

Chen Shemech

QA Engineer at SpotOption

Gideon Shmuel
Satya Nadella
Yasmin W.
Looking for colleagues of Chris Shelby at Company Inc?