TingTing Xu's Email & Phone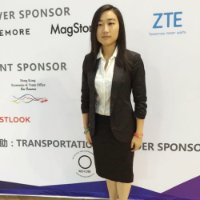 TingTing Xu
Web Programming Grader @ Santa Clara University
TingTing Xu Contact Details
Sunnyvale, California, United States
Master, Industrial Engineering @ University of Florida
Actively looking for full time Software Engineering opportunities Language: C, C++, Java, Python Web Programming: PHP, MySQL, HTML, CSS, Javascript Other: Matlab, Minitab, IoT( Internet of Things)
Software Engineer Internship @ Participate in a Software development project creating Ericsson's next generation Radio and IP Transport network management software utilizing Java, JSON and XML. From June 2015 to December
ContactOut is used by
76% of Fortune 500 companies
Similar Profiles to TingTing Xu
Veronica Ponce-Navarrete, M.Ed.

Assistant Director of Programs at The Riordan Programs at UCLA Anderson School of Management

Tracy Seaver

Senior Recruiter at Prestige Staffing

Maxine Bartkovich

Human Resources Coordinator at Caribe Royale All-Suite Hotel & Convention Center

Anadi Upadhayaya

Director - Product Development at Oracle

Ellen Dutton

Global Product Marketing Manager for KitchenAid at Whirlpool Corporation

William Bushee

Author of Wired For Coding

Scotty Saks | Media Buying

Media Buying | Global Entrepreneur | 35 Years Exp. | DRTV & Radio, | Online Media Buying l Mobile Marketing |

Natalie Eig

Vice President, Marketing & Communications at Metropolitan Theatres Corporation

Richard Tanimoto

Associate Product Manager at Extron Electronics

Kumar Pushkal

Pathways Operations Manger, at Amazon

George Skelton

Chief Financial Officer at Crossfire Properties LLC

Nate Simon

Deputy General Counsel at Gray Construction

Abhijayendra Singh

Director, Cloud, Cyber and Technology Risk at RBC

Brian Hash

Senior Client Ambassador at Work Effects

Jack Shein
Peggy Emerson

IoT Account Executive at Intel Corporation

Nicole Lorey

Communications & Engagement Executive | Talent Development | Business Growth Through Stakeholder Engagement

Farrah Muratovic

Fort Desk/Office Adminstration at Corporate Suites NYC - Office Space, Meeting Space & Virtual Offices

Dan Roffino
Michael McElrath

Experienced Coordinator and Communications Professional

Matthew McClelland

Corporate Account Manager at Intacct Corporation

Treshea Wade

Director of Communications

Karalie Kanneh

Searching for the top tech talent in the Rocky Mountains!

Mike Barbera

Executive Director with Alexandria

Chip Weise

Principal at von Weise Associates

Kristi Molinaro

Owner, Kristi Fitness, LLC>

Al Faber

Managing Director at Alan Faber Growth Strategies

Jenna Landi
Jim Carow

Twenty Years of Helping Leading Edge Healthcare Organizations Find Exceptional, Innovative, and Talented People

Henry Gomez

Former EVP, Chief Marketing and Communications Officer at Hewlett Packard Enterprise

Tom Ferguson

Vice President of Sales at Harry's, Inc.

Timothy Cook

Chief Financial Officer at Oak Street Health

Arthur Baraan

Senior Technical Recruiter at Facebook

Francislav Penov

Software Engineer at Facebook

Ebenezer (EJ)

Software Developer at Oracle Inc.

Michael PhD
Isaac Madan

Co-Founder & CEO at Nightfall

Ron LaFaye

Owner at Vape Escapes, LLC

Tonya Steele

Head of Talent Acquisition

Chris Loeffler

Investor, Co-Founder, & CEO at Caliber Companies

Joel PhD

Senior Data and Research Scientist at Refinitiv

Piper Bowman

Executive Recruiting at DoorDash

Gili Lev

Sr. Cloud Executive Security Advisor at Amazon Web Services

Erika Stuart Pajovic

Vice President at Publicis Healthcare Communications Group

Matthew Bryant

Head of Technology & Innovation Global Development and Clinical Operations at Gilead Sciences

Fritz Hesse

Chief Technology Officer at Bazaarvoice

Terry DTM

★ ★ ★ ★ ★ Experienced Keynote Speaker | Self Esteem Architect ✔Helping Professionals be exceptional Speakers ✔

Satya Nadella
Yasmin W.
Looking for colleagues of Chris Shelby at Company Inc?