Tim Garrabrant's Email & Phone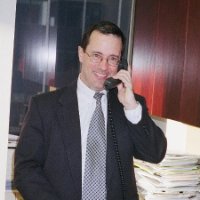 Tim Garrabrant
Senior Consultant @ Bellamy Oaks Communications
Tim Garrabrant Contact Details
Senior Consultant @ Bellamy Oaks Communications
Principal @ The Chesapeake Group
Chief Financial and Administrative Officer @ Isda & Co
BS, Business Economics and Public Policy @ Indiana University - Kelley School of Business
Contact Info: [email protected] 917 860 4017 (cell) Consultant, investment banker, treasury manager and chief financial officer with industry experience in hedge funds and alternative assets, telecommunications, manufacturing, power, water, alternative energy and tax-exempt financings. Steady leader who has successfully managed groups and departments at both small and large corporations (Fortune 50) and advised many early stage and
ContactOut is used by
76% of Fortune 500 companies
Similar Profiles to Tim Garrabrant
Rosaria Cain

We partner with CEOs to maximize market share and to drive sales results.

Marie Nellist, CISSP, MSCT

Principal Security/Technology Consultant, Project Manager

Dave Neary

Open Source Developer Tools at Red Hat

Michael Gustafson MT (ASCP)

Sr. Expert at Siemens Healthcare Diagnostics

Brian Fisher

Director of Marketing at GoSecure

lynda petrossian

Senior Sales Manager at First State Investments

Daniel Herbert

Experienced Transportation and Logistics Execution Softward Executive

Brian Murphy

President at Fire Equipment Inc

Kelsie Besinger

Event Director at Money20/20

Alan Yefsky

President & CEO at McCormick's Enterprises

Andrew Littell

Director, Marketing Solutions at iHeartMedia

Mitch Valmer

President of Equity Cap Fund Advisors,Inc.™

Chris Disharoon

Director of Strategic Planning and Development at Raycom Media

Sarah Henderson

Brand Strategist, Global Brand Studio at Google

Jo Ann Blaylock

Sr. Vice President Property Operations at Lennar Multifamily

Jamie Davis

Business Development at Workspace Innovations LTD

Erica SHRM-CP

Human Resource & Executive Search Consultant

Katie Bestenlehner

Senior Vice President at Weber Shandwick

Halina Smosna

Chief Risk Officer, Chief Actuary

Julian Burton

Commercial & Marketing Director

David Carrick

Chief Financial Officer at Apex Group Ltd

Andy Bento

Bermuda Infrastructure Manager - Bermuda at Orbis Investment Management Limited

John Layfield
Allan Cohen

AVP Actuary at Hamilton Re

Daina Casling

General Counsel & Chief Compliance Officer at Aeolus Capital Management

Jesse DeCouto

Executive Vice President at Validus Reinsurance, Ltd.

John O'Kelly-Lynch

President at Delphi Management Limited

Vittoria Canale

Executive Assistant to CEO & Chairman at Guy Carpenter

Terry DTM

★ ★ ★ ★ ★ Experienced Keynote Speaker | Self Esteem Architect ✔Helping Professionals be exceptional Speakers ✔

Vera Gao

Senior Recruitment Consultant at Michael Page

Aaron Lin

Software Engineer at The Trade Desk, Inc.

Kevin Lin

Senior Software Engineer at FXDD

Luis Paniagua
Siva Tetala

Senior Software Engineer at Oracle(Opower)

Natesh S.

Always open for new/exciting opportunities

Aaron White

Global Head of Networks at Options Technology

Danny Sinang

Senior DevOps Engineer at Wellington Management

Cody Baxter

Software Development Engineer 2 at Amazon Prime Video

Hardik Desai

Senior Quality Assurance Engineer at Plume Design, Inc

Eric Ricker

Infrastructure Engineer at Maxwell Health

Russell Owen

Engineering Manager at Lyft

Laloum Mickael

Développeur iOS chez OUI.sncf

Martina Wildmoser-Serad

SVP of Global Manufacturing & Sourcing (Production)

Will Thomas

Head of User Experience at MADE.COM

Hannah (White)

Global Marketing & PR Director - Apparel & RFID at Avery Dennison

Sanjay Mehta

Founder & Partner at 100X.VC, Early Stage Investor using iSAFE Note, Mehta Ventures Family Office, Director CORE Media

Thomas Paradis

Ingénieur développeur backend

Yasmin W.