Siddharth Tripathi's Email & Phone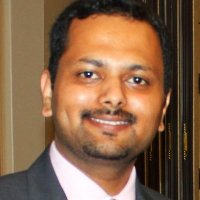 Siddharth Tripathi
Consultant @ Deloitte
Siddharth Tripathi Contact Details
Capstone Project (Indiana University) @ Humana
Bachelor of Technology (B.Tech.), Electronics Engineering, 8.19 / 10 @ Indian Institute of Technology (Banaras Hindu University), Varanasi
Siddharth Tripathi is a SAP TERP10 certified associate currently pursuing his Master's degree in Information Systems with a major in Enterprise Resource Planning Systems and minor in Data Warehousing. He has completed his undergraduate in Electronics Engineering and is very passionate about technology management. Siddharth has worked in IT for Utilities, Healthcare, and Oil & Gas industries.
ContactOut is used by
76% of Fortune 500 companies
Similar Profiles to Siddharth Tripathi
Sarah Gore

Account Executive at Millennium Health

Sean Ameli, MD

Physician at Ameli | Dadourian Heart Center

Jake Silva
Andres Arevalo
Ben Vanek

Vision construction Co owner/project manager

Jensen Beeler

Motorcycle Industry Professional

Kyle Vaculik

Creative Director at Delta Defense LLC

Shannon Kramer

Fire Theft and Vandalism Claims Adjuster at Farmers Insurance

Jessica O'Callaghan

Executive Vice President at DEVRIES GLOBAL

Natahri Felton

XBOX - Group Manager, Outsourcing and Middleware Group at Microsoft (2nd Year MBA Student)

Mary Heiland

Human Resources Generalist at Maines Paper and Food Service, Inc.

Aileen Jacobson
Garrett Kaufman

President at Essex Electronics, Inc.

Carla Gober-Park

Assistant Vice President, Spiritual Life and Mission Director, Center for Spiritual Life and Wholeness

Blake Baggarly

Director of Business Development at PRIUM Medical Cost Management

Ben Veblen

Senior Project Manager at Rosendin Electric

Jo Wiley

Finance Director at Conifer Health Solutions

Jason Klauka

Inside Sales Representative at BlueLinx Corporation

Dustan Dennington
Michelle Stoltz

Director Human Resources II / Global Human Resources Business Partner at NALCO Water

Dave Hoffman

President at Gipe Associates

Karin Terese

Sr. Manager, Compensation & Benefits at SantaFe Management Services

Brett Wilder

Recruitment Analyst at University of Idaho College of Agricultural and Life Sciences

Baser Fazli
David Evangelista

Sr. Project Manager at Barton Malow Company

Maureen Ziboh

Physician at Family Medicine at Catalpa

Narayanan Kasi Arunachalam

Technical Principal at FedEx Services

Robin Collin

Real Estate Development Consultant at r house creates

Kishore Garlapati

DevOps Consultant, Experienced DevOps Architect, Cloud Migration/Adaptation Consultant, Cloud Evangelist

Peter Ford

Front End Developer at PushON

Rhiannon Scarlett

UK Marketing & CSR Director at The Body Shop

Terri-Leigh clarke

Account Manager at CCS Media Limited

David Singleton
Ashley French

Software Developer at JPMorgan Chase & Co.

Alex Clibbon

Data Science Engineer at Echobox

Pablo García Álvarez
Peter Thompson

Head of IT for international recruitment group - PSD Group

Daniela Fuentes

Co-Founder & Director at Gravity Sketch

Paul Linden

Senior Developer bij Sportr

Edward S.

Senior Software Developer at Bloomberg LP

Rob Swales

Group Finance Director at Pepkor Europe Limited

Adrian Evans

Chief Financial Officer at MADE.COM

Chris Watson

Software Developer at 7digital

Jamie Allen

Software Engineer at Applied Blockchain

Gabriel Vancea

Software engineer at OnApp

Will Gilmour

Senior Front End Developer at Runpath

Terry DTM

★ ★ ★ ★ ★ Experienced Keynote Speaker | Self Esteem Architect ✔Helping Professionals be exceptional Speakers ✔

Yasmin W.