Sabari Gandhi's Email & Phone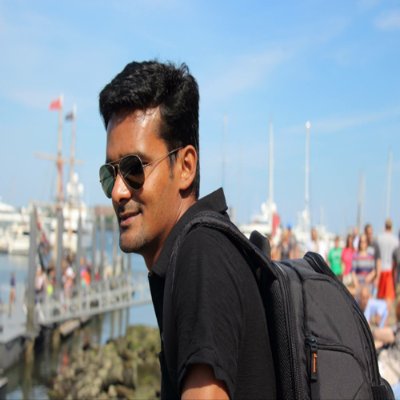 Sabari Gandhi
Lead Software Engineer @ Ericsson
Sabari Gandhi Contact Details
Billerica, Massachusetts, United States
Lead Software Engineer @ Ericsson
Senior Software Engineer @ EnerNOC
Software Development Engineer Level II @ Kiva Systems
@ Campion Anglo Indian Higher Secondary School
• 9+ years of software development life cycle experience with multi-tier applications using object-oriented paradigm, providing software solutions in Amazon Services, Material Handling System, Secure Identity Solutions, Health insurance and Business Intelligence industries, specializing in Java/J2EE using NoSQL and Oracle PL/SQL related tools and technologies. • Hands on experience in developing an Amazon Service, which is distributed,
ContactOut is used by recruiters at 30% of the Fortune 500 companies
Similar Profiles to Sabari Gandhi
Eddie Adedeji

Global Investment Director at Starcom Mediavest Group

Gary Vurnum

Co-Founder and CEO, In Alignment - The Mobile And App Acquisition Specialists

Gabriela Townes

Consultant - Michael Page Sales

Jon-Paul Reed

Director of Food and Beverage, Business Development EMEA at Hilton Worldwide

Ollie Scull

Client & Partnerships Senior Sales Manager at News UK

Henry Morland

IT Director at Neptune Home

Roger Leadbeater

Chief Engineer at 2 Sisters Food Group

Roger Willison-Gray

Interim CIO, IT Director, Business Development, Commercial, Sales, Strategy, Bid and Programme Director

John Wessel
Lyndon Powell

National Sales Manager - DS Smith (Cartons)

Georgina Lee

Co—Founder at The Age of No Retirement.

Gerry McGachy

Director at Root6 Scotland

Emma Lago

PR Executive at Bird & Bird

Sharon Raymond

Project & Programme Management

Mandy Rutter

Independent Consultant and Trainer

Chad Hancock

Director - International Casualty at RKH Specialty

Jaselyn Melling

Senior Account Manager at Truth Creative Manchester

Millie McCormick

Career Management Specialist at Barclay Anderson

Jay Atkins

Managing Director at Core The Gym Ltd Voted Kent's Best Gym

Stefano Rabbiosi
Lev Kolobov

Compositing Supervisor at MPC

Aren Griffiths

Sales Director at CHB Global Ltd

Hala Sayess

Business Development Director at Spears Wealth Management

Amy Yates

Business Development Manager at Interserve Construction Ltd

Manuela Ravasio

Back from sabbatical! What a blessing to see the world! and now it so good to be back!

Auxi Heredia - Ortiz

MBA | PMP | Business Development

Alycia Besche

freelance animator 2D, 3D, stop motion

Al-karim Kachra

CFO at Country Court Care

Terry DTM

★ ★ ★ ★ ★ Experienced Keynote Speaker | Self Esteem Architect ✔Helping Professionals be exceptional Speakers ✔

Satya Nadella
Ben Chen
Qiyu Cheng

Software Developer at Google

Keith Jennings

Chief Information Officer (CIO), Massachusetts General Hospital and Physicians Organization

Emma Adler

Head of Global Talent Acquisition at Sony Music Entertainment

David Roshak
Sunil Chappidi

Senior Software Engineer at Workday

Matt Smith

Deputy CEO at Neil Ward & Associates UK Ltd.

Agustin F.

Senior Software Engineer, Front-end at CH Media

Larry Li

Software Engineer, Google

Jian Zhang

Software development engineer at Amazon

Rohit Shinde

Data Scientist at Johnson & Johnson

Kevin Chong

Señor Technical Recruiter

Charmie Maniar

Engineering Manager at Tubular Labs

Vanessa Rosengarden

Strategic Account Executive at Salesforce

Javier Searight

Sr. Android Engineer at Foot Locker

Joe Costello

Chairman Of The Board at Montana Systems, Inc

Virupaksha Swamy

Senior Software Engineer at LinkedIn

Yasmin W.
Looking for colleagues of Chris Shelby at Company Inc?