Saagar Deshpande's Email & Phone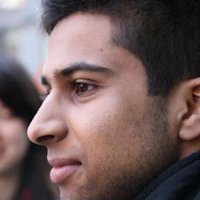 Saagar Deshpande
Software Intern @ Nomis Solutions
Saagar Deshpande Contact Details
San Francisco, California, United States
@ Livingston High School, Class of 2010
An engineer interested in all things tech. I like vim and open-source projects. Languages: Javascript, Python, Java, C/C++, PHP, HTML/CSS, VBA, C#
Software Engineer @ Software engineer on the product development and platform teams. - Added numerous features to the Asana Core Platform, including API pagination, webhooks, and the developer client libraries. - Built v1 of Asana's Track
ContactOut is used by
76% of Fortune 500 companies
Similar Profiles to Saagar Deshpande
Colleen Dobson

sales at AIT Worldwide Logistics

Sherri Cherman

President & COO ► Seasoned Specialty Pharmacy Executive ► Transformational Leader With High-Performance Standards

Eric Roquet

Lead Engineer - Tailored Products at Allsteel

Anthony Fitzpatrick, PE, CCM

Project Manager, Michael Baker International

Ashleigh Carlascio

Registered Dietitian at Carolinas Medical Center

Ghansham Panjabi

Senior Research Analyst at Robert W. Baird & Co.

Krysteena Maree Lanuza

Student at Saint Louis University-School of Nursing Baguio City

Nasir Muhammad
Vivian Cameron
Shelley McCoy

Staff Attorney at Ogletree Deakins

Hewitson Matt

Principal at Abraham Lincoln High School

Alyssa Schumpp

Exercise Physiology Graduate student

Brenda Delgado

Key Account Manager Team Lead at Leahy-IFP

Nancy njoroge

Critical care RN at Houston Methodist

Samir Jabri

Tax preparation professional at HR Block

Evelyn Rabil

Sr. Technical Writer at Cvent

Brian Lemma

Associate Director at Georgetown University Office of Student Financial Services

The Golf Car Connection

Manager at The Golf car Connection

Michael Demos

Startup Surgical Device Market

Vinay Prasad
Cathy Stafford

Remote Underwriter at Caliber Home Loans

Michelle Winey

Graphic & Interactive Designer

John Dixon

Distribution Specialist at Chick-fil-A Corporate

Pedro H. Gonzalez

Technical Product Manager - High Voltage Semiconductor Rectifier Solutions - Dean Technology Inc

Anna Blount

Market Research Manager at MMGY Global

Audrey Beauvais

Associate Dean & Assistant Professor, School of Nursing, Fairfield University

Juliane Saccardi

Convention Services Manager at Hyatt Hotels Corporation

Ashley (Baird) Eichhorn

Human Resources at Aleda E. Lutz Veterans Affairs Medical Center

Ciena Yulfo

Interpersonal Communications Student

Terry DTM

★ ★ ★ ★ ★ Experienced Keynote Speaker | Self Esteem Architect ✔Helping Professionals be exceptional Speakers ✔

Satya Nadella
Stefan Kirner

CEO at AS LED Lighting GmbH

Mark Rambow

Software Development Manager, AWS OpsWorks, Berlin

Thomas Ackermann

Serial Entrepreneur, CyberDefense & Blockchain Architect

Arkadiusz Bajowski

Entrepreneur / Front-end Developer / PADO Interactive Agency

Solveigh Hieronimus

Partner at McKinsey&Company

Manuel Wenner

CEO and Founder of fortyone - Mobile Agentur

César Henrique Vortmann
Kirill Shirinkin

Fully booked till end of 2019.

Peter Brunzel

DENTAL RESULTS / Consulting - Interim Management

Alexander Abroskin

Lead Software Developer at Fyber

Michael Schrank
Zdeslav Jolic

Bereichsleitung Kaufland Marken International / Head of Division Fresh Food bei Kaufland

Francesco Venturini

Chief Executive Officer, Enel X

Michele Riso

Head of Solution Architecture @HCL-Deutsche Bank FinTech Co-Innovation Lab, AWS Certified Solutions Architect

Claudio de los Rios

Consultant and Entrepreneur

Fabio Moioli

Head Consulting & Services @Microsoft. Faculty @Harvard, SingularityU, MIP - Artificial & Human Intelligences - AI TEDx

Giorgio Giuliani
Yasmin W.
Looking for colleagues of Chris Shelby at Company Inc?