Niranjan Kulkarni's Email & Phone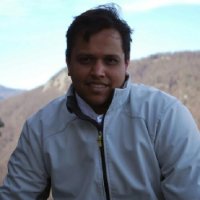 Niranjan Kulkarni
Software Engineer @ Cloudera
Niranjan Kulkarni Contact Details
Software Engineer @ Cloudera
Analyst @ Deutsche Bank
Technical Student A @ SAS
Bachelor of Engineering, Computer Engineering @ University of Mumbai
Through my graduate curriculum and various other activities, I have realized my interest lies in the area of Computer Sciences, and the endless possibilities that they present. My flair for the field, my quest in understanding its implication on businesses, and understanding the principles behind making solutions faster, better and cheaper are key drivers behind my desire
ContactOut is used by
76% of Fortune 500 companies
Similar Profiles to Niranjan Kulkarni
Amy Snowling

Lead Contract Support, Norland Managed Services

Jane Callander

Director at People Focus Consulting | Experienced Interim HR/OD Change Management & Project Management

David Corfield

Co-founder + CEO at LifeWork | Expert on Freelancing and the Future of Work

Brian Dillon

Full Stack Developer (Research Support) at University College Cork

Julia Hynes

Technical Sales Representative at STEMCELL Technologies

Phil Davies

Chief Executive; TownTalk UK

Farhan Sharif

Design Manager at BAM Construct UK

Alberto Brizzo

Interior Designer - Creative & Realization

Donald Morrison

Senior Vice President and General Manager for People & Places Solutions, Europe, Middle East & Africa

Sara Costello

Buyer at The Walton Centre NHS Foundation Trust

Harry Jenkins

Trainee Accountant at Stephenson Smart Co

Orhan Zubcevic

Group Channel Manager at SKF

Brian Cromie

National Property Inspector

Matthew Lau

Analyst | Deloitte UK | Consulting - Technology

Craig Chadband

Regional Recruitment Manager at DPD UK Ltd

Anna Westgate

Marketing Specialist at Wolters Kluwer Health

Tim De-Beger

Transaction Services at PwC

Ray Lomax

Software Developer at Mitrefinch Ltd

Christine Tiscareno

Senior Analyst; oil and gas specialty

Ajay Tiwari

KYC, AML and Sanctions at Grant Thornton LLP

Alec Johnson

Group CEO & Co Founder at TLC Marketing Worldwide

Ian Beale

Insight Director at dunnhumby

Laura Bell

Barrister at Devereux Chambers

Melanie Yun

Actuarial Executive at EY

Amanda Underwood

Manager, Employee Relations at Colt Technology Services

Chris Williams

Strategy Director at Dixons Carphone

Chris Moorhouse

NPI Project Manager at Laleham Health and Beauty

Tracy Rundle Chartered MCIPD

HR Manager at Norfolk County Council

Dave Arkin

Owner / Operator Arancini Brothers

Emmanuel Boudrant

Android UI Innovation at Netflix

William Beckler

VP of Engineering at StellaService

Robert Farina

Chief Executive Officer at Magna5

Emily Adams

Technical Talent Acquisition Channel Specialist at Brunswick Corporation

Yongqiang(John) He

VP Engineering @ Fortella (We're Hiring)

J.D. Moriarty

Chief Financial Officer at LendingTree

Alexandra Pitigoi

Cyber Security, Consulting, Managed Services

Wei Huang
Ira Rubenstein

Chief Digital Officer & CMO for PBS | Entertainment industry experience includes Sony, Marvel and 20th Century Fox.

Matthew Pauls

Founder & CEO at Spartan Biopharma, LLC

Victor J. Torres

Software Engineer at AdRoll

Linda Palczuk
Katie Poplin
Danna Rubin

Co-Active Professional and Personal Coach & Seasoned HR Business Partner

Kaitlin Pike

Director of Brand Marketing at GitHub

James McCarthy

Executive Vice President, World Wide Sales at Digital Guardian

Subhransu Sahoo

Intelligent Cloud Architect, leading customer success.

Adam Chun-Avila

Manager, Marketing Partnerships at Nintendo

Terry DTM

★ ★ ★ ★ ★ Experienced Keynote Speaker | Self Esteem Architect ✔Helping Professionals be exceptional Speakers ✔

Yasmin W.