Neeti Shukla's Email & Phone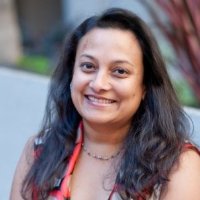 Neeti Shukla
Marketing Research Consultant @ Intuit Inc.
Neeti Shukla Contact Details
San Jose, California, United States
Member Of The Board Of Advisors @ Square Circle, Inc
High School @ Sacred Heart Matriculation Higher Secondary School, Church Park
Co-Founder, Senior Director - Strategic Initiatives & Product Marketing @ At Automation Anywhere, we believe that people who have time to create, think, and discover build great companies. That's why we've dedicated the last decade to driving the adoption of robotic process automation technology in leading Financial Services, BPO, Healthcare, Technology, and Insurance companies—to name a few—across
ContactOut is used by
76% of Fortune 500 companies
Similar Profiles to Neeti Shukla
Richard PMP

Senior Consultant at Dassian

Greg Marshall

CFO at Rose Acre Farms, Inc.

David Hawkins

Sr. Director, In-Theatre Marketing at Roadside Attractions

Tim Lovenberg

Sr. Director, Neuroscience Drug Discovery at Johnson & Johnson

Melanie Bellez

Account Manager at Bio-Rad Laboratories

Emily Fletcher

Staff Auditor at Cotton & Company LLP

Barry Geisler

Great American Insurance Company - V.P. of Operations and Division Counsel - Environmental

Elise Koerner

Senior Manager, Procurement at Johnson & Johnson

Vanessa Parisi

OBGYN Resident Physician at Saint Barnabas Medical Center

Lisa Cutshaw

Landscape Architect, Owner at Blue Mountain Design Studio

Mauri Allred

Executive Office Professional

Justin Wang
Louis Wolfowitz

Head of Corporate Finance & Investment Banking at Cushman & Wakefield

Brian CAMS

BSA/AML Compliance Officer at Binance.US

Alexander Mireles

Full Stack Web Developer with an Eye for Design

Anwar Jones

.Net Developer at Grantham University

Dakota Lassalette

Assistant Superintendent at GeorgeLine Construction

Kristen Derry

Optometrist at Alberta Eye Care

Alberto Miguel Alaniz

Roofing Consultant and Solar Specialist at Aspenmark Roofing & Solar

Kyle DeTella

Front End Developer at Braintree

George Ross

Director, Advanced Hardware Manufacturing Operations at Zoox Inc.

Cheryl Bella

Director of Marketing & Communications at YMCA of Southern Nevada

Ezequiel Sancholuz

Marketing and Digital Communications Manager

Shannon Takala Harrison

Associate Professor at University of Maryland School of Medicine

Brendan Schepis

AVP - Supply Chain at Northwell Health

Marlene Mullen-Clayton

Chief Medical Director at Performant Corp

Yung Lin
Ronny Tomasetti
Timothy Vise

Director of IT Services at Glytec

Michael Harrison

Project Manager at Oliver Mechanical Inc

Don Crawford

President, CEO at Analytics 4 life

Daniel Ram

Software Engineer at Intersog

Brice CA

CFO at Globalive Technology, Managing Partner at Globalive Capital. Co-founder and CFO of WIND Mobile.

Philip Tolton
Susan Griffin

National Manager, Purchasing at Boston Pizza

Jonathan ?

Senior Growth Marketer, Social Media Strategist

Anne-Marie LaBerge

Marketing, Digital and Communication Executive

Evan Gillies

You can customize this invitation

Greg Harnett

Sr. Software Sales Professional dedicated to driving business value for my customers.

Andrée-Anne Babin

Journaliste jeux vidéo chez Branchez-vous

Sneha Mahajan

Front End Developer at mobileLIVE Inc

Jackey Li

CIO/CFO at OneClass (Notesolution)

Andrei Tulai

CEO at Kennel Studios Inc.

Alexander Forbes

Software Development Engineer at Amazon

Mike Couturier

Senior Software Engineer at Nesto

Michael Maleszyk

VP Growth and Marketing at Smile.io

Daniel Shaw
Hamid Arabzadeh

Chairman, President and CEO Ranovus Inc.

Teresa Zhang, MBA

Product Marketer, American Express
Looking for colleagues of Chris Shelby at Company Inc?