Maya Hoff's Email & Phone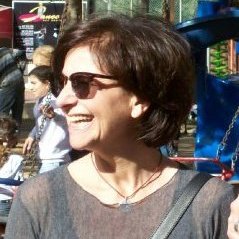 Maya Hoff
Talent Recruitment Manager @ John Bryce
Maya Hoff Contact Details
Talent Recruitment Manager @ John Bryce
CEO and Owner, @ HR Solutions
Outsourcing Manager @ Netvision Internet Applications
HR Solutions, Human Resources management, consultation and placement through direct, personal connection. The company is run by, Maya Hoff who has many years of experience in the field of Human Resources with expertise in recruiting, screening, assessing and placing primarily high-level management. Our clients range from high-tech start-ups to multi-national corporations in Israel and abroad. HR Solutions,
ContactOut is used by recruiters at 30% of the Fortune 500 companies
Similar Profiles to Maya Hoff
Lauren Cartwright

Enterprise Account Manager-Healthcare at Informatica

Brian Kapiloff

President at Insgroup, Inc.

Kevin Y Persaud

Digital Marketer looking to Change the World

Bob Pell

General Manager at CED//Efengee Electrical Supply

Anne Musial

HRSS Associate-ServiceNow Lead at Hitachi Data Systems

Brett Shurock

Federal Cyber Risk Consultant at Deloitte

Issaac Gooden

Marketing and Market Research Manager at American Honda Power Equipment

Bob Fuller

Sales Strategy | Technology Solutions | Process Improvement

Mike Kneller

Founder and Director, Zen Logic

Mark Cullen

Product Owner, Director at GfK

Lee Stott

Tax Assistant Manager at Grant Thornton UK LLP

Muhammad Musharaf

Head of Database at BMI Research

Glen Gardiner

Activity Centres Manager at Maximillion

Howard Thompson

Global Head of Procurement at Misys

Matthew Banks

Buyer - E-Mobility at Halfords

Chris Watkins
Aki Tas

Lead Venture Architect at BCG Digital Ventures

Ian Taylor

Audit Associate - Private Equity at KPMG UK

Georgina Smith

Experienced Operations Manager, responsible for Project Management team, Budgetary control and Contact Centre services

Honorata Harasim

Technology Associate at Morgan Stanley Investment Management

Tiago Castro

Software Engineer at DataCore Software

Cai Williamson

Full Stack Developer at Open Data Institute

Jennifer Salmon

New Ventures Development at ElectroRoute

Oliver Green

Senior Software Developer at guitarguitar

Andy Benedetti

Group Technical Director at AKQA

Mairi Clark

Field Sales Manager at Merial, a Sanofi Company

David Woollard

Co-founder and technical human at Team Symplify.

Katlyn Fairlamb

Software Engineer at Cypotex

Javier Cadenas

3d environment artist AVAILABLE

Michael Cauchi

Senior Data Scientist at Spectromics

Derek Smith
Roger Dunn

Senior Software Engineer at Mimosa Networks

Matthew Donnelly

Vice President at FreedomPay

Nova Stewart
Kees Koning

Managing Director at Diamond Drilling Solutions LLC

Atul Dhagat

Chief Operating Officer at Suhail Bahwan Automobiles LLC

Jared Colvin

Director of Operations at Calexotics, Inc.

Grant Bogle

Senior Vice President, Chief Commercial Officer at TESARO, Inc.

Yi Xu

Principal AR System Engineer at OPPO

Stephen Constantine

Founder at YouMap. Contributor at Entrepreneur Magazine.

Aron Szanto

Machine Learning at Kensho | Fmr. Product Engineering Manager at MarketFactory| AI R&D at Harvard University

Wes Sheppard

Information Security Officer, Security Operations, DevSecOps

Curtis Winter

Algorithmic Trader at Latour Trading

Evan Hosseini

Senior Software Engineer at Boston Scientific

Talley Ouro

Software Architect (.NET/Java/Python/C++/Ruby/SQL Server/Angular 5/Vue)

Kenneth Seifert

Enterprise Account Executive at Glassdoor

Justin Stevens

Senior Partner - Private Equity at Apollo Global Management LLC

Bob Castellucci

VP Global Quality Assurance & Compliance at Vertex Pharmaceuticals
Looking for colleagues of Chris Shelby at Company Inc?