Matthew Alexander's Email & Phone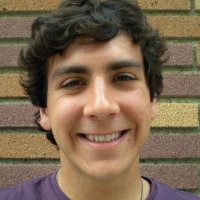 Matthew Alexander
Lead Software Engineer @ C3.ai
Matthew Alexander Contact Details
San Francisco, California
Lead Software Engineer @
C3.ai
@ Loyola High School of Los Angeles
I am a software engineer that enjoys working in a broad range of areas. My most recent projects have included REST API design and implementation, iOS app development, and Java framework development. I am also very passionate about UI and UX design.
Software Engineer @ UI Team From February 2014 to Present (1 year 10 months) Software Development
ContactOut is used by
76% of Fortune 500 companies
Similar Profiles to Matthew Alexander
Bob Dixon

Bob Dixon Consulting; Guides organizations in Global Supply; Supplier Dev; SRM / CRM and Keynote Speaker -

Dodge McFall

Vice President, Financial Services Group, Equifax

Chris Bober

Director, Platform Product Management

Ingrid Ysla
Dennis Ding

Zone Manager at Ford Motor Company

Tim Bach

Plant Manager at Greif Inc

Brian Loo

Creative Producer at Walt Disney Imagineering, Project Leader for Disney VoluntEARS

Greg Davis

User Experience Prototyper

Angela Wearn

VP of Client Management at Scorpion Design

Brad Gersten

General Store Manager at James River Equipment

Frank Ditta

Business Development at Guard-IT Corporation

Lara (Choma) Kreutner

Owner of Sealed With A Kiss Events, Wedding Designer and Coordinator

Ben Bryan

Vice President, Red Bull Films at Red Bull Media House

Kylee Peterson

Business Development Officer at Central Texas Title (Stewart Title)

Jane Scott
Ron Kirby
Greg Orsetti

Vice President, Sales and Marketing at ORSETTI SEED CO., INC.

Matthew Kowalski

Chief Technology Officer, Cipher Tech Solutions, Inc.

Anne Roberts

Regional Sales Manager at Imprivata

Marcelo Lima

President & CEO @ PULMAIR

Scott Genke

District Manager at Goodwill/Easter Seals

Janelle Cronk

Executive and Family Solutions

Stepan Yaroshuk

Founder & CEO at SQUED, Inc. | Creator of Neural Active medium & Bionic Brain | Producer of Medical & Military Devices

Thomas Myers

Executive Vice President-Legal & General Counsel

Graham Yallop

General Manager at SENZA Hotel.

Michael E Lynch MCR

Principal Market Leader at Retail Solutions

Shelly Griffith

Executive Director at Health Essentials LLC

Yuna Asriyan

Prestige Portfolio Ambassador - Pernod Ricard

Terry DTM

★ ★ ★ ★ ★ Experienced Keynote Speaker | Self Esteem Architect ✔Helping Professionals be exceptional Speakers ✔

Johnny Souza

Experimentation Platform Lead at Schibsted Media Group

Alex Price

Founder at 93digital® & 93x

Shakil Ahmed

Credit Risk, Marketing, Data Modelling, MI, Analysis - Independent SAS Consultant

Erica Porter

Ruby on Rails Developer at Soho House & Co

Jonathan Rowe

Big Data Developer and Consultant

Vicky Wylie

Community and Social Media Executive at Which?

Duncan Love

CFO Saas/Technology/Internet/Cloud

Paul Walton

Founder/CTO at Boundary Technologies, Seed Stage Angel Investor & Technical Consultant

Antonio Parisi

Senior Platform Developer at Gig FM

Abu Shoaib
Paul Swarbrick
Abdalla Alkhalaf

Software Developer at Barclays Investment Bank

Ed Varley

Energy Director at Make It Cheaper

Javier Rodríguez-Uría

Team Tech Lead at SuperAwesome

David Bebas
Sophie Coady

Model, Presenter, Hostess

Farzad Qasim

Software Developer at BBC

Yasmin W.
Looking for colleagues of Chris Shelby at Company Inc?