Laura Alexandra Macovei's Email & Phone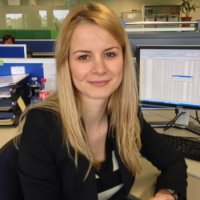 Laura Alexandra Macovei
Retail Management Accountant @ BP
Laura Alexandra Macovei Contact Details
Retail Management Accountant @ BP
Financial/Management Accountant @ BP
Stocks Accounting Officer @ Reliance Petroleum (BP)
Master of Accounting, International Accounting @ Academy of Economics Studies, Bucharest
A confident, capable and responsible professional with a Master's degree in Accounting and over 6 years' experience in various areas of accounting and business services. Worked with companies in multiple industries and gained a thorough understanding of accounting principles and procedures. Extensive experience with high volume data analysis and reconciliation, balance sheet accounts control and preparation of
ContactOut is used by recruiters at 76% of the Fortune 500 companies
Similar Profiles to Laura Alexandra Macovei
Danielle Chaney

Account Manager- Healthcare IT Services at TEKsystems

Laura Sorgenfrei

Delivering new approaches to increasing sales through training, merchandising, brand advocacy and driving sales results

Elizabeth Palmisano

Manager, Talent Acquisition and Human Resources at ClickDimensions

Mike Christian

Recruiting Executive at LXI

Roel Lopez
Rob Broadwell

Retail & Fashion business processes / SAP

John-Michael Scott

Founder, Startup Operator, Expertise: Scaling Operations, Developing Product, Corporate Innovation & Venture

Steffen Horst

Accomplished Enterprise Digital Marketing Executive | Helping Agencies & SMB's Grow with Performance Marketing

Jay Gali
Bob Ruff

Vice President, Integrated Underwriting at Unum

Christine Liu

Senior Director of Global Sales, Apple at ZAGG, Inc.

Murali Sreepuram

RAN System Engineer - 4G LTE, 3G WCDMA UMTS at Cisco Systems

Julie Cavanna-Jerbic

Board Director and Advisor ~ Business & Financial Leadership ~ Transformation ~Cyber Security Proficiency

Géza Ambrus-Aikelin

Associate Director - Biology at Vividion Therapeutics. Inc.

Sudhashree Gholkar

Software Development Engineer at Amazon Go

Apolline Madet-Pham

Senior Technical Program/Project/Portfolio Manager/Data Analyst at Trading Firm

Nick Matutina

SEO Expert and Internet Entrepreneur. I Increase Sales and Revenue by Driving Organic Traffic to Online Businesses.

Greta Gleissner, LCSW

Co-founder and Executive Director Eating Disorder Recovery Specialists

Kelley Eason

Sr. Manager, Lead Management at Citrix

Steven Barry
Matthew Hostetler

Senior Vice President at Red Roof Inn

Shalini Narayan

Recruiter at allegis group

Dennis Tally

Senior Director, Single-Family Data

Matt Minasi

Product Engineer at Intuitive Surgical

Ellen Donovan

Sr. UI & UX Manager. Designing an omni-channel experience for our customers.

Sharjeel Chaudhry

Sarnoff Fellow - Harvard | Medical Student - GW

Shelagh Profit

Director of Gastroenterology and OutPatient Surgery

Kimberley Daigle

Director of Human Resources at P&S Transportation Inc.

Raven Zachary

Enterprise AR/VR/MR & Microsoft HoloLens - Founding Partner at Object Theory

Brian Minick

Chief Information Security Officer at Fifth Third Bank

Kelly Tobin

Manager, Talent Acquisition

Geoff Shaffer

Vice President of Global Brand Marketing

Scott Clark

Talent Acquisition Team Lead - Commercial Banking, Wealth Management, Business Banking & CIB at BBVA Compass

Scott Irwin

General Partner at Rembrandt Venture Partners

Logain Asfour
Nicholas Larche

Director of HR & Talent Acquisition at Ombud

Jochen Renz

Managing Director New Mobility Studio @ Rocket Wagon Venture Studios

Nina Grigoriev

Senior Account Director at W2O Group

Rico Moya

Business & Systems Operations Manager at SOCi, Inc.

Christopher Kolling

Account Executive - Pardot, Mid-Commercial at Salesforce

Dantam Vu

Recruiting Manager at Apple

Shivin Kapur

Member of the Technical Staff at PayPal

Brian Crandall

Senior Vice President, Portfolio Operations at Platinum Equity

Riegel Cohen

Fighting food waste one hire at a time.

Anita Newton

Entrepreneur | Startup Advisor & Investor I Contributing Editor for Inc.com

Sebastian Kowalik
Alex Croix

Senior Director, Rare Genetic Disease Marketing at Agios Pharmaceuticals

David Turner

DevOps Engineer / Founder at Ultra Web Hosting & Server Leap

Johnny ?

Founded a division of Warner Bros. Multi-million dollar partnerships including Microsoft and a $10B Hollywood Franchise.