Khamis Hammoudeh's Email & Phone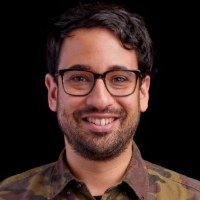 Khamis Hammoudeh
Research Assistant @ The Biodesign Institute at ASU
Khamis Hammoudeh Contact Details
With over 8 years of experience developing and managing small to enterprise scale web projects, I love building technical solutions with measurable impacts. I believe in developing technology that helps create a more connected, educated and healthy society.
Technical Program Manager @ From July 2012 to Present (3 years 6 months) Web Developer @ From February 2011 to
ContactOut is used by recruiters at 76% of the Fortune 500 companies
Similar Profiles to Khamis Hammoudeh
Tom Amodio

President at Vicom Infinity, Inc.

Mike Jones

Area Sales Manager at Danfoss

Janaka Casper

president and ceo at community housing partners corporation

Juleen Stimson

Administrator at Central Coast Family Care

LINDELANI NDOU

Nordland lighting company

Ryan Mattel

Sales Development Representative at Sigma Computing

Ewald Euser

Program Manager at AkzoNobel Decorative Coatings

Kemsley Wilton

General Manager at IgadI Ltd.

Roland Lehle
Dennis CM-Lean

Project Manager , Enterprise Lean Construction and Virtual Design & Construction Champion, FAA Small-UAS Drone Pilot

Daniel Barutta

Program Officer at AmeriCorps - CNCS

Gerald Karpinski
Yvonne Rubin

Sr. Recruiter at Zimmerman Associates, Inc.

Kiva Navarro

Project Administrator for Construction Services and Geotechnical Engineering Departments

Beatrice Schreyer

Executive Assistant at Q2ebanking

Yiqin Dai
Anay Doshi

Manager Specialized Services at Hitachi Consulting

Zenobia Wong

Production Coordinator at Lai Apparel Design, Inc

Chak Cheung

Software technology platform integration at Synerspec

Stéphane Mailleau

Strategic Account Manager at Congatec

Roksolana Goch

PhD in Sociology, researcher, lecturer at Lviv Polytechnic National University

Prakriti Manohar

UX Designer | Financial Services at Capgemini

London C.

Human Resources at Georgia Institute of Technology

Jennifer IIDA

Commercial & Residential Designer at MSA - Architecture + Interiors

Ryan AICP

Architect/Urban Designer/Planner

Chinmoy Mishra
Dams Desai-Adams

Oral surgeon and aesthetic practioner at 360 dental care ltd

Kamieka Barnes

Finish Line Client Computing and Collaboration Engineering

Terry DTM

★ ★ ★ ★ ★ Experienced Keynote Speaker | Self Esteem Architect ✔Helping Professionals be exceptional Speakers ✔

Simon Mann

Head Of Engineering at ION

James Folgate

Software Engineer at Bupa

Chenwei Wang
David Taylor

Head of Technical Delivery at Integriti Consulting Limited

Gulkirat Makkar

Senior Developer at The Body Shop

Brian Tenner
Tushar Sinha

Senior Developer at Stealth Mode Start-up

Alex Meah

Contract Software Developer

Steven Robertson
Frederic Lluch

Managing Director at Wasabi Sushi & Bento

Geoff Watson

eCommerce, Digital and Retail Technology Engineering | Foods Forecast and Store Stock Replenishment

Lawrence Dabir-Alai

Software Engineer at notonthehighstreet.com

Brendan Gleeson

Group CEO at White Clarke Group

Dan Fratean

Principal Software Engineer at Hearst Digital Studios

Richard Schefer

Head of CRM Systems at Centaur Media Plc

Edward Knapp

Managing Director, HSBC - COO and Global Head of Business Management in Technology, and FTSE 250 Board Member at F&C

Alexis Hirst

Application Developer - Risk Technology at Credit Suisse

David Keen

Senior Software Engineer and Team Lead specialising in Java, Scala, APIs and Agile.

Yasmin W.
Looking for colleagues of Chris Shelby at Company Inc?