Kenneth Cukier's Email & Phone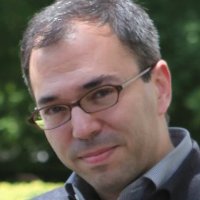 Kenneth Cukier
correspondent @ The Economist
Kenneth Cukier Contact Details
Kenneth Cukier is the Data Editor of The Economist in London and the co-author of the award-winning book "Big Data: A Revolution That Will Transform How We Live, Work, and Think" with Viktor Mayer-Schönberger in 2013, a New York Times Bestseller translated into 20 languages. He is a regular commentator on BBC, CNN, and NPR, and a
ContactOut is used by
76% of Fortune 500 companies
Similar Profiles to Kenneth Cukier
Tseard van der Meer

Hoofdtrainer at SV Mussel

Fayola Josepha

Procesmanager Bezorgen Zwolle at PostNL

Abderrahim Bendadi

Medical Scientific Liaison Lead at Novartis Oncology

Arjan Vennema
Paul Manen

HR at Lan Handling Technologies

Ing. Arny van der Deijl

DevOps Manager/Delivery Manager HaMIS

Ivo Smeele

Head Department Implementation NHG

Tieno van der Velde

Senior manager IT advies bij Baker Tilly Berk

Jos Beemer
Gijs Wieland

Installatiebeheerder conceptueel

Ian Lubetkin

Managing Principal at Capitol Technology Solutions, LLC

Jay Harriman, PhD, DABT

Principal Toxicologist at Merial Inc.

Ritu Niyogi

take it one day at a time

Tyler Kurtenbach

Financial Officer Farm Credit Services of America

Gadiel Russell

Senior .Net Developer at HCA Healthcare

Alison Morse

Account Director at Octagon

Robin Berman

Creative Director, Brand Marketeer for Tech, Consumer Goods & Entertainment. Build Awareness & Revenue Generation

Trisha Vu

Speech-Language Pathologist Clinical Fellow

Ross Winn

Mechanical Design Engineer

Aubrey Smiley

Data Analyst | Statistician | Transitioning Service Member | Math and Data Science Curriculum Developer

Jessica Staton

Senior Business Analyst - Data Analytics

Mary DeClerck

Pharmaceuticals Professional

Ken Will

Sr. Developer, Marketing Intelligence and Analytics at eleventy marketing group

Kate Borden

Marketing Specialist at Colliers International

Clinton Findlay
Mona Wagner

Business Owner at Restaurant and Real Estate Investments

Nick Collins

Transforming Your Mobile & Web App Ideas into Functional Reality | Modern Software Design Meets Old-World Craftsmanship

Jim McClymont

Account Director, North Central US

Terry DTM

★ ★ ★ ★ ★ Experienced Keynote Speaker | Self Esteem Architect ✔Helping Professionals be exceptional Speakers ✔

Steve King

Talent Management | Executive & Leadership Development | Organization Effectiveness & Culture | Learning & Development

Billy Chow

Senior Build/Release Engineer

Frank Dominguez

Recruiting top engineers at Snap Inc!

Robert Wicks

Software Engineer at Facebook

Adam Massoud

Senior Data Engineer at Capital One, pursuing MS in Analytics at Georgia Tech

linda H.

Senior Software Engineer at Ubiquity6.(we are hiring)

Igor Vaks
Travis Zerba

Software Consultant at Lab49

Caitlin Schlakman

VP of Talent at KeepTruckin

Alexei Agratchev
Brian Questad

VP eCommerce, Burlington Stores

John Reinstra

Software Engineer at Robinhood

Muhammad Qureshi

Software Engineer at Google

Staci Zenonian
Chenyue Meng

Software Engineer at Facebook

Trish Chan

Director, Web/Digital Marketing at AppDynamics, the World's #1 APM Solution

Eric Demauro

Software Engineer at Edmunds

Harpreet Singh

Mobile Apps | Database Engineer | QA | Test Automation | Product Owner

Yasmin W.
Looking for colleagues of Chris Shelby at Company Inc?