JongMan Koo's Email & Phone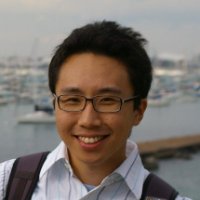 JongMan Koo
Software Engineer @ NAVER Corp
JongMan Koo Contact Details
* A linear combination of developer/quant/trader in high frequency trading arena. * Past programming contest participant, current advocate. Runs a programming contest community website. Author of a programming contest book. I enjoy being proven wrong.
Quant Developer @ High frequency trading From November 2014 to Present (1 year 1 month) Gardening Leave @ (Nov 2013 ~ Nov 2014)
ContactOut is used by
76% of Fortune 500 companies
Similar Profiles to JongMan Koo
Ty Kramer

Autodesk, Business Development

Jojo Aquino

Contracts and Procurement|Supply Chain|Oil and Gas|

Désirée PHR

Talent Acquisition / Lead Recruiter at MITRE Corporation

Gina Mayes

Talent Acquisition Manager at Berry Global

Kasey Ohakam

Areas of Practice & Software Knowledge

Michael Fontanella

Major Account Manager at Mitel

Mitch Stott

Partner Sales Manager at VMware

Rahul Khandelwal

Senior Manager at Discover Financial Services

Lewis McAllister

Executive Vice President at Coral Industries, Inc.

Joal Arguello

Program Manager On-Site @ Gap Inc. at Geometric Results, Inc.

Craig Bryant

Director Advertising Sales at Healthline Networks, Inc.

Alissa SHRM-CP

VP, Senior Human Capital Business Partner at Heartland Bank

Ged Nichols

Audit | Investigations | Compliance

R. Harris
Kaushik Bardhan

Building Products for Enabling Personalization at CNN Digital Worldwide

Camila Urbinatti

International Talent Acquisition

Qris Jonz

Sr. Design Engineer - Braking Systems at Harley-Davidson Motor Company

Zeke Smith

Manager, Talent & Organizational Development

Kevin Obert, CPP

Director of Purchasing at Atwell, LLC

Rémi Pelta

Staff Product analyst (data science) manager at Google Hardware

Graham Garner

Founder & CEO of Sphere Technologies

Jonathan Calzada
Jake Deveny

Senior Global Procurement Manager, Human Resources Services at Unilever

Rahul Dilawri

Senior PeopleSoft Consultant

Jessica Fung

Omni Senior Assistant Buyer II at Bloomingdale's

Shannon Grunwell

Principal Recruiter at Uber Advanced Technologies Group

Cheryl Anne

Beauty Aficionado/ Founder

Bettina Fisher

Director of Educational Initiatives at Academy of Motion Picture Arts and Sciences

Dante Doig-Acuña

Head of Product at Ritual Media

Monojit Mitra

Managing Director: Head of Model Risk Management and Control, USA

Massimo Rapparini

CIO | Head of Customer Experience | Head of Workplace Services at Logitech

Gary Look

Senior Software Engineer at CarGurus

Steve Fortunato
Viktor Potapov

Senior Flex / Angular 2 / Java Developer at SuranceBay

Jeff Longsworth

General Manager Primex Plastics Corporation

Chad Ferguson

President, Retail Operations at SUPERVALU

Justin Erenkrantz

SVP, Software Engineering at MLB

Mira Javora

Software Engineering Manager at Autonomous Intelligent Driving. We're hiring!

Mihai Cioata

Software Engineer at GoldWin LTD

Steve Rust

SVP Corporate Development at Genesys

Sanjiv Goyal

Chief Executive Officer at Extent AI

Massimo Bertolotti

Head of Engineering and Innovation at SKY Italia

Arsen Kryvyak

Development Team Lead at EPAM Systems

Nikola Velikov
Sandip Kapadia

Chief Financial Officer at Intercept Pharmaceuticals

Mark DeSantis

Chief Executive Officer at Bloomfield Robotics

Joseph Robins

Head of International Development at GoCardless

Tre' Seymour

Sr. Software Engineer that places a premium on emotional intelligence.

Tomas Verkaar

Sales Executive, Treasury & Risk Management
Looking for colleagues of Chris Shelby at Company Inc?