Jon Billington's Email & Phone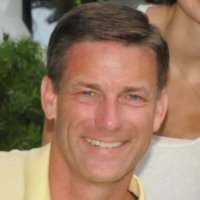 Jon Billington
Chief Financial Officer @ OneOncology
Jon Billington Contact Details
Brentwood, Tennessee, United States
Senior level executive with significant experience in driving initiatives and process improvements with a focus on results while maintaining excellent client service (both internal and external "clients") coupled with the ability to build and develop relationships. My objectives are relatively simple - deliver and drive value to the corporate enterprise.
Chief Financial Officer - Americas @ Responsible for
ContactOut is used by
76% of Fortune 500 companies
Similar Profiles to Jon Billington
Oscar Eckbo

Consultant at BEKK Consulting

Endre Solvin-Witzo

Managing Director and Chief Investment Officer at Lowell

ZHIQIANG GU

Senior Engineering Specialist in Structure Analysis (FEA), Member of ASME B31.3 PMG,Charted Eng,MIMarEST at Technip

Elsa Martz
Maria Seim
Tord Störtebecker

Director, Mergers & Acquisitions at Telenor Group

DN MacFarlane

Director Digital Marketing at Yara International

Nina Melhus

Marketing Manager at Varmefag

Christine Thorsrud

Product Manger Sports Apparel at Gresvig AS

Abebe Girmay Adera

Job seeker (VA, Hydrology, Runoff Forecasting, Hydrological modelling, Hydropower, Hydraulic Engineering)

Oddvar Pedersen

Project Manager at Kleven Verft AS

Tor Petter Abrahamsen

Technical Consultant at Hewlett-Packard Norge AS

Dag-Inge Simonsen
Einar Carlsen
Ane Fosseng

General Manager at Seven Seas (Norway) AS

Bartosz BOGDANSKI

Principal Software Engineer at Oracle

Øyvind Warp

Founder & CEO @ Sodapop Audio

Jan Nes

Head of Aircraft Operation IT - Norwegian Air Shuttle

Anna Martin

Jobber innen Helse, velvære og trening

Lars Christian Berg

Entrepreneur and Investor

Erlend Trane

Sales Director at Fred. Olsen Fly og Luftmateriell

Jasmina Sivertsen

Lead Planner, Gina Krog Field Development at Statoil

Stian Pettersen

Technical product manager / Developer at PayEx

Dennis Shpakouski

Managing Director at Intellectsoft Norge AS

Lene Myklebust
Bjarte Andreassen

Project Manager at Elkjøp Nordic AS (Part of DSGI plc)

Terry DTM

★ ★ ★ ★ ★ Experienced Keynote Speaker | Self Esteem Architect ✔Helping Professionals be exceptional Speakers ✔

Michael Anstey

Partner at Cambridge Innovation Capital

Noemí Calvo

Head of Data Privacy for Global Drug Development en Novartis Business Services GmbH

Chee Diep

Tech Lead & Frontend Developer

Shakeel Sorathia

SVP, Technology & Engineering at Fox

Jonathan Gilchrist

Software Engineer at FactSet

XIAOHUI YE

Software Engineer at Facebook

Stephen O'Sullivan

Senior Data Scientist at Kabbage, Inc

Randy Magor

Senior Software Developer

Romil Jain

Software Engineer at Cisco

Ricky Chiu

Mobile Developer at Shape Security

Erica Allen

Senior HR Business Partner at Hewlett Packard

Shu Zhang

Director, Software Engineering

Michael Kramer

Senior Software Engineer at Zignal Labs

Dominic Jesse

Software Engineer at Morningstar

Kevin McKay

Senior Vice President at State Farm

Rafał Sadziak

Software Engineer w Facebook

Jamus Driscoll
Lawson Kelly
Yasmin W.
Looking for colleagues of Chris Shelby at Company Inc?