Johnathan Kuskos's Email & Phone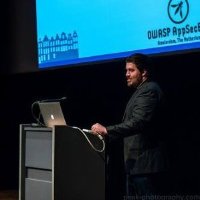 Johnathan Kuskos
Application Security Engineer @ WhiteHat Security
Johnathan Kuskos Contact Details
Bachelors of Science @ Lamar University
I'm a highly passionate and self motivated security researcher/ethical hacker from Houston, Texas that enjoys offensive security and breaking other developers code. Early in 2015 I moved to Belfast, Northern Ireland to head up WhiteHat Security's EU Threat Research Center. I specialize in the Web Application layer and also dabble in a bit of network penetration when
ContactOut is used by
76% of Fortune 500 companies
Similar Profiles to Johnathan Kuskos
Solvig Krause

Executive Sales Professional at Mack Brooks Exhibitions Ltd

Farouk Soussa

Chief Economist for the Middle East at Citi

John Whitehead

Sales & Lettings Negotiator at Knightons Estate Agents

Simon Allen

Director of Sales at EkkoSense

Thomas Lancefield

Enabling customers to maximize their investment in Data, IT & People

John MBA

MD / CEO in Social Care, Elderly Care and Mental Health. Open to new projects.

Isabel Mack

Head Product Owner (eCommerce) at Iglu.com

Arushi Chopra

Associate Principal at Marakon

Michael Martin
Taylor Wilson

Senior Optimization Analyst at Brooks Bell

Mitzy Barreto
John Farley

Retail Specialist & Cloud Software Enthusiast-Creating growth through creative solutions

Richard Uranga

Lead Software Developer & Integrator, USAA, P&C IT Modernization

Cole Bryant

Assistant Operations Manager at Strategic Hardware

Steve Rosenberg

Global Product Manager at W.L. Gore & Associates

Wendy Kromer

eCommerce Marketing and Online Marketplaces Manager | Financial Analysis, Reporting and Budgeting Manager | MBA

Wesley Archer

Consultant & Entrepreneur

Jeffrey Thies

Interactive Project Manager

Pamm Hoben

Administrator at Rushmore Ambulatory Surgery Center

Charles Robinson
Nicole Michael

Inside Sales at Cummins Atlantic

Steven Richards

Category Manager at JBT Corporation

Erem Demircan

Executive Vice President-Commercial at Digiturk A.S. - beIN Media Group

David Abt

Manager bei Delta Partners

Julia Dhar

Partner at Boston Consulting Group (BCG) | Leader of Behavioral Economics and Behavioral Insights Initiatives

Paris Norriss

Creative Director at GID Media Production Live Host, Presenter & Emcee Brand Ambassador

Jasim Abdulla

Group Vice President IT Strategy and Excellence at Etisalat

Georgia Tsiomidi

MSc Business Management, HR

Andrew Chisembele

Senior Vice President - Sales Africa

Katy Keim

Chief Executive Officer at LQ Digital

Brian Flynn

IT: Architect. Product & Team Manager, SQL Server. Azure Iaas & PaaS. @brianpaulflynn

Meg Kopka

Vice President at SomethingNew LLC, Helping Companies with Talent Acquisition and Talent Attraction

Peter Braswell

Sales Director at Corsa Security

Marc Arseneau
Michael Wilkes

Sr. Director, SaaS Operations at CallidusCloud

Richard Qian

Corporate Vice President at Microsoft

Thomas Wrenn

Senior Category Manager at The Vitamin Shoppe

Kiran Dhillon

Product Marketing Manager at Better Mortgage

Heather Langdon

Senior Talent Consultant for ORS Partners | Healthy Lifestyle Entrepreneur

Rishabh Jain

Director Global Regulatory Affairs at Astex Pharmaceuticals (US)

Harsh Harwani

An engineer who is unwilling to accept that things can't improve simply because they have always been done a certain way

Santa Rimsevica

Demand Generation Manager at Roadster

Nico Dato

Executive Vice President of Marketing at Podium

Benjamin Stidham

Sr. Customer Account Manager at Gainsight

Lauren Compton

Talent Acquisition Specialist at AIG

John Morrow
Adam Lesser

Sr. Product Manager at athenahealth

Ahsan Ashraf

Data Scientist at Pinterest | Physics Ph.D.
Looking for colleagues of Chris Shelby at Company Inc?