Jason Wong's Email & Phone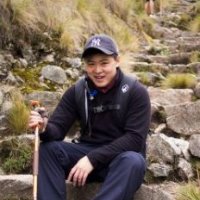 Jason Wong
Senior Consultant @ ReThink Recruitment
Jason Wong Contact Details
•Experienced Technical Recruiter with over 9 years experience working in the web recruitment arena. •Primary aim is to provide an excellent service to clients and candidates. •Passionate about technologies and a good understanding of the development lifecycle. •Trained by market leaders such as Rod Johnson on technologies such as Spring. •International recruitment experience. Successfully worked with clients
ContactOut is used by
76% of Fortune 500 companies
Similar Profiles to Jason Wong
Natalie Lamberjack

Owner, Sunrise Tacos, LLC

Sanjay Chandran

Chief Executive Officer at Go Mobile Health, Inc.

Alberto Ippolito Ferreira

Trade Finance Officer at Brickell Bank

Kristy Pepple

Account Manager at Destination Concepts inc

Stefanie Green

Director of Human Resources at Four Seasons Resort Whistler

Kimberly Matus

Sr. Executive Assistant at Scott & White Healthcare

Todd Landry

Owner/Operator at T. M. Landry Appraisals Inc

ZsaZsa (Marienka) Wisniewski

ONCOLOGY at Cedars-Sinai Medical Center

John Woerfel, CFP ®

Financial Advisor at Northwestern Mutual

Marlene Ajaj

Senior Human Resources Manager at Denihan Hospitality Group

Scott Grispo

Owner, CAP Consultants, LLC

Bartosz Garbaczewski

Graduate Student at Columbia University

Cassie Pasquariello, Ph.D.

Counseling and Sport Psychologist at University of Washington

Chef Cecy Torres

Professional Chef / Owner DelicaCecy Gourmet Corp

Kaitlyn Kirchner

Account Executive at Bratskeir & Company

Julie Byerlein

Marketing Consultant - CPG, Brand Management Leader

Josh Polombo

Recruiting Manager at Alexander Technology Group (Bank W Holdings, LLC)

Morry A. Zolet, CFP®

Senior Vice President, Family Wealth Director, Financial Advisor, Morgan Stanley

Aine R Doley

Co-Founder and Organizer at The W Rockland Street Project

Daniel Quillen, MBA, SPHR

Director of Internal Services (Director of HR) at City of Aurora

Hank Windhorst

Financial Planning at Chick-fil-A Corporate

David Kinnard

Commercial Real Estate Agent at KW Commercial

Eva Goldstein, CPA

Senior Associate at Alvarez & Marsal

Chip Roepke

Computer Solutions & Services Specialist | Technology Coach | ContactPC, Inc.

Vincent Gilmore

Director of Business Development at Gilmore Construction

Tommy McClam

Deputy Director at OpenBuffalo

Moshe (Musa) Givon

Deputy VP at Makhteshim-Agan Americas

Jordy Manyoma

Computer Technician 2 at Miami-Dade County

Tom Kallman

President & CEO at Kallman Worldwide Inc.

John Cappellino

Exec. Vice President at Erie County Industrial Development Agency

Terry DTM

★ ★ ★ ★ ★ Experienced Keynote Speaker | Self Esteem Architect ✔Helping Professionals be exceptional Speakers ✔

Satya Nadella
Walter Woudenberg

Medior Front-end Developer bij Yource [ React, Redux, Redux-Saga ]

Jim Perry
Dennis Cinelli

Global Head of Strategic Finance, Uber

Denis Laprise
Clarence Liu

VP Development / Software Engineer at Elastos Foundation

Edward Twiddy

Chief Operations and Innovation Officer at Atom Bank

Emma Tully

Head Of Marketing at Echo

Aidan Fitzpatrick

Founder & CEO, Reincubate (we're hiring!)

Robin Sharma

Bestselling author of 15 books (including The 5AM Club), globally celebrated leadership expert and philanthropist.

Roopesh Varier

Leader in Data Science & Analytics

George Conklin

Senior Vice President and CIO, CHRISTUS Health

Robert Jadon

Experienced Venture Investor & Entrepeneur

Olivier Derveau

Enterprise and Solution Architect Consultant

Simon Waine

CTO - Chief Technology Officer at Hermes

Christian Wallenta

Software Team Lead (Fixed Incoming & Electronic Trading) at Bloomberg LP

Ioana Mitelea

Junior Front End Developer

Ori Grundstein
Yasmin W.
Looking for colleagues of Chris Shelby at Company Inc?