Isaac Moncho's Email & Phone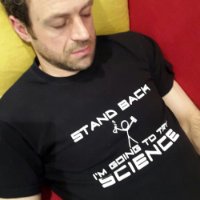 Isaac Moncho
DevOps Manager @ Growth Street
Isaac Moncho Contact Details
London, Greater London, United Kingdom
DevOps Manager @ Growth Street
Senior Devops Engineer @ Growth Street
Lead Engineer Platforms Life Cycle Management @ Thomson Reuters
I enjoy analyzing data and presenting it in interesting and beautiful ways, designing solutions for users and working with new ideas from conception to delivery. With around 15 years experience I have worked in many different projects using many different technologies, and a lot has changed since my first windows 2000 sysadmin role and my web development
ContactOut is used by recruiters at 76% of the Fortune 500 companies
Similar Profiles to Isaac Moncho
Solo Butt

Middle-East Account Manager at AirWatch by VMware

Stevie Dymond

Head of Automation at P2i (UK & China)

Sebastian Hermelin

UK Account Manager at Macrobond Financial

Sophie Harrison

Senior Recruitment Researcher at Barrington James

phil steel

Interim Head of Risk and Best Practice at Burges Salmon LLP

Kenny Ellis

Business Operations & Database Management Manager

Peter Burrows

Regional Director / Trade Sales Apex Bearings

Sandra Buckton

IT and Business Change Programme Manager

Mike Bobbett

Director of Finance and Operations at Recruit 121 Limited

Justin Hughes
Anthony Dudley

Consultant at BTG Recruitment

Joe Clarke

Accelerating & enhancing people who want to see and understand their data.

Sumit Agarwal

Lead Cloud Architect at Broadridge, Co-chair Devopsdays NYC, Co-host AllDayDevops

Danny Babayemi

Digital Communications Manager EMEA, Michael Kors

John Wakefield

VP Technology Engineering / VP Technology Delivery at Pearson plc

Alex Bainbridge

CEO / CTO Autoura - Autonomous vehicle sightseeing & experiences; Editor - DestinationCTO

Samantha Crocker

Director at May & Stephens, London

James Milligan

Senior Safety Medical Director at AstraZeneca

Phil Lynch

Digital Campaign Producer at Sony Computer Entertainment Europe

Harry Croydon
Jim Macdonald

Chief Executive at Calvin Capital

Ivan Kalinin
Lee Wild

Category Manager at Costcutter Supermarkets Group Limited

Sara Rego

Senior Director, Head of Pro Brands at GoDaddy EMEA

Moira Robertson

Sales Director at Alpha Events

Usman Shah

Founder & Owner of Abzorbed Group of Companies, Entrepreneur

Patrick Clark

General Counsel at Tungsten Corporation Plc

Katie Bleasdale
Kerry Carr MSc, MCIPS

Category Lead -Soft Services at COFELY UK - GDF SUEZ GROUP

James Samworth

Partner at Greencoat Capital | Bioenergy Investor

Sydney Klein

Product Marketing Manager at Snap Inc.

Michael Kane

Director of Marketing at Karen Kane, Inc.

Robert Eisiminger

Northern Virginia Chamber Veterans and Military Business Council Co-Chair at Northern Virginia Chamber of Commerce

Meller James

Sr Manager Supply Chain at Philips Healthcare

Michael Ueland
Steven Simmons

Head of Alternative Investments

Joseph T.
Amberly Donnelly
Arnold Aponte

Dubai Global Sourcing Manager at Schlumberger

Josh Winkler

Vice President, Partner Solutions at Fanatics, Inc.

Tony Tran
Kishore Hiranand
Matt Bianco

Director of Federal Sales at ChargePoint, Inc.

Jennifer Heal

Digital Marketing Associate Director at Whole Foods Market

Michael Kroske

Procurement Manager, Trucks, Buses & Equipment

Paul Hanges
Peter Holm

Vice President Operations

Susan Powers

Chief Retail Officer at Windsor Fashions

Javier Walker

Lead Training Manager at GUESS?, Inc.
Looking for colleagues of Chris Shelby at Company Inc?