Hunter Brawer's Email & Phone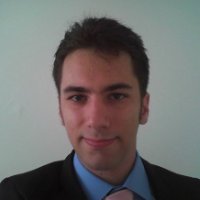 Hunter Brawer
Talent Hub Specialist (Contracted through Randstad) @ Cisco
Hunter Brawer Contact Details
Talent Hub Specialist (Contracted through Randstad) @ Cisco
IT Recruiter @ Adecco Group
Lead Recruiter @ Headway Workforce Solutions
B.A., English, Religious Studies, Education @ University of North Carolina at Greensboro
I am a driven, goal-oriented, hard worker who is looking to parlay my experience within the fields of customer service, marketing, and technology into a career within the spaces of recruiting and Information Technology. I currently work as a sourcer/recruiter at Adecco Engineering and Technical in Durham. I am always looking for new opportunities to connect and
ContactOut is used by recruiters at 30% of the Fortune 500 companies
Similar Profiles to Hunter Brawer
Kenneth Pittman CCSK

Oak Leaf Technology Solutions LLC

Vikki Spaulding

Senior Research Associate at Forma Therapeutics

Mark Bellissimo

Brand Leader, Chief Executive Officer at JRT, CG Detroit

Linda Wellmaker

Wells Fargo Home Mortgage NMLS# 353443

Bojan Bajic

Associate at Ares Management

Joshua Meinert

Senior Marketing Manager, US Hematology at Pfizer

Chris Spadafino

VP Digital Sales at SmartAsset.com

Dean Adi

Regional Manager, Healthcare Recruiting and Campus Relations

Helena Chu

Freelance Sr Art Direction + Design / Traditional, digital and environmental advertising

Chuck McMahon

We're Hiring in Nairobi, Kenya! Director of Customer Experience, Customer Success Manager, Customer Success Director

Anand George
Jason Withington
Milosh Cerevka, MBA, PMP

Strategic Director and Relationship Builder at the Forefront of Digital Media

Nina O'Neil

Creating the future of work by helping connect people to their highest potential.

Dan Farnen

Director of Media at Burlington Coat Factory

Ankit Kotwaney

Seeking for a full time opportunity as a network engineer to enhance my knowledge and skill set of Computer Networking.

Sujit Murumkar

Solution Architect - Business Intelligence

Payvand Fazel

Vice President, NGL & Gas Marketing at Williams

Ashley Futak

Referral Marketing Manager at Sunrun

Jeremy Martin, P.E., PMP

GE Oil and Gas Strategic Account Manager, MBA Candidate at the Wharton School

Peter Jaramillo

Principal Industrial Hygienist at Delta Bay Consultants, LLC

Oscar Apaydinli

C-Level Executive Assistant & Facilities/Operations Manager

Steve Sharp

Strategic Execution Consultant ♦ Board Member ♦ COO ♦ Business & Organizational Development

Haley Hewett

Human Resources at Quanterix

Christian Miller

Director of Campus Operations at Wagner College

Jenny Geschwind

Vice President - Technology Sales at Robert Half Technology

Gustav Alexander Choto

Senior Cost Estimator at Project Frog, Inc.

Amy Rannebarger
Meggie Gilbert

District Manager, Syngenta, NCA

Terry DTM

★ ★ ★ ★ ★ Experienced Keynote Speaker | Self Esteem Architect ✔Helping Professionals be exceptional Speakers ✔

Nigel Clerkin

Chief Financial Officer at UDG Healthcare plc

Nandini Maheshwari

Experience Designer (UX and visual)

Dale Tomlinson

Purchasing Manager at Lumax Industries Inc

Quinn Callaway

Regional Sales Director at Workday

Marek Fengler

Linux, DevOps, Automation

Martin A.

Senior Software Engineer at Macy's Technology

Kyle Bradshaw

Senior Software Engineer at Publicis Media

Benjamin Ettori

Associate Director at Wingspan Technology, an IQVIA Company

Kraig Kasler

President - Eaton's Lighting Division

Tamara L.

Senior Data Scientist, Tech Lead at Pinterest

Zoya Samadi

.Net Developer, Software Engineer, Functional Engineer

Heather Anfang

SVP US Dairy Foods at Land O'Lakes, Inc.

Bryce Lampe
Yuan Liu

Software Engineer at Google

Kyleene Chillinsky

VP of Pricing & Category Management

Kartik R

Building data and analytics products at scale

Shravan M.

DevOps Engineer at T-Mobile

Sudhir Arora
Yasmin W.