Gurjeet Singh's Email & Phone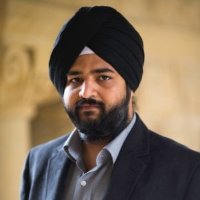 Gurjeet Singh
CEO @ Ayasdi
Gurjeet Singh Contact Details
B.Tech. @ Netaji Subhas Institute of Technology
Research Scientist @ From January 2009 to January 2010 (1 year 1 month) Postdoctoral Researcher @ From January 2008 to January 2009 (1 year 1 month) Intern @ From June 2005 to September 2005 (4 months) Software Design Engineer @ From June 2002 to June 2003 (1 year 1 month)
PhD, Institute for Computational and Mathematical Engineering
ContactOut is used by
76% of Fortune 500 companies
Similar Profiles to Gurjeet Singh
Sukhee Kang
Renee Spitler

Helping people live better lives, by connecting them to jobs they enjoy!

Joanna E. Cain, BSN, BA, RN

Dynamic Education, Healthcare & Publishing Professional

Bob Skodzinsky

Manager - HTEC Network at Haas Automation

Phil Beavers

Credit Product Manager for Small Business and Small Commercial

Stacey McClung

Channel Execution Director - IoT Solutions

Margaret C. Pflug

Engagement Management and Business Development Professional with Pursuit-Solutions

Lori Entrepreneurs

Business Coach, Instructor at ArtCenter, Entrepreneur, Facilitator of the Right Brain Business Plan ®, Artist

Dan Fauchier, CMF

Facilitator/Coach for Lean Design & Construction, Last Planner(R), Partnering, The ReAlignment Group

Mike DuMoulin

District Sales Manager at Paychex

Kerrie Matthews Julian

Senior Associate, Senior Project Manager at saam architecture

Kelley Collacchi

Digital Marketing Leader relocating to Portland, Maine

Jeff 'JT' Jeff 'JT' Thomas

Sr. Manager - Procurement, Snyders-Lance, Inc.

Elizabeth Talerico

Global Program Management | Training & Development | Talent Acquisition | University Programs | Human Resources

Brian D. Murphy

Consultant, Business Technology Leader, Innovator

Shani St.John

Vice President, Brand and Reputation practice at Porter Novelli

Heather Garrett, PHR,SHRM-CP

Senior Human Resources Professional

Sebastian Astudillo

Real Estate Agent at Century 21 Allstars

Christine Deska

Nonprofit Director/MBA Candidate/Marketing/Management/Programs/Events

Kris Visconti

Senior Account Manager, Teq

Krithika Varadarajan

Associate Process Development Engineer at Medtronic

Shawn Searles
Guido Piccinni
Elizabeth Baum

National Sales Manager, Chateau Elan Winery & Resort

Jean Ketner

Executive Assistant, Retail Sales Leadership / Management Team

Michael Klappa

Regional Manager - Network

Savannah Liu

Stay hungry, Stay foolish

Adam Kietz

Associate at J.P. Morgan Private Bank

Jerald Garner

Business Development Manager at Voltaire Group, LLC

Felix Kikaya

Digital Solutions Architect at Emerson

Peter Bergstrom

Founder BitBlock Ventures. Blockchain, Tokenomics, Fundraising (IEO, STO, RegA+ tokens) 33k Followers (Follow Only)

Matthew Barlow

Chief Operating Officer at HealthComp

Amy Lynch

Seeking RNs to be remembered by each patient as providing the care and compassion we want for our families & ourselves.

Matt Vail

Software Engineer at Datavant

Hayley Sifontes

Product Marketing @ Atlassian

Rich Ha
Dayvid Jones

Unity 3D App & Game Developer, VR & AR Development, Mobile & PC, Serious & Edu Games, Mentor and Manager

Patrick Sheehan

Senior Account Executive @ PulsePoint

Jason Jennings

Head of Marketing and Merchandising, Fabric.com at Amazon.com

Mike Hancock

Sales professional with a track record of enabling sales teams to gain C-level access - resulting in material improvements in business results for those executives.

Kelly Snow

Lead UX Designer, Bitbucket at Atlassian

Jeannie Liou

Product Marketing at Snowflake Computing

Brian Foo

Senior Software Engineer at Google

Gaye Dean

Vice President, Retail Development at pocket.watch

Victor Coisne

VP Marketing at Strapi, the open-source headless CMS

Tami McDonald

Client Focus Executive Recruiter

Nate Mitchell

Co-founder Oculus (formerly Head of VR Product @ Facebook)

Terry DTM

★ ★ ★ ★ ★ Experienced Keynote Speaker | Self Esteem Architect ✔Helping Professionals be exceptional Speakers ✔

Satya Nadella
Yasmin W.
Looking for colleagues of Chris Shelby at Company Inc?