Eli Block's Email & Phone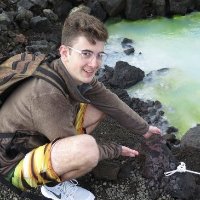 Eli Block
Digital Fabrication Shop Monitor @ Rhode Island School of Design
Eli Block Contact Details
Santa Cruz, California, United States
Product Design Intern @
Helix
Bachelor of Fine Arts (B.F.A.), Industrial and Product Design, Concentration in Nature/Culture/Sustainability Studies @ Rhode Island School of Design
Happy to connect! Currently attends Brown University and the Rhode Island School of Design. Interested in inventive manufacturing, bizarre creatures, synthetic biology, paleontology, planetary geology, and human evolution.
Biological Design Teaching Assistant @ Assist students in the joint engineering and biology course: Biological Design. This course surveys the diversity of forms found in nature. It explores biomimicry, bio-inspired
ContactOut is used by
76% of Fortune 500 companies
Similar Profiles to Eli Block
Andrew Day

Co-Owner at Day Online Solutions, LLC

Corinne Murray

Change + Workplace Innovation

Guy Falkovitch

Co Founder at Volleypost.com & Reali.co.il

Amy Raz

Your Talent Adviser, Interview Coach and Resume Feedback

Guy Machlev

Senior R&D Director for Cloud at Nokia

Krista Niswander Goryl

First Vice President, Area Sales Manager at Wells Fargo Advisors

Ryan Marrone

Chief Operating Officer - Onyx Renewable Partners L.P.

Abhi Nyatee

Senior Director - FP&A, Pricing and Strategy at Epsilon

Connie Bennett

Ex-sugar-addicted journalist. Now writing I blew my diet! Now what? Author, Sugar Shock & Beyond Sugar Shock.

Heath Chester

Vice President, Strategic Clients at Infor

Jim Skelding
Miriam Arond

Director of the Good Housekeeping Institute

Dorcas Bean

Project Manager at Nordstrom

Jason Simon

Chief Operating Officer and Partner, SimpsonScarborough

George Branch
Joseph SUN

Vice President, Procurement and Supply Chain at Laird Technologies

Nicole Eaton

Buyer, Women's RTW, Handbags, Shoes

Darin Mock

Director of Software Sales at CDW

Brittany Johnson

UX Research & Strategy Consultant at GED Testing Service

Pelin Cebi

Learning and Development, driving growth, inspiration and curiosity for employees @ Spotify

Rebecca Jolly

Director, Global Partnerships at SFX Entertainment, Inc.

Nick Herrig

Business Development Manager, nano-purification solutions

Vishal Gupta
Peter Laska

Real Estate Analyst at Google

Dustin Overbeck

President at Town Web Design, LLC

Aaron Dunn

Technology Sales Executive & Consultant | Social Media Strategist | Startup Enthusiast | Master Networker & Connector

Allison Low

Senior Tax Manager at BDO USA, LLP

Andrea Larbig

Sales and Marketing Manager at ASI International

Prem Ananthakrishnan
Wei Lv

Research Assistant at Gatech

Terry DTM

★ ★ ★ ★ ★ Experienced Keynote Speaker | Self Esteem Architect ✔Helping Professionals be exceptional Speakers ✔

Sean Maher

Chief Technology Officer at Knock Knock

Ben Edelstein
Xingzi Guo

Software Engineer at Salesforce

James Fox

Software Engineer at Optimizely

Chien-Lin Huang

Tech Lead & Research Scientist

Aysar K.

Software Engineer at Esri

Keanu Delgado

Software Engineer at Appian Corporation

Roald Gomes (LION)
Kritarth Upadhyay

Staff Software Engineer at Walmart eCommerce

Bin Xin

Software Engineer at Google

Tim Woo
Raylin Wright
Ryan Flower

VP of Operations at CasaOne

Angela Chan
Samuel Hitov

Staff Site Reliability Engineer at ezCater

Shafi Khan

Specialized in Front end Development / Management

Daniel Sim
Yasmin W.
Looking for colleagues of Chris Shelby at Company Inc?