David Johnston's Email & Phone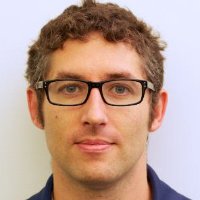 David Johnston
Principal Data Scientist @ ThoughtWorks
David Johnston Contact Details
Quincy, Massachusetts, United States
Principal Data Scientist @ ThoughtWorks
Founder @ Pyus LLC
Research Associate @ Fermilab
BS with Highest Honors, Physics and Math @ University of Michigan
Over 20 years experience working with data and statistical data analysis. My background is in theoretical and experimental astrophysics and cosmology at academic institutions and also at NASA. I'm currently passionate about applying cutting-edge techniques to the domain of business problems. Businesses today have complex and fascinating problems that are amenable to the same analytical techniques that
ContactOut is used by recruiters at 30% of the Fortune 500 companies
Similar Profiles to David Johnston
Brad Hedstrom

Field Sales Consultant at Henry Schein

Eric Oldenhuis

Vice President - Director of Proposals at Black & Veatch

Steven Lora

Mergers & Acquisitions, Marketing, Consulting

Amanda Chamov

Director of Marketing | Writer, Editor | Digital & Social Media Marketer

Thomas Weber

Intake Sales and Conversion Training Coach at Mullins Media Group/Intake Academy

Sandeep Garud

Founder and Director at SpurQLabs Technologies Pvt. Ltd

Wendi CIR

HR Recruitment - Recruiter at PHH Mortgage

Matt Tesmond

Team Lead, Enterprise Market Development at Simply Measured

Joshua Nicol

Key Account Manager at Integra

Gustavo Ordonez

Senior VP, Programming Scheduling and Research at Univision Communications Inc, the #1 Place to Reach Hispanic America

Jack Smothers

Category Manager - Professional Services at Alcon, a Novartis company

Jeffrey Charlton Umberger

Owner / Agent with Umberger Agency

David Stone

Attorney at Loncar & Associates

Vicky Strand

Marketing Manager at Stetson Building Products

Anthony Gargano

Sales Manager at M&K Truck Centers

Paige Groves

HR Representative II at Dollar General

Christophe Collin
Don Seeley

Executive Recruiter at DeWinter Associates

Nathaniel Napier

Managing Director at MDC Partners

Beth Schneider

Sr. Partner Hobson Associates Director Client Strategy

Ron Nielson

President NSON Opinion Strategy

Christine Edmonds

Consultant at Altman Vilandrie & Company

Renato Reis

Chief Strategy Officer at Concepta, Inc

Sheila Korte

7000+ Connections, VIP-Travel Planner, specializes: Luxury, Group Travel, World & River Cruises, Safari & Expedition

John Florio

Territory Manager & Field Sales Trainer at Abbott Vascular

Shane CFMP

Highly Talented Marketing Director

Tom DeSautel, MBA
Srivatsan Srinivasan

Chief Data Scientist | Data (Big, Huge, Small, Fast, Whatever) | Cloud | Forever Student

Casey Moglia

Hiring top talent for DentaQuest

Terry DTM

★ ★ ★ ★ ★ Experienced Keynote Speaker | Self Esteem Architect ✔Helping Professionals be exceptional Speakers ✔

Grgur Maretic

Software Engineer at Palantir Technologies

Jose Aguinaga

CTO & Board Member at MyBit | Web Engineer, Startup Advisor & Cryptography Enthusiast

Clement VALON

Executive Vice President Independent Aftermarket at TMD Friction

Dr. Bellm

"Do not go where the path may lead, go instead where there is no path and leave a trail." Ralph Waldo Emerson

Friedrich Rechteren

Global Commercial Vice President at Flint Group

Alexandra Reich
Matthias Dantone

CEO & Co-Founder at Fashwell AG

Marc Bernegger

Serial Entrepreneur focusing on Fintech and Crypto Assets

David Mann

Independent Consultant at Phloem - International Reward Consulting

Stefan Pharies

Engineering Director at Google

Milind P.

Senior Software Developer at Fannie Mae through Mindlance

Kinjal Vyas

Associate, Research and Operations

Tanvi Sharma

Senior Software Developer (Back-End Developer and Front-End Developer) Independent

Prashant Malik

Angel Investor , Advisor, Inventor & Entrepreneur

Masaki Takahashi

Sales Representative at NTT Communications

Tino Tezel
Michael Roeder

Chief Digital Officer at Elia Group

Yasmin W.
Looking for colleagues of Chris Shelby at Company Inc?