Cody Ray's Email & Phone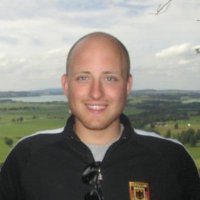 Cody Ray
Site Reliability Engineer @ Confluent
Cody Ray Contact Details
Site Reliability Engineer @ Confluent
DevOps Engineer @ PEAK6 Investments
Dev-Ops Engineer @ Signal ™
B.S., Electrical Engineering @ Drexel University
My professional goal is to master technology for serving mankind's critical needs. Currently, I'm a dev-ops engineer at Signal, an amazing startup in downtown Chicago, where I get to work with a great team that's changing the data service model underlying the Internet. Both my bachelor and master degrees were completed at Drexel University. My undergraduate studies
ContactOut is used by recruiters at 76% of the Fortune 500 companies
Similar Profiles to Cody Ray
Ian Legaspi

Director of Operations at Connora Technologies

Eric Franceschin

Legal Services / Reprographics Professional

Yael Rosenbaum

Neuropsychologist at Child Mind Institute

Patrick Freund

Principal, Freund Enterprises- Comfort-Air Eng & Primo Plumbing

Elke Lorenzen

HR Manager at MD Logistics

Borja Delgado Angulo

IT technician / Computer Network Systems Management at Cervantes Institute

Donna Zbesko

Legal Administrator at Honeywell

Jon Endean

J.D. Candidate at Yale Law School

Shane Peterson

Associate at Kipp & Christian, P.C.

Ryan Gerrard

Sr. Specialist, Test Manager - Professional Services at Wirecard North America, Inc.

Jennifer Monarch

Sr Procurement Specialist - Procurement Data and Controlling at LSG Sky Chefs

Rebecca Goeden
Sarah Scholz

Assistant Copywriter for Urban Outfitters

Diane Oldham

Systems Analyst - Consultant at The Ohio State University

Richard Cashion

Cardiologist VA Hospital Temple Tx

Lisa Maloney-Vinz

Program Manager, Community Relations

Amber Sherman

Integrated Supply Chain Manager, Honeywell Aerospace and Major, USMCR

madison Simmons

Barista/ Cashier at Brews N' Blues

Leisa Roberts

Functional Performance Manager - PSCM Global Projects Org at BP

Damani Lomas

Cocoa Hues Creative Agency

Kim Catubig

Senior Consultant at Protiviti

Jim Cumins

Specialty Sales Consultant at Shionogi Pharmaceuticals.

Cristine Winchester
Jesse Caple
Natta Nasamran

Supply Chain Management at Applied Materials

Garrett Guess

Network Administrator at Heritage Medical Associates, P.C.

Chris Carlton-Bishop

Technology Manager at UW Medicine Airlift Northwest

Todd Etchieson

Vice President of Product at Janrain, Inc.

Stephen Boyer
Dan Berger

Creating communities that connect people so that they have a stronger sense of belonging.

Kalon Stephen

Regional Vice President, Commerce Cloud at Salesforce

Amar Arsikere

Founder, Chief Product Officer/CTO at Infoworks.io

Rushabh Shroff
Ruth Cotter

SVP, World-wide Marketing, Human Resources (HR) and Investor Relations (IR) at AMD

Brian Caracciolo

Recruiting Manager at The Cypress Group

Marc Randolph

Netflix Co-Founder, Entrepreneur, Mentor & Investor

Daniel Kuperman

Director of Product Marketing at Snowflake Computing

Johnny Khoury

Vice President of Sales at Salesforce

Kelly Robinson
Matt Aberham

Single Threaded Leader of Technical Recruiting for Amazon's Consumer Business Unit in EMEA.

Chris Chrisafides

CEO at Elite Comfort Solutions LLC Experienced Business Leader in Private Equity and Fortune 50 Companies

Stijn Asnong

Lead Software Engineer at Oak Street Health

Laura Bruch

Global HR Business Partner, Sales and Channel teams

Qays Poonawala
Terry DTM

★ ★ ★ ★ ★ Experienced Keynote Speaker | Self Esteem Architect ✔Helping Professionals be exceptional Speakers ✔

Satya Nadella
Yasmin W.