Bartley Burnette's Email & Phone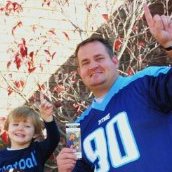 Bartley Burnette
President / Owner @ Jack Ward Plumbing Company
Bartley Burnette Contact Details
President / Owner @ Jack Ward Plumbing Company
Football Official @ TSSAA
BA - Business, MHR @ Trevecca Nazarene University
President / Owner @ For over 65 years Jack Ward Plumbing has provided quality plumbing service to Nashville residents and businesses. For new construction, renovations or just fixing a leaking faucet, we give every job our utmost attention to detail and commitment to excellence. Please call us with all of your plumbing needs at 615-227-2811. From January
ContactOut is used by
76% of Fortune 500 companies
Similar Profiles to Bartley Burnette
Aram Kudurshian

Human Interface Producer (Project Manager) at Apple Inc.

Peter Marzan

Category Manager at Evonik Corporation

Kristin Spodobalski

Director of Growth - Northeast

Robynn Ragland, Esq.

Estate Planning Attorney; Trusts; Probate; Business Transactions

Emily Doornbos

Sr Vendor Business Manager at Tech Data

Angelica Vargas
Brenda Osborne

Regional Director of Revenue Management at LBA Hospitality

Carolin Sels-Gomille

Office Administration & HR Coordinator at German American Chamber of Commerce, Inc.

Julia Trezona Peek

Environmental Communications and Campaign Strategist

Mark Viglione
Claudia Ruckebrod

Revenue Controller at Linklaters LLP

Cole Ferguson

Independent Property Claims Adjuster/ Owner of Roadrunner Claim Services

Coleman Bentley

Associate Editor - Network A at Bedrocket Media Ventures

Lynn Leeper
William Caglia

IT Helpdesk Analyst II at VGT

Fernando CISA
AJ Servidio

Chef/Owner AJ'S Catering & Take Out

Elaine Matias

Sr Retail Accountant at Ermenegildo Zegna Corp

Leon Vedovato

President at Westchester Tile & Marble Corp.

Jeff Borgens

Sr. Manager, Finance at Aiphone Corporation

Allan Nazario

Promotional Products Services

Lora Baker

Executive Director at Crossroads Treatment & Counseling Services, llc

Angela L. Smith

Captivate Specialist / Instructional Designer at Internal Data Resources, Inc. - Parkland Health and Hospital System

Prashant Kaushik

Development Lead at Tata Consultancy Services

Shinju Ide

Sr. Buyer at Cal-Comp USA

Steven Bob

Associate Director, Illinois SBDC at UIC Institute for Entrepreneurial Studies

Dany Bahous

Event Marketing at NetSuite

Kirill Men

QA/Test Lead, at Open Field Solutions Inc.

Isiasha Mark

Speech Language Pathologist

Ryan Gunn

Android Developer at Lettuce Entertain You Restaurants

Prudhvi Avula

Senior Fullstack Engineer at Clari

Will Cain

Senior Software Engineer at Ping Identity

Scott Ko

Senior Software Engineer at Roblox

Kristin Perrakis

Director Of Brand Marketing

Jon Nacewicz

VP Marketing @ Creative Market — We're hiring!

Bryan Migliorisi

Senior Engineering Manager, Real Estate & Development Technology at WeWork

Libo Sun

Director Biostatistics at Geron Corporation

Shawn Wery

VP of Regulatory and Clinical Affairs at Vicarious Surgical Inc.

Irene D'Rozario
Carrie Wladis

Front End Developer at Marketproof, Inc.

Dylan Trotter

Software Engineer at Thumbtack

Anthony Galouzis

Senior SAP FICO chez Beyond Technologies

Flavien Lecornier
Benoit Fouilland

Chief Financial Officer at Criteo

Valentin Pauchet

Ingénieur système/DevOps BUILD à Claranet

Angelo Corsaro

Chief Technology Officer, ADLINK Technologies Inc.

Oussama Dinia
Terry DTM

★ ★ ★ ★ ★ Experienced Keynote Speaker | Self Esteem Architect ✔Helping Professionals be exceptional Speakers ✔

Yasmin W.