Aline Perrin's Email & Phone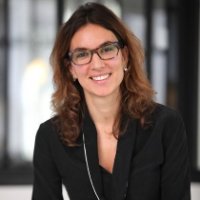 Aline Perrin
Nom de l'entreprise Twelve Consulting @
Aline Perrin Contact Details
Nom de l'entreprise Twelve Consulting @
Business consulting, Digital & CRM @ Infosys
Senior Consultante solutions CRM @ CSC
Bac +5 @ Ecole Polytechnique de Montreal
Responsable fonctionnelle et chef de projet depuis plus de 9 ans, j'apporte à mes clients mon expertise sur des projets de transformation Digitale (processus, bonnes pratiques et outils) de la phase d'aide au choix de solution ou de cadrage jusqu'à l'implémentation de l'outil choisi et ce dans différents secteurs notamment la banque et la santé.
Manager, Transformation digitale
ContactOut is used by recruiters at 76% of the Fortune 500 companies
Similar Profiles to Aline Perrin
Daisy Stapley-Bunten

Editor & Founder at Startups Magazine

Lane D.

Head of Product Management/Product Marketing at Krystallize Technologies

Ann Wycoff

Self Employed Writer & Editor; VIP ADVENTURE GUIDE

Ralph Jr.

Director of US Operations

Taha Abbasi

Technology Advisor at ReCreate

Jeremy Shortsleeve

Network Engineer, Staff at Perspecta

Kate Blagbrough

Head of Assurance - Business Readiness

Natalie Lotier

Strategic, Innovative and Visionary Senior Executive: Global Supply Chain & Manufacturing

Stefan Richardson

VP Finance and Administration

Andy Allmann

Director of Experiential Marketing & Sponsorships at Southwest Airlines

Ali Nobari

Full Stack Software Engineer at Pixieset

Jason Bell
Meghan Kelly

Interior Designer at Stonehill Taylor

Wesley Lin

Regional Sales Director, at First Data Corporation

Daniel Mandillo

Senior Frontend Developer en Orange Bank

Veene CSM

ITS Expertise & Innnovation Leader - HR & Employee Experience

Paul Cosaro

Managing Partner (Captain Picnic) at Picnic Time Family of Brands

Mona CCSI

Sr Network Engineer at mindSHIFT, a wholly owned subsidiary of Ricoh USA, Inc.

Ryan Shaw

Technical Director, Partner at The Other Firm, LLC

Erica Piper

Sr. Manager, Executive Talent Acquisition - Technology at Capital One

Carlos Molina

I support the Sales team to jointly rise the success of our customers and create added value in the Cumene- Phenol Chain

Jasper Gang

Senior Buyer at Samsung Electronics

Sascha Schnepp
Denise Heil

Controller at AssuredPartners of Florida

Ron Grant

Sr. Buyer at Boscovs Dept Stores

Stacy Johnson

President at Auburn Mechanical, Inc.

Mohan Rajagopalan

Lead Designer at Monolith Productions (WB Games)

Josiah Hornblower

Founder and CEO at Shattuck Labs, Inc.

Andrea Mangan

Director, Internal Communications and Employee Experience at Equinox

Bala Gowtham

Manager (Segment and Analytics) at NTUC Fairprice Co-operative Ltd

Andrew Webb
Ed Halliwell

Senior Product Manager at Salesforce

Vladimir Sigalovich

Trading and Financial Platform Engineer and Architect

Jerzy Krolak

Senior Java Developer at Grupa Allegro

Jennifer Dow
Adam Kunk

Lead Engineer - PaaS | Cloud Strategy and Engineering at TIAA

Harman D.

Development Director at Kabam

Andrew Tosh

Senior Quantitative Trader at Hudson River Trading

Stewart Wilmot
Matt Wheeler

Senior Cloud Engineer at Accenture

Kate Finlay

Senior Software Engineer at Intuit

Jesus Hernandez

Web Developer at BioTrack, 15+ years in Retail Marketing & Business Development in the Web industry.

Justin Conklin

North America Sales Manager - Dow Microbial Control

Edmond Song

Senior IT Auditor at Euronext

Alison Rance
Jaimin Patel
Ulpian Morina

CEO / Co-founder at ThirdLayer

Dr Chowdhury

IoT Architect (Emerging Technologies) at Stanley Black & Decker, Inc.

Anastasios Skourtis

QA Automation Engineer @ Flow Traders

Rich Miller

CEO and MD at Telematica Inc.
Looking for colleagues of Chris Shelby at Company Inc?
Laura Ohana
Senior Consultante
Axel Ravily
Senior Consultant