Alexander Luberg's Email & Phone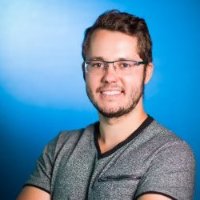 Alexander Luberg
QA Automation Engineer @ Allied Testing LLC
Alexander Luberg Contact Details
Palo Alto, California, United States
Technical Account Manager @ gDev
Head of Development @ RooM the Agency
- More than 5 years' experience providing IT consulting services to major insurance and financial companies, developing large enterprise applications. - Great experience managing cross functional teams from varying countries around the world - Outstanding skills working with external customers and outsource teams
Senior Software Engineer @ - Python/Flask/Flask-Restful - Backbone.js/Marionette - Sinon/Mocha/Chai - Scala/Play From November 2014
ContactOut is used by
76% of Fortune 500 companies
Similar Profiles to Alexander Luberg
Jennifer Cruz-Montoro

Supply Chain & Product Development

Amie Brown

Project Support Specialist

Tiffany Dunning

Digital Marketing & Strategy • Client Leadership • Team Direction

Bingbing Xue

Vice President - Risk Management

Jacques PENICAUD
Pierre Dormont

EMEA VP Sales & Distribution at Orange - France Telecom

Vanessa Valore

Managing Director Marketing Strategy & Communications at The Institutes

Michael Shamie

President/CEO and Founder at Avatar Corporation

Laura Prey

Vice President, Information Technology-Manufacturing & Distribution Technology-Life, Health, Annuity at Thrivent

Melvin Eisele
Jeff Odell

Strategic Accounts Director- Western US

Marian Ross

Director of Business Development at CRC Health Group

Chris Staats

Operations Manager at Marathon Petroleum Corporation

Eric Covay

IT Manager- Store Back Office Systems at ULTA Beauty

Jim MD

Vice President, Chief Medical Officer at St. Luke's Health System

David Hainlin

VP and Principal Engineer at Teladoc Health

Dan Hoffman

Scrum Master at LearningMate / ACT.

Mike Kramer

Solutions Architect II at Harris Associates

Jeanae Releford

Data Analytics and Visualization

Derek Suech

Region Manager at TruGreen

Jaily Zeng

Software Engineer at Salesforce

Barbara Gionet Hasson

Gerontologic Nurse Practitioner

Margot Kriete

Software Engineering Intern at Amazon

Devang Doshi

Senior Software Engineer at Qualcomm Atheros

David Bedell

Account Manager at Oracle | NetSuite

Anthony Costanzo

Strategy Account Manager at Vehicle Tracking Solutions (SaaS Company)

Brant Wheeler

Director Of Engineering at Swimlane

Conor McNamara

Managing Director, ASEAN at Amazon Web Services (AWS)

Genevieve Harris-Eckel
Dewey Gosnell

Director, Information Technology at RUSH Oak Park Hospital.

James Lawrence

Account Executive - Palo Alto Networks

Meredith Gent
Orion Cassetto

Director, Product Marketing at Exabeam

Antonia Maguire

Sr. Manager, Talent Aqcusition at Jet.com

Christian Motsay

SVP, Financial Planning & Analysis at Viacom

Joseph Zito

VP, Commercialization | Oracle Data Cloud

Scott Palmer

Director of Marketing at Jam City

Mark Entrekin

Sr. Agile Coach / Sr. Product Owner / PM / Instructor - Growing Excellence using the Agile Framework/Mindset

Ryan Panchadsaram

Venture @ Kleiner Perkins // Former U.S. Deputy Chief Technology Officer @ White House

Kanwar Malik

Software Engineer at ESChat

Kevin Yost

Sr. Director, FP&A at Belk

Adam Anderson

Vice President, Revenue Marketing

Shannon Wu

Founder, Marketing and Blockchain

Steven ✔

Recruitment Account Manager, Talent Acquisition - Philips Healthcare

Jay Wright

President & CEO at Arterra Wines Canada

Ellie Ismailidou

Award-winning anchor, writer and producer in business and finance

Daniela Taborga Claure
Alex Matthews

Founder & Creative Director at HERE Studio

Phil Wilson

Director Procurement - Global Logistics & Supply Chain at S.C. Johnson & Son, Inc.

Dadra Faith Walcher

Senior Technical Recruiter IT at Cigniti Inc.
Looking for colleagues of Chris Shelby at Company Inc?