Alex Steinman's Email & Phone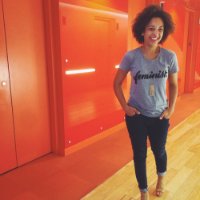 Alex Steinman
Co-Founder | CEO @ The Coven MPLS
Alex Steinman Contact Details
Minneapolis, Minnesota, United States
Co-Founder | CEO @ The Coven MPLS
Coach @ iFundWomen
2019 Bush Fellow @ Bush Foundation
Partner with clients, creatives and production teams to develop effective advertising for Big Ten Network, TruTV, Loctite and Fallon StarterKit. Background in public relations, event planning, team building and project management. Former clients include Purina Latin America, Purina Dog Chow and Travelers Insurance. Specialties: advertising, public relations, event coordinating, art, editing, freelance writing, human resources, project management,
ContactOut is used by recruiters at 76% of the Fortune 500 companies
Similar Profiles to Alex Steinman
Ben Russell
Tina Worthey

Strategic Account Manager at Consonus Healthcare

Ryan Mills
Tim L'Hommedieu

Director of Pharmacy Services- BayCare Health System- East

Jessica Tirado

Marketing Manager at American Chemical Society

Jeremy Breher

Senior Systems Administrator - Windows

Brooks Allen

Assistant General Counsel, Office of the U.S. Trade Representative (USTR), Executive Office of the President

Cory Lidschin

Senior Manager, Entertainment Partnerships at Getty Images

John Tuttle

Systems Administrator at Town of Hilton Head Island

Kaylene Choe

Managing Director of Sales at UPS

Silviu Daniel Eftimie

Coder / Digital Project Manager @ Mobext (Havas Media Group)

Antonio Sanchez Rayego

Socio at Nexus Partners S.L:

Andreu Jimenez Arcos

Software Engineer en Expert System

Angel Rojano

Director Comercial en Kerakoll Ibérica S.A.

Anna Cayuela Rafols

Email Marketing Planner en Desigual

Juan FEBU

Chairman of Urology. Specialist in Uro-Oncology. Assoc Prof. of Urology. Fundació Puigvert. Member of AAGUS. Barcelona

Miguel Angel Llorente

UX Manager at Only-Apartments

José García-Pons

Managing Director at Sesderma Laboratories

David Durán Trejo

Function Tester at Ericsson

Daniel Ramos

Sales Manager at Global Switch Madrid

Bernardino Miñana López

Director en Corporación Urológica del Mediterráneo. CEO Founder at Mediterranean Urologic Corporation

Elvis Frank Canchari Lapa

Consultor Servicios / Analista Programador en Econocom-Osiatis

Hans-Werner Kocks

Head of SQM China - Center of Competence Expediting&Quality Control at PRIMETALS Technologies Senior Vice President

Joachim Eberlein

Managing Director Motors Division at Jebsen & Co. (China) Ltd.

Eric Pan
mei wei
Erik Dijk
Peter Wynne

Area Vice President Hotel Operations - APAC at Hard Rock International

Daniel Csontos(陈聃)

Investment Director at Ping An Cloud Accelerator

Terry DTM

★ ★ ★ ★ ★ Experienced Keynote Speaker | Self Esteem Architect ✔Helping Professionals be exceptional Speakers ✔

Yasmin W.
Rui Wang

Oncology Clinical Translation Medicine Lead, Sanofi

Ron Pasek
Keith Gross

VP of Software Engineering at RxSense

Noman Qazi

Head Of Information Security at AccessPay | MSc, CISM, CEH, MBCS

Bindiya Mansharamani

Director of Engineering. We are hiring @RigUp!

Oliver Hare

Software Engineer at Bloomberg LP

Anjum Mirza

Geschäftsführer / CEO Berlin Office at Optimus Search GmbH

Michal Nevo

Development Team Lead at BigID

Haider Razvi

Engineering Manager at Uber

David Banks

Chief Executive Officer at Elodie Games

John Choi

Head of HMI Engineering, Android Automotive

Jake Larson

Software Engineer II at TripAdvisor

Balaji Anbil
Neil Prabhu

Software Engineer at Juniper Networks

Shaheen Dayal

Vice President, Technology Manufacturing Grp; Supply Chain, Strategic Sourcing and Biz Development at Intel Corporation

Ilya Shabalin
Tom Whitner

Principal Software Engineer at Vistaprint

Prentis W.